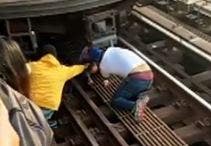 A dramatic video recorded on the Bronx subway Monday morning shows a man rescuing a 5-year-old girl on a train.
The girl can be seen sneaking out from train No. 4 south on Kingsbridge Road before the man grabs her and slams her onto the side platform. A woman outside the camera can be heard shouting, "Little by little, my love, little by little!" Between sobs.
You can see a crowd trying to comfort the girl once she's on the platform.
Authorities say the girl's 45-year-old father jumped in front of the oncoming train moments earlier with the girl in his arms.
A witness told CBS2 that they saw a man who "had a girl in his wrist and in his arms. The next thing I know, he and she jumped. "
TEXAS COUPLE, 5-YEAR DEATHER OF DEATH, WHICH IS EXPECTED TO BE TOTAL: POLICE
Emergency responded dead to the scene. The girl was taken to Jacoby Medical Center with minor injuries and reunited with her mother, according to the city fire department.
A police source told the New York Post: "It's amazing she's alive."
Click here for the FOX NEWS application
No. The services of 4 were stopped between Woodlawn and Burnside Ave. pending an investigation by the NYPD.