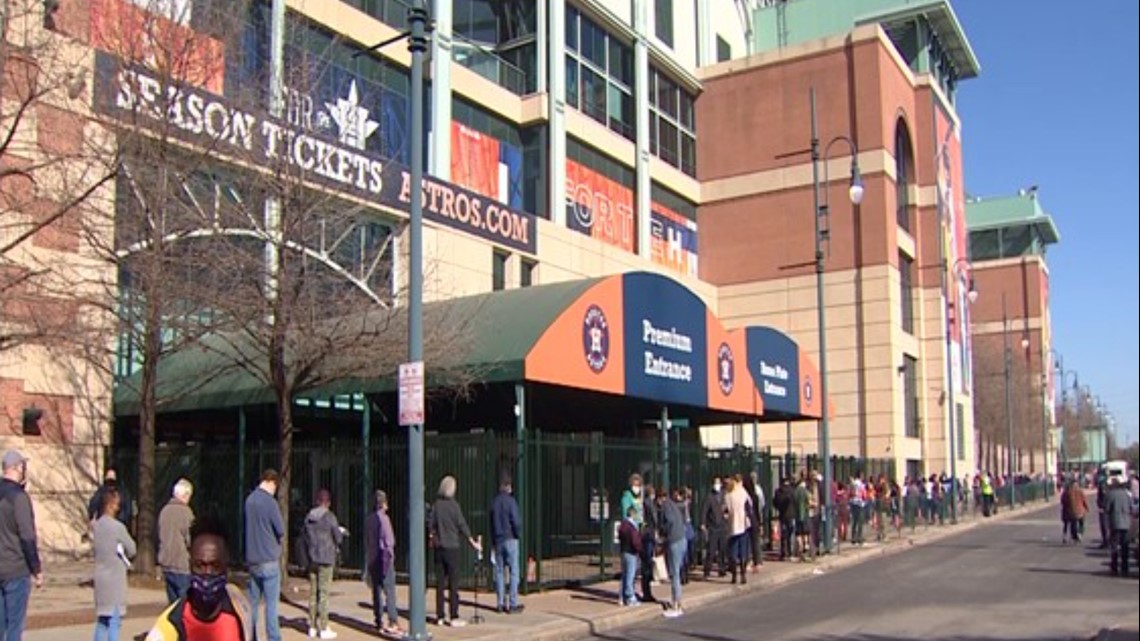 Mayor Sylvester Turner said nearly 1,200 more photos were distributed on Saturday compared to last weekend.
HUSTON – Thousands flocked to downtown Houston again on Saturday for the second mass distribution of the COVID-19 vaccine in Minute Maid Park in the city of Houston.
Electoral turnout at the Houston Department of Health's vaccine clinic again exceeded expectations. In fact, health officials had to reschedule appointments for those still in line for a future date, as the site could not accommodate large numbers of people.
HHD tweeted that it was investigating what caused the excessive meetings and apologized for any inconvenience it may have caused. The department issued the following statement:
"The Houston Health Department vaccinated at least 6,1
22 people today at Minute Maid Park. The number exceeded the originally stated target of 5,000 COVID-19 vaccines."
Mayor Sylvester Turner said there is a huge demand for staff.
Flynn Jackson was one of many who managed to secure a meeting.
"This is the beginning of the beginning and we have a long way to go," he said.
Last week, the city vaccinated more than 3,800 people at the site.
At 18:00 on Saturday, officials announced that 5,451 people had been vaccinated on the mega-site.
Jackson received his shot.
"I feel good. There are no effects. It's just like a simple shot. No problem at all," Jackson said.
At first, Jackson struggled to make an appointment, and then he was told he didn't exist when he showed up. But after a while the problem was solved.
"A lot of people are trying to go through the same process, but given what's going on, it wasn't really a problem," Jackson said.
Others like Jack Domurat have been vaccinated elsewhere such as NRG Park.
"From the beginning, stopping the parking lot until we left was maybe 30 minutes, taking into account the waiting time of 15 minutes," Domurat said.
He showed up at the site to support the family's vaccination.
"I know I feel a little calmer today," Domurat said. "I think I'm about to be a little more protective."
Mayor Turner said it was a great effort to get the vaccines out as soon as possible.
As of Friday, Houston had received 30,350 doses of the vaccine and had given 21,025.
"They probably brought a truck here, but if you're going to do that all over town, you have to have smaller distribution points, and that's difficult," Jackson said.
The city expects 9,000 new doses next week.
They plan to spread the vaccine in more places throughout the community.