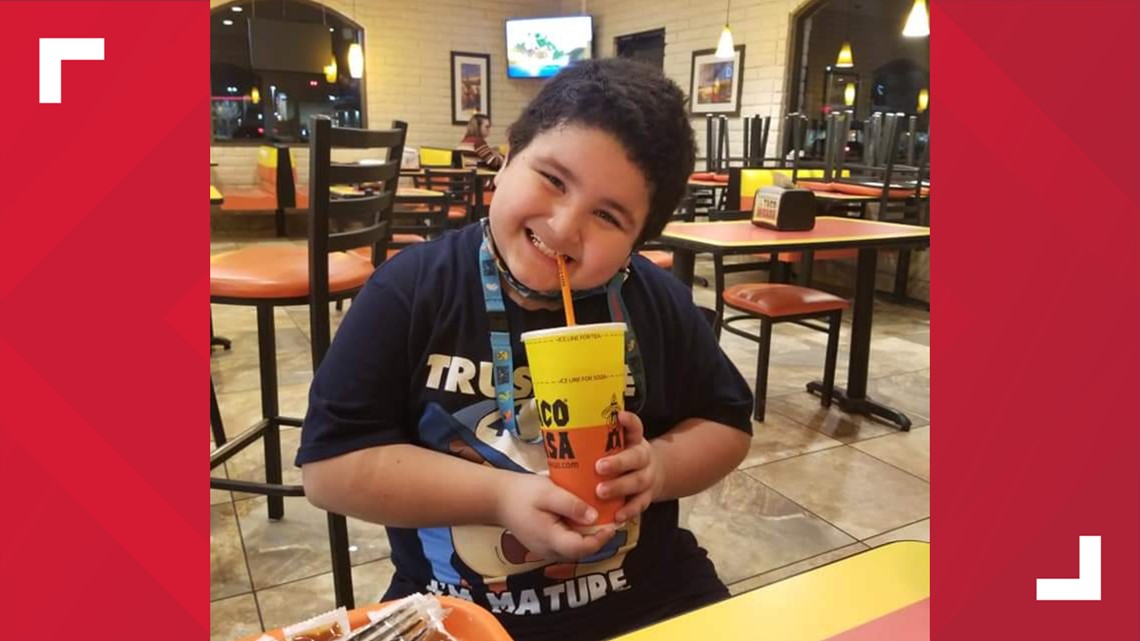 Vernon, a 9-year-old boy who died early Tuesday morning at Cook Children's Hospital in Fort Worth, died of complications from COVID-19, his family said Wednesday.
DALLAS – Note: This story has been updated to clarify that the deaths of two children in Taranto County were reported on consecutive days, not that the children died within that period. An explanation was added after the WFAA learned that the child highlighted in this story did not have asthma.
Vernon, a 9-year-old boy, died of complications from COVID-1
9 early Tuesday morning at Cook Children's Hospital in Fort Worth, his family said.
JJ Boatman has been identified by Tarant County Medical Expert. He had just turned 9 earlier this month, according to information found in a GoFundMe created for his family.
Boutman's father, 38-year-old Jason Boutman, spoke to the WFAA on Wednesday.
"I can't imagine living here without this boy," said Jason Boutman. "He was just the life of this house."
On Sunday night, Boatman said JJ was active and alert. The father said that JJ was playing hide and seek with his family and enjoying watching TV.
The next morning, Boatman said he heard JJ wheezing, but said his son's health suddenly rushed after he left for work.
"My supervisor came and picked me up and said I had to go to the emergency room because of JJ," Boutman said.
"My wife told me he was purple, blue, and screaming that he couldn't breathe. She was calling for help."
Boatman said JJ was rushed to a district hospital in Vernon, where he was told that doctors were vigorously performing JJ's RPR to keep him alive.
The decision to take him to Cook Children was made quickly, and JJ was in Fort Worth until Monday afternoon.
Boatman and his wife drove as soon as their son was in the air.
"This driving was a nightmare," Boutman said. "It was the longest drive of my life."
After Boatman and his wife arrived at Fort Worth, they said that the doctors at Cook Children had told them that JJ's lungs were full of fluid and that his brain was swollen from lack of oxygen.
JJ is also likely to have died, Boutman told the WFAA after talking to doctors.
Again, Boatman couldn't believe what he was hearing. His son had no symptoms the day before and the family did not know of any medical conditions.
Earlier reports said JJ had asthma, but a family member admitted he was wrong.
Boatman said his son suffers from ADHD and that the boy has taken medication to help him fall asleep.
JJ died by Tuesday morning.
"The nurse came on Tuesday morning and told me his heart was failing and that's what happened," Boutman said. "The hardest thing was to go home, unlock the door and see all his things in the living room."
JJ's death is the second child reported in so many days in Taranto County.
On Tuesday, Taranto County Public Health announced 29 new victims of COVID-19, one of whom was a boy under the age of one.
The child from Taranto County was reported dead on Tuesday and is the youngest victim of county officials since the pandemic began.
Taranto County Public Health Director Vinnie Taneha said the boy's death was "rare" and also heartbreaking.
RELATED: COVID-19 updated Jan. 27: Arlington man, about 30 years old, among the newest to die in Taranto County
Across the state, 13 children over the age of 9 died of coronavirus as of Jan. 22, according to the Texas Department of Public Health. An additional 24 people between the ages of 10 and 19 have died
The Tarant County medical expert has not yet announced the cause of JJ's death, and his father is eager to see what the autopsy could reveal.
An emergency physician interviewed by the WFAA said it was rare for a young child to be a COVID patient and suddenly become ill and die.
The doctor, speaking sternly in the background, feared that the underlying disease might not be known to JJ's family.
Boatman and his wife told the WFAA that they were testing negative for the virus and feared that JJ might have become infected at school.
Vernon ISD posted a statement on Facebook on Tuesday saying Central Elementary School would be closed immediately by the end of the week due to the death of a student who tested positive for COVID-19. The statement said the student's last day on campus was Friday, January 22.
The school district's medical adviser said all staff and students should be quarantined by Monday (February 1st). Classes will resume on that day after the campus is disinfected, the district said.
"We are heartbroken and our thoughts are with the student's family," Vernon ISD superman Jeff Bird said in a statement.
The grief has not yet struck the Boatman. His son, he said, was so happy. Boisterous, an excellent student and eager to learn how to skateboard and play tennis.
He told the WFAA that he stopped at a local Target hours after JJ's death, the last place he remembers visiting with his son.
At the time, JJ wanted some toys that Bowman wasn't ready to buy.
During the trip home after his death, Boatman went and bought them out of pity.
"It was just a consolation for me. I know he will never play with them. I know he will never know they have them, but I bought everything he touched and wanted in this store," Boutman said emotionally.
"There's just something about being with him in this store. A man like him shouldn't leave us."
Download our free WFAA app to keep up with all the news in the Dallas-Fort Worth area.
Source link