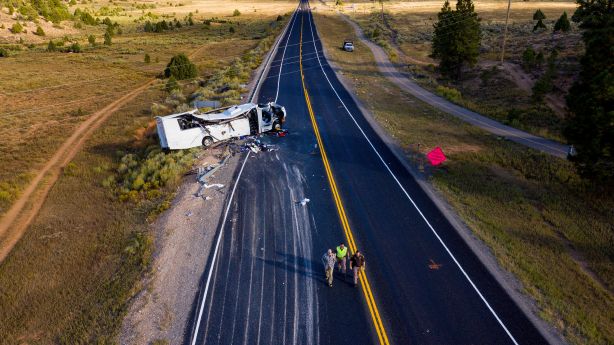 RICHFIELD – The driver of a tourist bus that crashed Friday near Bryce Canyon National Park – killing four and injuring many others – was on his first trip to the company, according to federal crash investigators.
But answers were what may have caused the crash to stay away, National Security Board officials said at a news conference Sunday in Richfield.
"Our process is thorough but lengthy, and we expect to complete this investigation in about 12 to 24 months," said Pete Kotowski, an investigator with the National Transportation Safety Board.
A preliminary report is expected in the coming weeks.
---
Our process is thorough but lengthy and we expect to complete this investigation in about 1

2 to 24 months.
– Investigator Pete Kotovsky
---
On Friday, a bus carrying Chinese tourists crashed and rolled along State Road 12 near Red Canyon around 11:15 in the Utah Highway Patrol said people, including the driver, were on board.
The bus appears to have diverted to the right of the road, UHP Sgt. Nick Street said Friday. The driver was then overhauled, causing the bus to ignite and overturn. The bus rolls into the railing and lands on its wheels.
Four people have been pronounced dead at the scene. They were identified as Ling Geng, 68; Xiuyun Chen, 67; Gian Kayu, 62; and ZhongLiang Qiu, 65. All four are from Shanghai, China.
As of the last report, 12 others remained hospitalized in conditions ranging from serious to critical.
The driver, also injured in the crash, was released by
The driver was recently hired by California-based America Shengjia. According to Kotowski, investigators traveled to California to further examine his medical and driving history and worked to interview him.
UHP took blood samples from the driver after the crash, Kotowski said, and officials were expecting results. They also had information about his driving history, which is "awaiting verification."
Investigators are also looking at the road and markings left after the crash, the construction and maintenance of the highway, signs, steps, slopes and railings, Kotowski said . [19659002] The truck bus was built in 2017 and is considered an average size, he said. The agency looked at the safety features of the bus and where the passengers sat and what happened to them in the crash.
Kotowski says that although the bus has seat belts, some did not wear them during the crash.
Federal investigators also delve into the practice of the coach company, safety, and hiring practices. Kotowski said the company has so far complied with investigators and complied with their requests.
×
Related stories
Source link