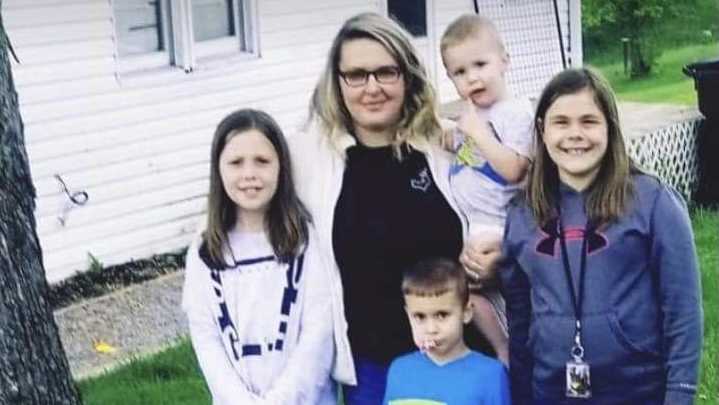 Five members of the Owen County family are dead after investigators said a driver mistakenly hit them head-on on I-75. The crash happened on Saturday afternoon, just south of exit 104 in Lexington, according to investigators. dealing with an incredible loss. Family and friends are ruined. A mother and several young children are dead, and a father who was not in the car with them is the only one alive. "It's very, very difficult and just number five at a time is very difficult to handle," said Trish Bryant. It's hard to understand how lunchtime driving became a tragedy on I-75. For Bryant, the scene is where her adopted daughter Catherine Green and two grandchildren lost their lives. "She loved her children. She would do anything for these children, and you never, ever, ever heard the word adopted child in her home. Her two daughters were from her husband and were her bonus daughters,"
; Bryant said. She said the love of Catherine's life, her husband, John Green, was not in the car. He is the only one still alive in their mixed family, full of love. Lexington police were called 104 miles on I-75 shortly before 12:30 p.m. on Saturday for a car heading south in the northern lanes. , 38, drove Nissan head-on in an Owen family's Toyota from Owen County. Caudil died. "They've had 10-46 deaths involving children. They still have children trapped in vehicles," said a Kentucky State Police radio traffic controller. Police said Catherine, 30, Santana, 11, Carmen, 9, Braden, 5 and Jack, 2, were also killed. Traffic is supported for hours. Christa Larmore of Selina, Ohio, said her husband, their 2-year-old and 5-month-old, barely missed a Nissan on their way home from Florida. "It could have been us. It could have been. It just wasn't, you know, and we definitely had some guardian angels on our side," Larmore said. "It was difficult to go home because he didn't make the children greet him or his wife greet him and he just missed the noise." said Bryant. A priest in the Lexington area happened to be at the scene and prayed for the victims. He said he would take responsibility for negotiating with the funeral home to help ease the family's financial burden. According to McDonald and New Funeal Home in Owenton, information about the services is expected to be updated on Monday. The obituary for the Green family can be found here: https://www.mcdonaldandnew.com/obituary/the-greene-family
LEXINGTON, Ky –
Five members of the Owen County family are dead after investigators said a driver mistakenly hit them head-on on I-75.
The crash happened on Saturday afternoon, just south of exit 104 in Lexington, according to investigators.
Now the loved ones are coping with an incredible loss.
Family and friends are ruined.
A mother and several young children are dead, and a father who was not in the car with them is the only one alive.
"It's very, very difficult, and the number itself, five at a time, is very difficult to handle," Trish Bryant said.
It's hard to understand how lunchtime driving became a tragedy on I-75.
For Bryant, the scene is where her adopted daughter Catherine Green and two grandchildren lost their lives.
"She loved her children. She would do anything for these children and you never, ever, ever heard the word foster child in her home. Her two daughters were from her husband and they were her daughters," Bryant said.
She said the love of Catherine's life, her husband John Green, was not in the car.
He is the only one still alive in their mixed family, full of love.
Lexington police were called to the 104-mile mark on I-75 shortly before 12:30 p.m. on Saturday for a car traveling south in the northern lanes.
Investigators say 38-year-old Jamaican Kaudil drove a Nissan in the Toyota of the Owen family from the county.
Caudill died.
"They've had 10-46 deaths involving children. They still have children locked up in vehicles," said a Kentucky state police radio traffic controller.
Police said Catherine, 30, Santana, 11, Carmen, 9, Braden, 5 and Jack, 2, also died.
Traffic was backed up for hours.
Christa Larmore of Selina, Ohio, said she, her husband, their 2-year-old and 5-month-old husband barely missed a Nissan on their way home from Florida.
"It could have been us. It could have been. It just wasn't, you know, and we definitely had some guardian angels on our side," Larmore said.
While the police investigate how and why this accident happened, there is a father with immeasurable pain.
"It was hard to get home because he didn't make the kids run to greet him or his wife to greet him, and he just missed all the noise," Bryant said.
A priest in the Lexington area happened to be on the spot and prayed for the victims.
He said he would take over the arrangements with the funeral home to ease the family's financial burden.
This content was imported from Twitter. You may be able to find the same content in another format or find more information on their website.
According to McDonald and New Funeal Home in Owenton, information about the service is expected to be updated on Monday.
The obituary for the Green family can be found here: https://www.mcdonaldandnew.com/obituary/the-greene-family
Source link