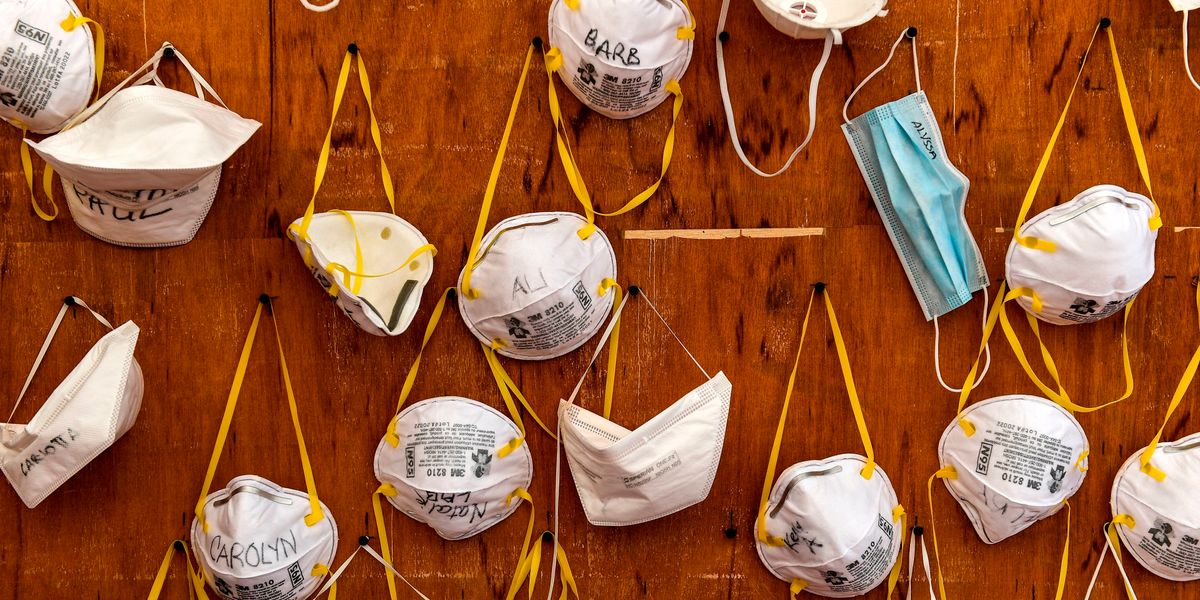 A 51-year-old Croat man is dead after falling from a 10-meter ladder, but medical experts in the Journal of Forensic Pathology report that COVID-19 killed him.
What are the details?
According to a report by the New York Post on Thursday, the man – a construction worker – fell from the ladder while working in Croatia.
He was pronounced dead at the scene and was found with cuts and bruises on his head, but autopsies found that COVID-19 caused the accident because "the consequences of the disease are disorienting."
;
The report, entitled "Accidental death from a height at work, turned out to be a death from COVID-19", noted his physical injuries.
"The forensic examination of the body revealed tears on both sides of his forehead, minor abrasions on his face and elbows and bruises on his left arm," the report said. "Traces of blood were present on the ground near the head."
However, in addition to the external injuries of the unnamed man, doctors report that the man had previously suffered from respiratory distress before his death.
"During the autopsy, doctors found that large parts of the man's lungs were blocked," the Post reported. "The researchers then concluded that he was suffering from acute respiratory distress syndrome (ARDS), a life-threatening condition that could be caused by COVID-19."
Medical experts said the man also tested positive for coronavirus at the time of death.
"Only then did the investigation establish that he was suffering from complaints corresponding to a respiratory infection in the days before his death," the magazine said in a report. "Based on all the findings, the death was determined to be natural, caused by COVID-19."
The report explains that the man also suffered from type 2 diabetes and smoked for decades.
"From [co-worker] statements given to the police, we learned that the deceased had type 2 diabetes and had been a smoker for decades, "the report said.
The man's colleagues told authorities that the heir had experienced medical stress in the days before his death.
"In the week before his death, he complained of headaches, fatigue, fever, cough, chest discomfort and shortness of breath," the report added. "He had turned down the offer to go to the doctor and was still working until he died."
You can read more about the man's autopsy report here.
window.REBELMOUSE_LOWEST_TASKS_QUEUE.push(function(){window.REBELMOUSE_STDLIB.loadExternalScript("https://cdn.optimizely.com/js/8667924112.js", function() {});});
window.REBELMOUSE_LOWEST_TASKS_QUEUE.push(function(){window.REBELMOUSE_STDLIB.loadExternalScript("https://cdn.sendpulse.com/js/push/c1cf05cedec34f81a01419e313027a78_1.js", function() {});});
window.REBELMOUSE_LOWEST_TASKS_QUEUE.push(function(){window.REBELMOUSE_STDLIB.loadExternalScript("https://cdn.sendpulse.com/sp-push-worker-fb.js?ver=2.0%27", function() {console.log ('sendpulse loaded');});});
window.REBELMOUSE_LOWEST_TASKS_QUEUE.push(function(){//Facebook Pixel Code !function(f,b,e,v,n,t,s) {if(f.fbq)return;n=f.fbq=function(){n.callMethod? n.callMethod.apply(n,arguments):n.queue.push(arguments)}; if(!f._fbq)f._fbq=n;n.push=n;n.loaded=!0;n.version='2.0'; n.queue=[];t=b.createElement(e);t.async=!0; t.src=v;s=b.getElementsByTagName(e)[0]; s.parentNode.insertBefore(t,s)}(window, document,'script', 'https://connect.facebook.net/en_US/fbevents.js'); fbq('init', '1398069580413568'); fbq('track', 'PageView');});
window.REBELMOUSE_LOWEST_TASKS_QUEUE.push(function(){window.REBELMOUSE_STDLIB.loadExternalScript("https://ak.sail-horizon.com/spm/spm.v1.min.js", function() {Sailthru.init({ customerId: 'ec5d4cf4c3fb97d6cf3b6b487843b55d' });});});
window.REBELMOUSE_LOWEST_TASKS_QUEUE.push(function(){window.REBELMOUSE_STDLIB.loadExternalScript("https://assets.revcontent.com/master/delivery.js", function() {});});
window.REBELMOUSE_LOWEST_TASKS_QUEUE.push(function(){function menuClick() { console.log("clicked");
if (document.querySelector('.hambg-btn.js--active') != null) { document.getElementsByClassName('huge-menu')[0].style.display = 'none'; document.getElementsByClassName('hambg-btn')[0].classList.remove('js--active'); document.body.classList.remove("huge-menu-opened"); document.body.classList.remove("menu-opened"); } else{ document.getElementsByClassName('huge-menu')[0].style.display = 'block'; document.getElementsByClassName('hambg-btn')[0].classList.add('js--active'); document.body.classList.add("huge-menu-opened"); document.body.classList.remove("menu-opened"); } }
function searchClick() { console.log("search clicked");
if (document.querySelector('.search-opened') != null) { document.body.classList.remove("search-opened"); } else { document.body.classList.add("search-opened"); } }
function addMenuClickListener() { var rebelMenu = document.getElementsByClassName('rebelbar__menu-toggle'); var menuClose = document.getElementsByClassName('hm__close'); var stickyMenu = document.getElementsByClassName('sticky-menu'); var searchEnable = document.getElementsByClassName('search-custom-icon'); var searchSticky = document.getElementsByClassName('search-icon-sticky'); var searchClose = document.getElementsByClassName('search-close');
rebelMenu[0].addEventListener('click', menuClick);
if(menuClose[0] != undefined){ menuClose[0].addEventListener('click', menuClick);}
if(stickyMenu[0] != undefined){ stickyMenu[0].addEventListener('click', menuClick); }
if(searchEnable[0] != undefined){ searchEnable[0].addEventListener('click', searchClick); }
if(searchSticky[0] != undefined){ searchSticky[0].addEventListener('click', searchClick); }
if(searchClose[0] != undefined){ searchClose[0].addEventListener('click', searchClick); } }
addMenuClickListener();});
window.REBELMOUSE_LOWEST_TASKS_QUEUE.push(function(){function test_adblock(func, id) { var t="0.1.2-dev", el = document.createElement('div'); el.id = id ? id : 'sponsorText'; el.appendChild(document.createTextNode(' ')); Object.assign(el.style, { left: '-999px', position: 'absolute' }); document.body.appendChild(el); setTimeout(function() { if (el) { var o = el.clientHeight === 0; func(o, t); document.body.removeChild(el); } }, 200); } test_adblock(function(is_blocked) { console.log(is_blocked); var wid = is_blocked ? 140286 : 140117, target = document.getElementById('rc-adblock-widget'); var el = document.createElement('div'); el.setAttribute('data-rc-widget', ''); el.setAttribute('data-endpoint', 'trends.revcontent.com'); el.setAttribute('data-widget-id', wid); target.appendChild(el); if (typeof window.renderRCWidget !== 'function') { var script = document.createElement('script'); script.src="https://assets.revcontent.com/master/delivery.js"; script.defer = true; target.appendChild(script); } else { window.renderRCWidget(el) } });});
window.REBELMOUSE_LOWEST_TASKS_QUEUE.push(function(){(function(s,u,m,o,j,v){j=u.createElement(m);v=u.getElementsByTagName(m)[0];j.async=1;j.src=o;j.dataset.sumoSiteId='f20bb26e74a94a53daa9113206b98941e1dfba90635d317b9efd9e33a89bf515';v.parentNode.insertBefore(j,v)})(window,document,'script','//load.sumo.com/');});


Source link