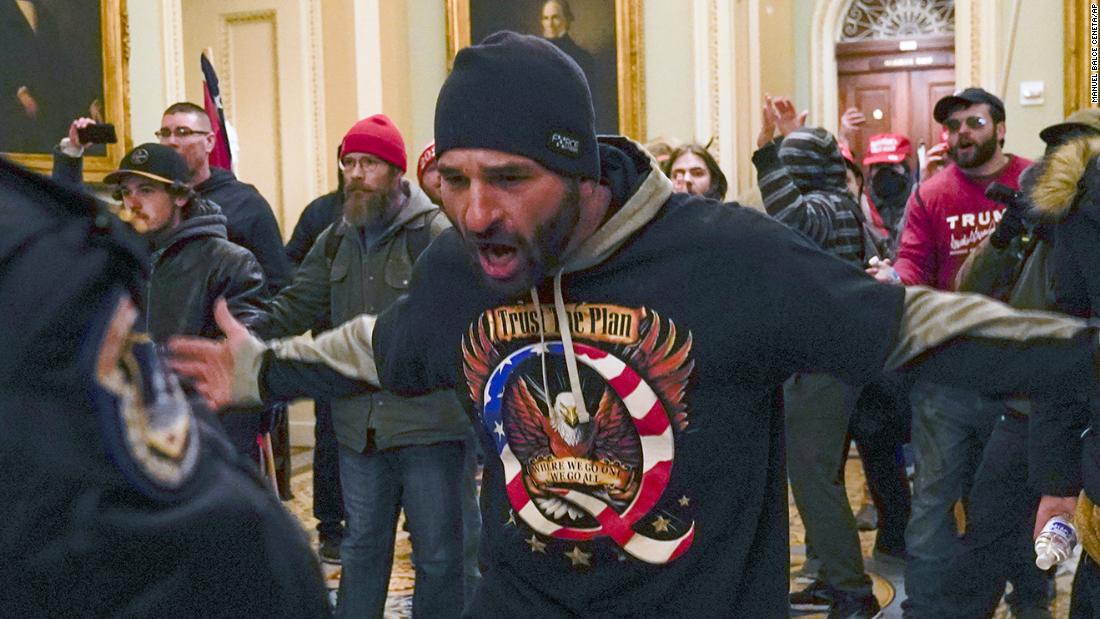 In a Twitter account named after him, Jenson twice identified himself in one of the photos that were distributed online after the uprising and uprising.
His neighbor in Des Moines, Iowa, also confirmed to CNN affiliate KCCI that the man in the photos is Jenson.
Jenson, wearing a QAnon T-shirt, can also be seen in an Associated Press photo taken by photojournalist Manuel Balce Seneta gesturing to another Capitol Hill officer.
In the video, shot by Igor Bobich of the Huffington Post, Jenson – dressed in the same QAnon T-shirt – was seen chasing the unidentified police officer with a mob of rebels following him. Once at the top of the stairs, the officer looks at a door on the left that leads to the Senate floor and moves away from him and the camera, directing the crowd from the Senate floor.
Jensen tweeted on November 1
2 that he was "ready for another four years" and "will do whatever it takes."
According to the FBI and local authorities in Iowa, 41-year-old Jensen was arrested for participating in a violent mob that infiltrated the Capitol. Local authorities were not called in to assist in the arrest, and FBI officials presented Jenson at Polk County Jail for processing Saturday. He was placed in jail around 1 a.m. Central Time.
According to the FBI and the Polk County Sheriff's Office, Jensen faces five federal charges – illegal entry into the Capitol, disruption of government business, forced entry, parade in a Capitol building, and blocking law enforcement during the riot.
CNN also approached the Polk County Jail to try to contact a lawyer for Jenson, and they postponed it to federal officials. At the time of publication, the Ministry of Justice had no further information on Jensen's case.
KCCI went on to say that Jenson has since been fired from Forrest & Associate Masonry. The company's president and CEO Richard Felice told the station that the company did not agree with Jensen's actions.
Christine Wilson contributed to this story.
Source link