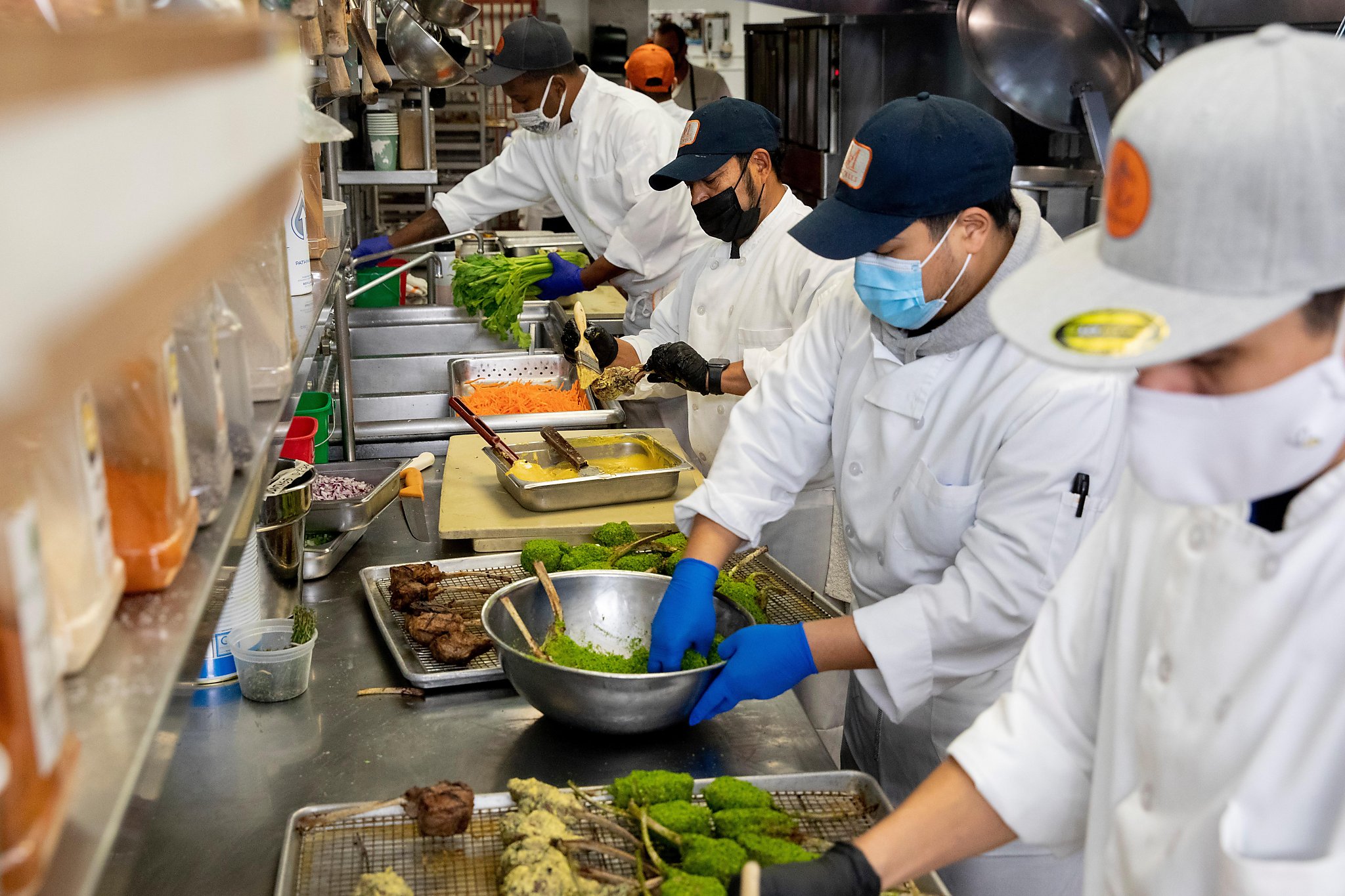 As the state struggles to vaccinate people against the coronavirus, a new UCSF study shows that key workers, especially in the food and transportation industries, have the highest risk of death among working-age Californians. The authors suggest that employees be moved to a photo queue.
Chefs, packaging machine operators, agricultural workers, bakers and construction workers are among the most risky jobs, the study found. Other occupations with a high risk of death include sewing machine operators, shipping and receiving staff, maintenance workers, customer service, truck drivers, maids and cleaning machines.
"While we pay a lot on the lips of the most important workers, when you see that the actual professions that rise to the top of the list are at much greater risk and involve death, he calls out to you, who really is at risk, "said Kirsten Bibins-Domingo, a professor of epidemiology and biostatistics at UCSF who worked on the study.
Researchers examined the mortality of Californians between the ages of 1
8 and 65 – a group that accounts for a third of COVID-19 deaths – from March to October and compared them to pre-pandemic statistics to determine which occupations had the highest growth. of deaths. The study also evaluates race and different occupations.
Data on the profession come from death certificates and are grouped into nine general categories. The highest risk category included food and agricultural workers – all from agricultural workers to food processors and meat processors to cooks and others working in restaurants – followed by transport and logistics: people who pack, send and deliver goods, including drivers. Most of them, including chefs, workers and drivers, continue to work during the blockade.
According to the study, working adults in the range of 18-65 had a 22% increase in deaths during the pandemic. However, workers in food and agriculture increased by 39%, with workers in transport and logistics increasing by 28%, workers in enterprises by 27% and workers in manufacturing by 23%.
Most of these jobs are held by lower-income workers who have no choice but to work from home and are often forced to work close to colleagues, the study said. Many of them do not have adequate personal protective equipment such as masks and disinfectants and do not have adequate sick leave that allows them to stay home from work if they are ill. In some cases, Bibbins-Domingo said, there is little enforcement of the requirements for social distancing or sick leave.
The study also found that Hispanics had a 36% increase in deaths during the pandemic, and black workers had a 28% increase compared to a 6% increase for white workers. Some non-white workers noticed particularly high jumps in deaths during the pandemic, the study found. Deaths among Asian health workers increased by 40% during the pandemic, while black retail workers increased by 18%.
Lori Thomas, executive director of the Golden Gate restaurant association in San Francisco, said the study was "obviously very worrying."
"It's not surprising when you see key workers on the list," she said.
Thomas, who owns two restaurants in the city, said he would like to see data broken down by county to compare how San Francisco is doing, which has more restrictive measures than other parts of the state. She said she had only heard anecdotally about a San Francisco restaurant worker dying of COVID-19, and there were three cases among her employees, two of which occurred when the restaurant was closed during the initial shutdown.
The study calls on employers to provide adequate protective equipment for their workers, to provide appropriate social distance and to provide adequate sick leave. Calls on government agencies to impose these requirements. He also proposes that higher mortality – and the role of key workers – be taken into account when deciding who has priority for the limited number of vaccinations.
"What every Californian has to admit is that there are people who have to be at work, who have to work in conditions that put them at risk," Bibbins-Domingo said. "Their work is a core job, which means it is essential for all of us and they must be taken into account."
Michael Cabanatuan and Jill Tucker are writers on the San Francisco Chronicle team Email: mcabanatuan@sfchronicle.com, jtucker@sfchronicle.com Twitter: @ctuan, @jilltucker