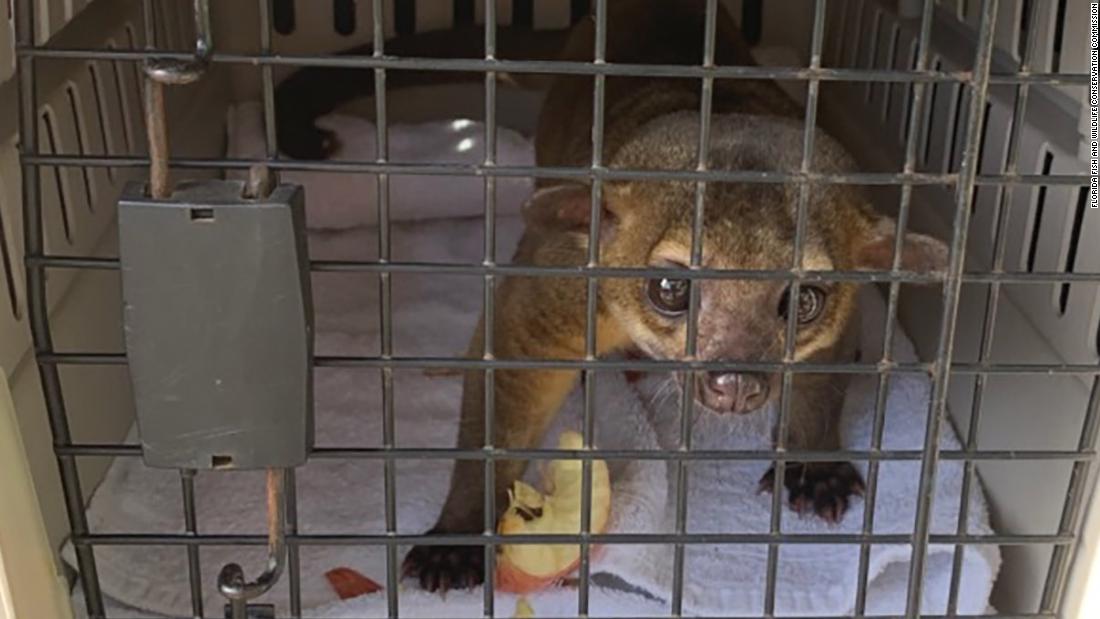 Michael Littersky of Lake Worth spotted a kinkaku, an exotic cousin of a raccoon hanging on a fence in front of his girlfriend's house, so he left pieces of watermelon for the wide-eyed creature, according to a July report from the Florida Fish and Wildlife Conservation Commission nature.
But the mood of the genital mammal waned the next morning. While Literary was leaving for work, Kinkike – who had apparently been camping outside the house all night – had sneaked inside according to the committee.
He tried to shoot kinkakuu outside to find another terrain, but it "immediately attacked" him, biting his ankles and scratching his calves, according to the report.
"He was so hungry for more watermelon that he waited and as soon as he opened the door, he just hit him," Jillian Hicks, a friend of Literary, told CNN on Monday.
The little titanium nearly broke Literary's skin, but it was not easy to catch. Hicks and Litzerci put him in the bathroom until officers from the Conservation Commission, the Palm Beach County Sheriff's Office and Animal Control arrived.
Hicks said she and the removal team peeked into the bathroom to see what she first thought was a lemur hiding damage, scaling the shower curtain and wandering around.
"We have heard that the toilet lid, for example, opens and closes several times," she said. "It was nuts."
The triad finally captured the defendant by the ankle after a one-hour standoff and stabbed him in a fish and wildlife facility, according to the report.
Kinkauu typically weighs 3 to 7 pounds and inhabits forests in Central and South America; government officials aren't sure how one made their way to Worth Lake first. Holding a kinkayku as a pet requires a Class III permit from the Conservation Commission, but officials said they have not found any permit holders in the area.
If you come across a kinkajou that is not yours, think about the consequences before feeding it with a piece of watermelon. It may cost you your shower curtain for several hours of your day.
Source link