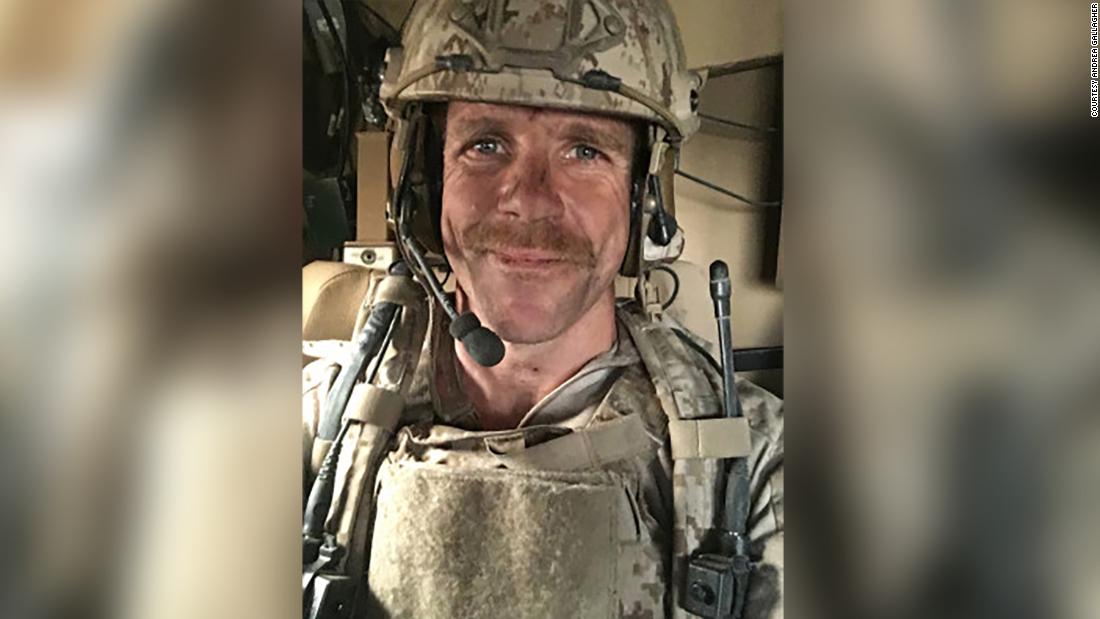 "I suffocated him," said Corey Scott, Special Warfare Operator 1st Class, and Navy SEAL physician. "Did I hold my thumb over his trach tube until he was asphyxiated."
Did Gallagher kill this ISIS terrorist? and the defense attorney asked
"Well, Scott answered."
Scott, testifying under the immunity, also said that he had not admitted to assaulting the prisoner in previous interviews with NCIS or prosecution.
Still, several witnesses, including Scott on Thursday, have testified that they saw Gallagher stabbing the prisoner in the neck just before he was given immunity, which means he can not be prosecuted for his testimony.
The testimony comes as part of the high-profile military trial against Gallagher, 40. He is accused of fatally stabbing a prisoner, posing for a photo next to a corpse , shooting at non-combatants and then intimidating other SEALs who would report him while deployed in Mosul in 2017.
The case has garnered attention from President Donald Trump, and he has also won support from US Rep. Duncan Hunter, and California Republican who served as an artillery officer during a 2004 tour in Falluja, Iraq
Gallagher has pleaded not guilty to charges. Hours after Scott's testimony, defense attorney Tim Parlatore told reporters outside the courtroom surrounded by Gallagher and his family.
"The best defense for Chief Gallagher is the truth."
"Today for the first time someone has gone to one of these witnesses and actually asked the question, what is the cause of death, and what we've learned is Chief Gallagher is not guilty of murder, "he said.
What the witness said
Scott was in the same deployment as Gallagher in Mosul and had heard a radio chatter about an ISIS prisoner, he testified. He said when he arrived at the scene and Gallagher and another physician were already there.
Scott said the prisoner was unconscious but dying normally with a wound on his leg. Someone had already performed a tracheotomy – an incision in the neck to open an airway – and a tube was in his throat
After the other doctor left the scene, Scott said he saw "Gallagher pull his knife and stab ISIS prisoner underneath the collar bone at least once. " He said he did not see any blood. Scott froze and was not sure what to do and said he "stayed with the prisoner until he was asphyxiated."
On cross-examination, he told the defense that he never saw any blood after the stabbing. That's when he admitted to killing the prisoner himself, "because I knew he was going to die anyway."
The boy was a prisoner of the Iraqi forces, so the US would treat the prisoner and hand him over, he said. Scott said that he was not concerned about what Gallagher did to the prisoner, but what the Irakians would do to them was a prisoner and expressed concern because he said they tortured their prisoners
.
Scott also said he does not want to see Gallagher prosecuted and he does not want to see him go to the prison. (19659002)
Witnesses saw Gallagher stab prisoner
Previous witnesses have said that Gallagher has stabbed the prisoner and shot at civilians in Mosul. 19659002] On Wednesday, Chief Special Warfare Operator Craig Miller said he saw Gallagher kneel next to the detainee and stab him
"I saw blood coming from the ISIS detainee's neck and it looked like the way a baby would throw up, Miller said.
The witness said he reported the incident to his superior in Mosul.