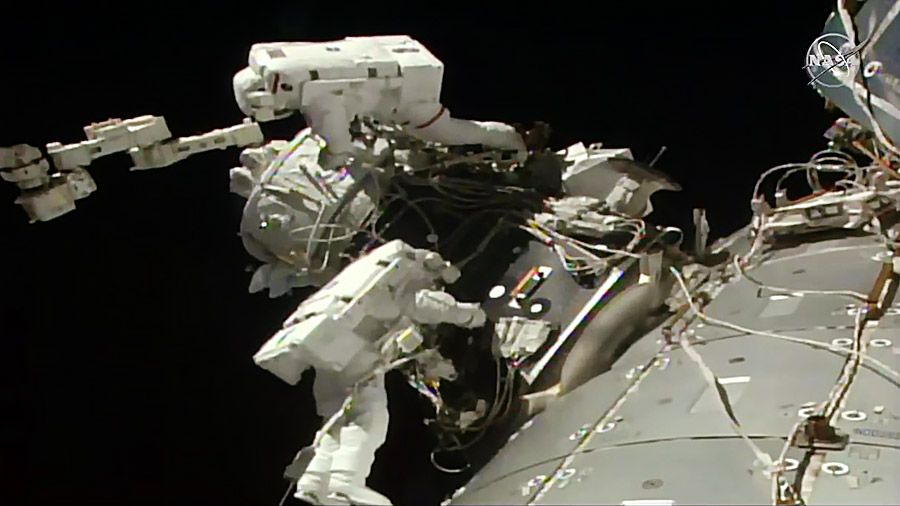 Two NASA astronauts went outside the International Space Station on Wednesday (August 21st) to install a new port port for arriving spacecraft during the fifth space shuttle from the station this year.
Nick Hague and Andrew Morgan begin their 6-hour and 32-minute space travel at 8:27 AM EDT (12:27 GMT), exiting the US-built Quest cabinet after switching their battery suits.
The couple installs the International Docking Adapter-3 (IDA-3) on the side facing the space of the station's Harmony connection module. IDA-3 will serve as the space station's second docking port for inbound merchant ships built by Boeing and SpaceX. NASA has eavesdropped on the Boeing Starliner capsule and SpaceX's Crex Dragon spacecraft to transport astronauts to and from the space station in the future.
Gallery: The Most Memorable Space Paths in History year to help replace some of the station's solar array batteries. On Wednesday's excursion, The Hague was the first, followed by Morgan a few minutes later, as the station soared over the Atlantic.
The Hague's mother was observing Earth from the NASA Mission Control Center at the Johnson Space Center in Houston. She apparently prepared some special treats for ground controllers to assist astronauts in their space travel.
"I heard she was busy in the kitchen yesterday," The Hague broadcasts mission control as she runs cables outside the station. "I'm glad the boys were happy and jealous." NASA did not reveal in space a comment on what dishes the Hague's mother cooked.
The Hague and Morgan expected to have some difficulty adjusting the adapter docking cables baked in the sun outside the station after their delivery five years ago. But these fears seemed to be unfounded. The astronauts mounted the cables with ease, even ending early.
The only nuisance experienced by space travelers occurred when they removed bulk thermal cover for their instruments. As a space shuttle communicator, Mike Barat, also an astronaut, says in Mission Control, "It's like defeating a big hostile rose."
After installing the dock, Hague and Morgan went on to install two vital IDA reflectors. -3, which will serve as a docking accessory for spacecraft visits, provides visual signals for these incoming vehicles.
The Hague and Morgan also received an additional hand from the Canadian Dextre, a two-handed robot that was launched in 2008.