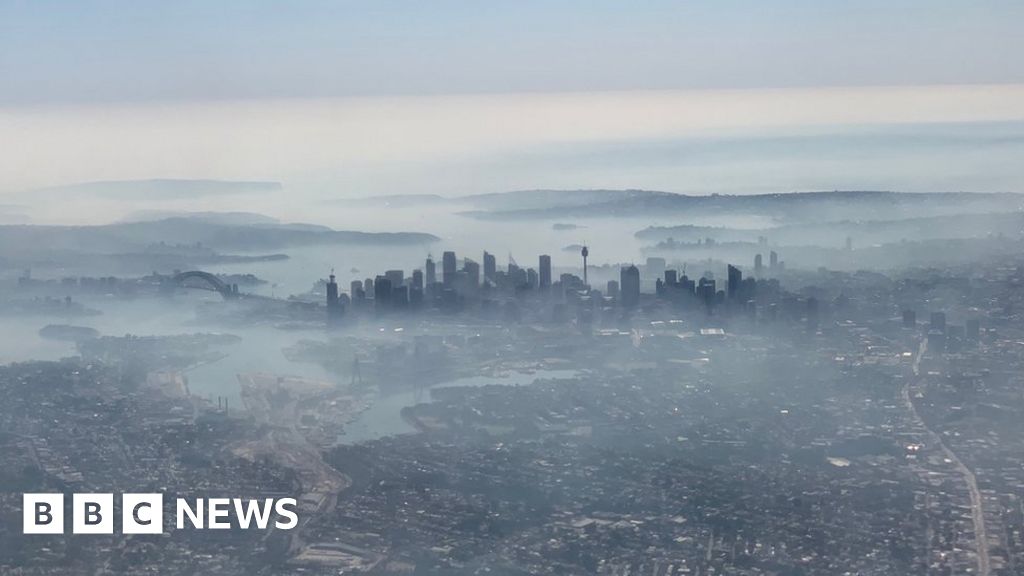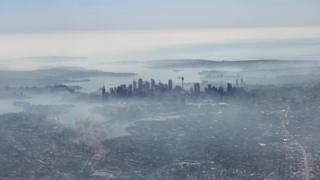 People in Sydney woke up to a city plunged into smoke on Tuesday as dozens of raging fires raged across the region.
Strong winds during the night brought smoke from fires in the interior, forcing air quality in Australia's largest city at times beyond "dangerous" levels.
In social media, locals described the cloudy sky and the smell of smoke in their homes.
About five million people live in the state capital of New South Wales, which has been affected by fires for weeks.
Six people have died in violent wildfires north of the state since October.
Sydney residents were warned of severe fire danger Tuesday as temperatures rose to 37C (98.6F) in the west of the city.
Parts of the city recorded levels of air pollution eight times higher than national levels.
Health officials advised people to stay indoors and avoid physical activity. They also shared first aid guides on how to help asthma sufferers and others with respiratory problems.
"Smoke is likely to hang in the next few days," warned the New Rural Fire Service in South Wales.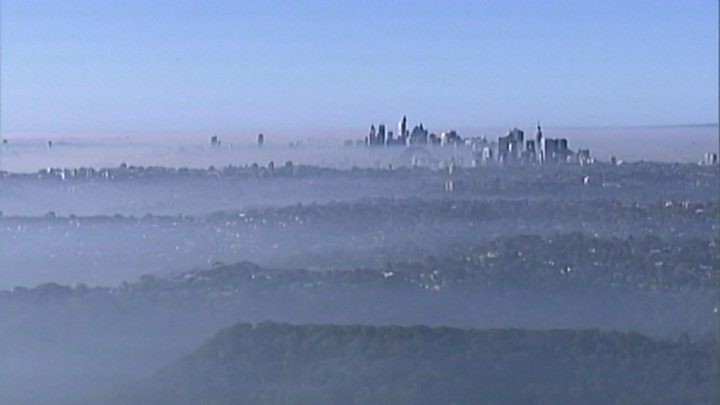 "Coughing and spraying" [1
9659016] Francis Mao, BBC News, Sydney
You can feel it as soon as you wake up. At first, I was hoping that my roommates would just smoke inside again, but deep down I knew it was another fire. The sky was burnt gray.
The first thing I checked on my phone was not Instagram or emails, but the app I downloaded last week that shows where the fuses are.
Fortunately, no new fronts appeared at night. But it's hard to predict these days – the flames are so variable and they can blaze with the changing wind.
I interrupted my stride to work to get the bus instead. People were still coughing and clapping on board. I made a mental note of buying a face mask – something I never needed in Sydney.
Last week, Sydney faced an unprecedented threat of storms as flames hit suburbs and parts of its outskirts. from the city, which has grown to 150,000 hectares in size.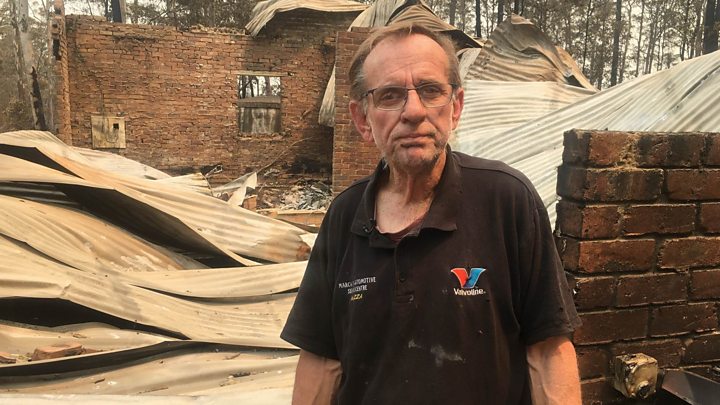 What is happening with the fires now?
Nearly 50 fuses continue to burn in populated coastal and inland areas north of the city. Authorities say 468 homes were demolished after flames broke out on November 8.
Since then, four people who died in the fires have been confirmed: Vivian Chapline, 69, Julie Fletcher, 63, Barry Parsons, 58, and George Nol, whose age is unknown. They were discovered in separate locations in rural NSW.
A couple, Bob Lindsey, 77, and Gwen Hyde, 68, were killed in a violent fire in the same regions in October.
Many affected areas have experienced thick smoke and extremely poor air quality for weeks.
Officials warn that flames could escalate later this week as heat waves reach New South Wales and neighboring Queensland, where dozens of fires are burning.
In the meantime, a "catastrophic" fire hazard warning has been issued for parts of South Australia. The state capital, Adelaide, is expected to reach 42C on Wednesday.
Source link