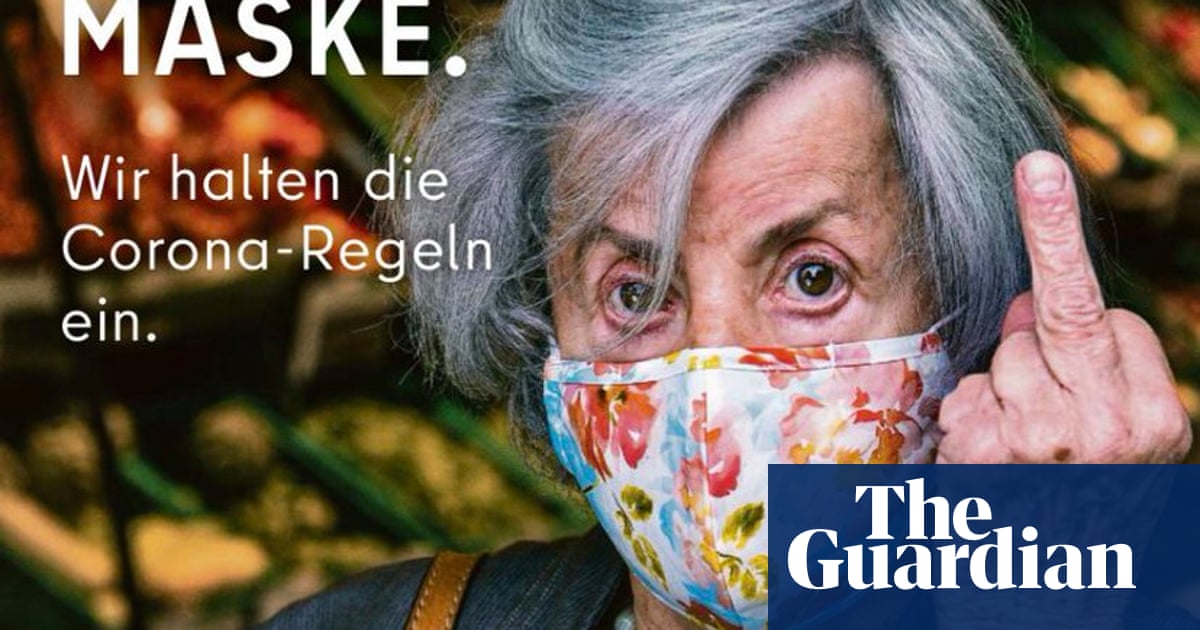 Berlin has abandoned a polite public announcement of the coronavirus in favor of a more direct reminder of the rules, turning the bird to people who will not wear a mask.
An advertisement in local newspapers by the Senate of the German capital as part of a public information campaign showed an elderly woman holding out her outstretched middle finger in front of the camera, to the words: . "
In a city that is proud of its own Berliner Schnauze ̵

1; the rude but heartfelt "Berlin goblin" – public announcements cannot afford to be moralized from above, said a spokesman for Visit Berlin, the travel agency that developed the campaign.
"We wanted to use a language that was Berlin-style and that emphasized the dramatic pandemic situation – and that we did it," a Guardian spokesman said.
The motif of the angry retiree is part of a broader campaign that began in September with a series of typographic posters in German, English, Turkish and Arabic, with equally outspoken but slightly less aggressive slogans such as "Mask on. So that the lamps do not light up. "
In the past, the Berlin-based public transport company BVG has won numerous awards for an advertising campaign that covers, instead of apologizing for the capital's image, as a chambers apostate in a district that prides itself on efficiency and respect.
A light-language BVG advertisement lectured to travelers that the price of a season ticket was absolutely justified, as closing the bus door in the passenger's face required intensive training.
Coming from the city government, the new coronavirus campaign includes a change in tone that not every Berliner liked.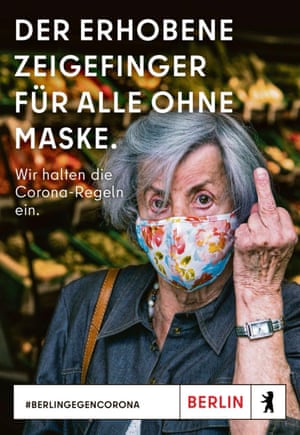 Angela Merkel's local HDZ leader, Kai Wegner, has criticized the Senate, which is run by a coalition of the Social Democrats, the Left Party and the Greens. "The situation is too serious for stupid jokes," he said.
The secretary-general of the center-right Free Democrats said the campaign was "neither funny nor unconventional, but arrogant and insulting". An independent delegate said he had filed charges of "inciting people".
The local newspaper Tagesspiegel said, however, that the campaign may have already achieved its goal. "Nevertheless, this is easier to understand than the nth extension of the unequivocal decree," the newspaper said in its bulletin.
Visit Berlin said it currently has no plans to re-use the image with the angry retiree.
Source link