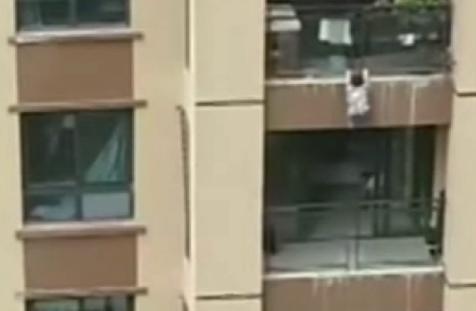 A three-year-old boy in China experiences a fall from a sixth-floor balcony on Monday thanks to a group of fast-thinking viewers who used a blanket to interrupt his fall.
The incident occurred about 4 hours ago in a residential municipality in Chongqing, located in the southwestern part of the country.
"I looked up and saw that a small child was hanging there. My first reaction was to find something to catch him, "Zhu Yanghui, an employee," a member of the property management company told CCTV. "I was thinking of rushing in there and taking it with my bare hands, but that would not work." UNREST TO THE END
Video captured by viewers shows a young child clinging to the edge of a balcony as viewers gather under the building.
CHINA CONTENTS ONLINE ACTIVIST UNDER 1

2 YEARS LATEST SECRETS 9
] The audience then formed a circle with a white blanket.
"All the time, I stretched my blanket while keeping my eyes on the child," Zhu Yanghui tells CCTV. "I looked at the blanket, wondering if we could catch it safely. My only thought was to keep it."
Click here for the FOX NEWS application
Then the young child can be seen falling from the balcony to the group that was waiting below and landing safely on the blanket.
"I was there right now and helped to hold the blanket. Ten seconds later, the boy fell, "Zhou Xiaobo, a real estate company employee, told CCTV. "It all happened so fast."
The 3-year-old child was transported to a regional hospital, but no injuries, according to CCTV. Police said the boy was only left in the apartment while his grandmother went shopping.
Source link