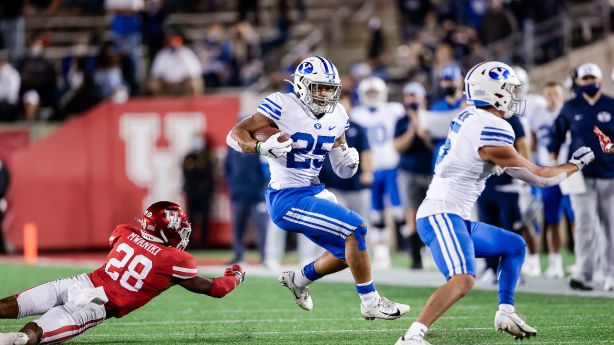 PROVO – After passing its toughest test for the 2020 season, BYU football retained its place among the country's best teams on Sunday morning.
The cougars climbed two places to No. 11 in the latest edition of the USA Today Coaches 'poll, ranking just behind Miami, Florida, and just before North Carolina after Tar Heels' first loss of the year to an unrated Florida state.
BYU also ranks sixth in Jeff Sagarin's rating with a score of 94.86, behind only Ohio, Clemson, Alabama, Oklahoma and Georgia in a largely computer-based metric.
The fact that BYU, which is coming together to beat Houston 43-26 on Friday night, is ranked among the 15 teams in the country is no longer a big surprise. The Cougars are 5-0 for the first time since 2008 and are one of only 1
0 programs not yet beaten in a season with a minimum of three games.
Others on that list include top-ranked Clemson, who released Georgia Tech 73-7 on Saturday; Alabama, the SEC force that has three times selected Georgia Stetson Bennett's quarterback on the road to a 41-24 victory over the Bulldogs; Carolina Coast, the 4-0 Sun Belt team that won its first game as an FBS program against a ranked opponent with a 30-27 win over No. 21 Louisiana; and Liberty, a FBS Independent colleague who went through the ACC Syracuse 38-21 program on Saturday at the Carrier Dome to improve to 5-0 for the first time since the Flames were on the FCS Big South program in 2008.
Statistically, the cougars ranked sixth in total offense, averaging 541.0 yards per game with 43.6 points and just outside the top 10 in the overall defense with 288.0 yards allowed per game.
Individually, BYU quarterback star Zack Wilson shines brightly. The teenager, who prepared for Corner Canyon, ranked third in the country with 1,641 passing yards, equal to fourth with five touchdowns and eighth overall with an average of 348.2 yards per game.
This story will be updated after the release of AP Top 25, usually around noon MT.
×
More stories that may interest you
Source link