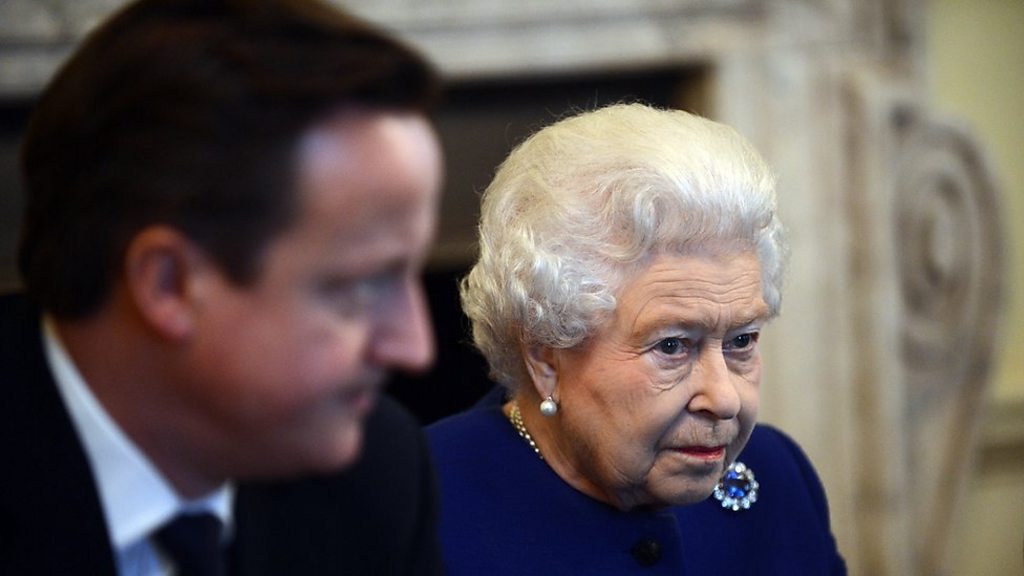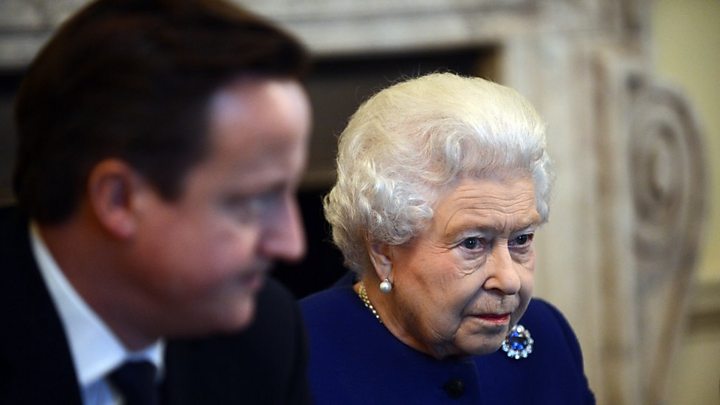 David Cameron's revelation that he sought help by the queen before the scots The election for independence in 2014 caused discontent at Buckingham Palace, a source says.
The former prime minister told the BBC that he had asked if the queen could "raise an eyebrow" about Scotland's prospect of voting for independence.
The queen later said that people should "think carefully about the future".
Buckingham Palace made no official comment on Mr Cameron's remarks.
The revelation is made in a two-part BBC documentary in which the former prime minister reflects on his time.
What was discussed with the Queen's staff was not "something that would be wrong in any way … but simply lifting eyebrows even … a quarter inch, "he said. [1
9659004] He also has
a source told the BBC that he did not serve anyone's interests to make the talks between the prime minister and the queen public.
"
Asked for a response from the Palace, Mr Cameron told Jeremy Wein of the BBC that he had tried to give an" honest explanation "of his actions.
" I was trying to explain the frustrations. when there was one party in the referendum saying that we would have a queen of independent Scotland and everyone was good and cheerful, "he added.
Scotland rejected independence by a margin of 55.3% to 44.7%, a result , which Mr Cameron said left him "blissfully happy."
In a statement, Alex Salmond, who resigned as Scotland's first minister as a result, stated that Mr Cameron's actions were not only unlawful, but showed how desperate the party was during the final s stages of the independence campaign.
Just like Fight Club's first rule is that no you're talking about the Fight Club, the first rule of thumb for the relationship between the prime minister and the queen is that you never, ever talk about the relationship between the prime minister and the queen.
A Buckingham Palace source told the BBC that he had some dissatisfaction with David Cameron's comments.
You can probably read this as a cold rage. Not just because he broke the first rule. But it is painfully clear that in 2014 he used the Queen for his political purposes. And that she and her advisers thought it was okay.
The revelation comes as her suspension of Parliament – a suspension made under the effective instruction of Boris Johnson – is subject to unprecedented scrutiny in the Supreme Court.
The two cases are very different, but both emphasize the dark gray points of the queen's constitutional position, the margin of appreciation she has or lacks in extraordinary circumstances, to speak and to act.
Source link