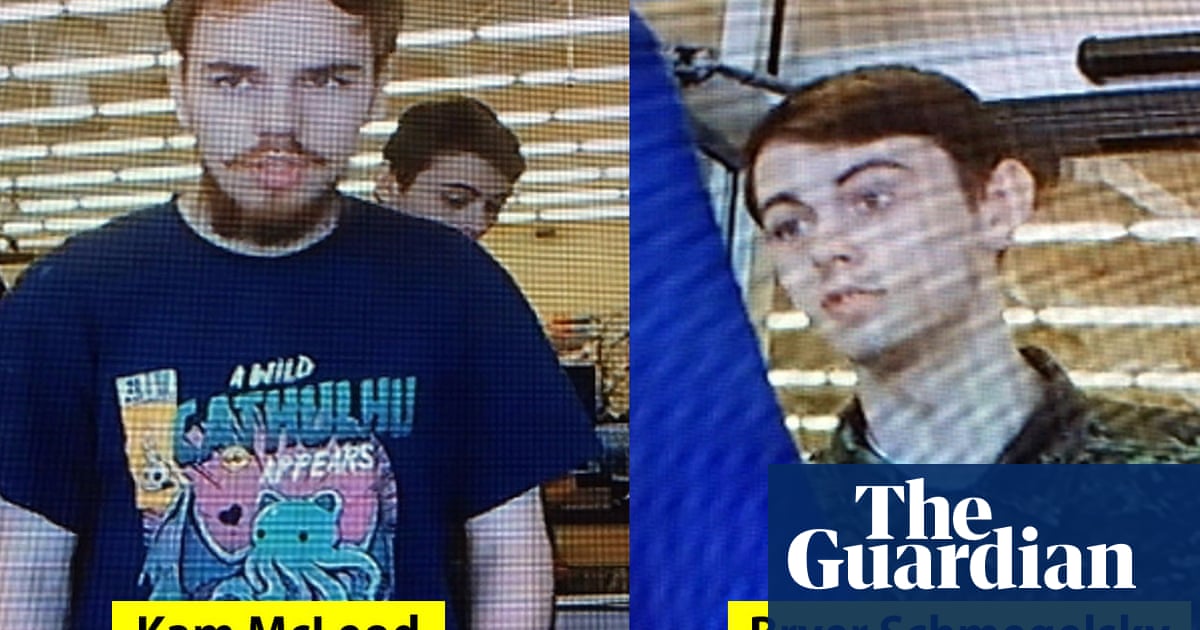 The crime of accused killers Kam McLeod and Bryer Schmegelski in northern Canada took another disappointing turn, with authorities confirming that the duo was stopped at a checkpoint but then released.
The couple suspected of shooting dead Australian tourist Lucas Fowler and his American girlfriend Chinna Dees, along with Canadian botanist Leonard Dyke, have been on the run in northern Canada for two weeks.
Hundreds of Canadian Mountain Police officers using drones, helicopters and sniffing dogs search for remote parts of northern Manitoba eight days after the pair's sightings.
But it emerged on Tuesday that 19-year-old McLeod and 18-year-old Schmiegelski were harassed and stopped by First Nations security officials in Split Lake, Manitoba, last week after passing a checkpoint to search for alcohol. But teenagers have not yet been identified as suspects.
"These two men went through a checkpoint where we had the two police officers follow them into the community and stop them," Nathan Neckoway, councilor for the Tataskweyak group
Alcohol is banned in the area.
When no alcohol was found in the search of the car, McLeod and Schmegelski were allowed to continue driving.
Apparently, they then drove 90 km west to Gilam, crashed their Toyota RAV4 on a gravel road, set it on fire and disappeared.
The teens told the employees who stopped them that they were from British Columbia.
Car search not found.
Neckaway said it was "quite shocking" when officers later learned that the teenagers were fugitives.
Police believe they were closing in on teenagers on Monday when two people matching their descriptions were spotted near trash in a remote York local community landing in Manitoba.
It is estimated that they traveled 3,000 km into the province of British Columbia, where Fowler, Dease and Dyke were found dead.
However, police escaped from the area Tuesday after failing to find traces of them.
"A search of the York landing area involving the use of helicopters, drones, military resources and door-to-door sails has been completed," an RCMP release said. "The RCMP is unable to justify advice that the suspects were in the area.
'The heavy police presence at York Landing has been withdrawn and the community's police resources have returned to normal. "
The RCMP also said officers had completed more than 500 door-to-door sails in Fox Lake Cree Nation and Gillam and acknowledged that" it is possible that inadvertent suspects may receive assistance and may no longer be in the area. "
The Royal Canadian Air Force continues
"Investigators have received more than 260 tips in the last seven days," the RCMP said. "No one has been identified as suspects outside the Gilam area."
McLeod and Schmegelski were wanted for the suspected killings, which began on July 15, when Mr. Fowler, 23, of Sydney, and Mrs. Dease, a 24-year-old from North Carolina was found shot dead on the side of a highway.
Four days later, Dick, 64, was found dead on another highway.
McLeod and Schmegelski of Vancouver Island leave their jobs at Walmart and tell the family that they plan to drive to Yukon to find a job.
Source link