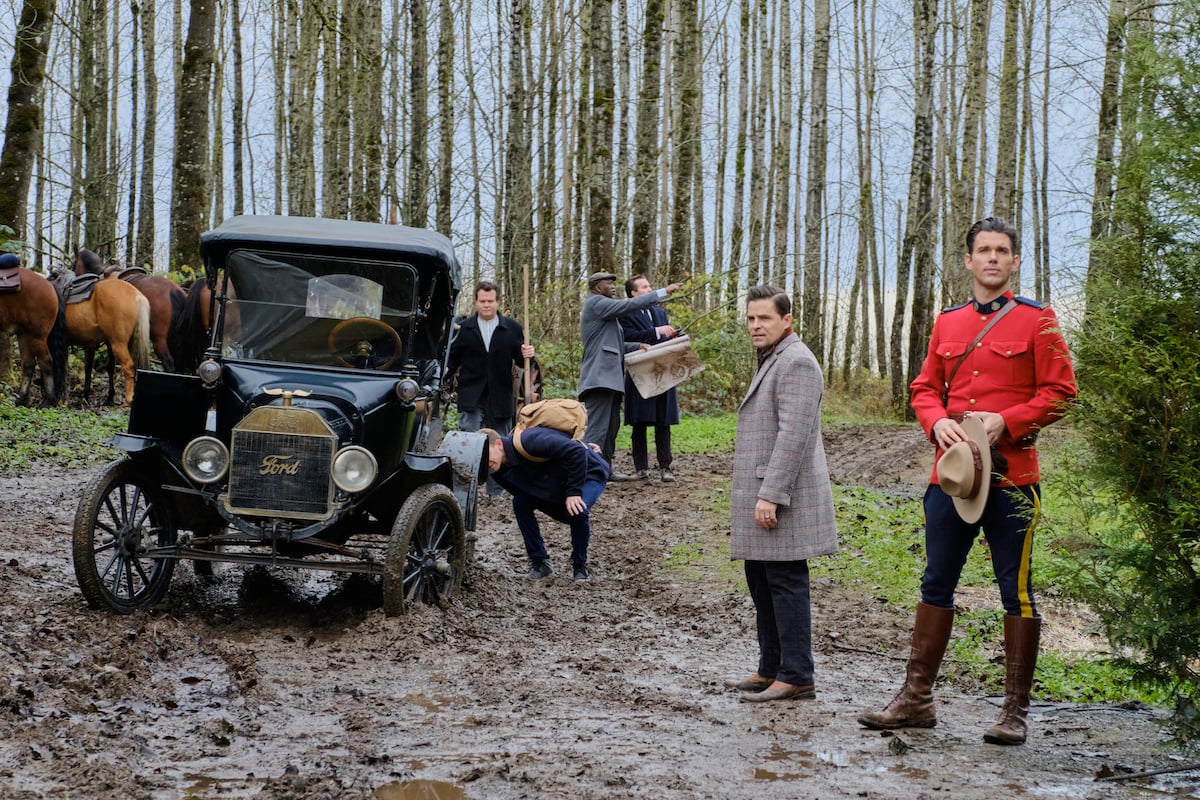 The times when they change in the valley of hope. This is the theme of the May 2 episode When it calls the heart. From the unwanted presence of School Inspector Landis to a major change in Lucas and Elizabeth's relationship, there have been some major developments in the penultimate episode of Season 8 of the Channel Hall Channel drama.
Elizabeth defends her school in this episode of "When She Calls the Heart"
We knew we hadn't seen the last of School Inspector Landis (Todd Thomson) when he showed up in town for graduation day at Jack Thornton's school. He reappears this week and has bad news for Elizabeth (Erin Krakow). As enrollment is expected to grow significantly, the Education Board is more determined than ever to bring its school under its umbrella.
Elizabeth turns to Bill (Jack Wagner) for help, repelling the threat. He believes the council may halt consolidation plans, but there is a more immediate problem. Elizabeth is not yet authorized to teach blind students. If she welcomes Angela Canfield to her class, the district may close her immediately.
Elizabeth tries to negotiate with Landis, but he says he is only the messenger. And he does not adhere to the requirements. Elizabeth is between a rock and an anvil. She promised Angela (and Angela's mother) that she would be able to attend school this year, but if she kept that promise, she might not go to school at all.
The valley of hope is under threat
Where do all those new students come from who put Elizabeth's little one-room school at risk? It turns out that the old status of a small town in Hope Valley is under threat. The grim Wyman Walden (Wesley Salter) works for a group that buys land with the idea of ​​building a factory. They looted Canfield's cabin – probably prompting their relocation to the city in this episode – and Wyman is trying to make money on the side by buying property in the city as well.
However, Wyman and his partners face serious opposition once people understand their plans – just look at those skeptics during the look we get from his sales meeting. While Bill doubts they will get approval to build his factory, Wyman is convinced that the prospect of easy money will eventually shake people up. But this is the valley of hope, where community comes first. Wyman is likely to find the city's residents less convincing than he believes.
Rosemary finds her calling; Clara is afraid for Jesse
The silver lining in Wyman's nefarious plans is that he helps Rosemary (Pascal Hutton) find his true calling. She decided to create a newspaper. A career as an investigative journalist is ideal for her because, as her husband Lee (Cavan Smith) puts it, she is "very curious."
Meanwhile, Jesse (Aren Buchholz) leaves town for Lee. But when she doesn't return home, Clara (Eva Bourne) becomes more and more frantic. A wanted party comes out; they find Lee's car stuck in the mud, but there's no sign of Jesse. His wife is afraid of the worst, but Lee assures her that Jess is probably fine. At least Clara manages to get the money back to her and Jesse from Wyman, but that's hardly a consolation when she's worried that her husband won't be home.
Carson makes a big decision
RELATED: "When it calls the heart": All signs Lori Loflin can return to the show
There are also big changes in some respects in this episode When it calls the heart. Carson (Paul Green) begins with big plans to propose marriage to Faith (Andrea Brooks). But she is not on the same page, expressing her reservations about Fiona (Kayla Wallace), who, it turns out, was engaged before coming to the Hope Valley.
"People change," Fiona tells her friend.
After a stir-frying mess that includes an engagement ring and a bowl of chocolate pudding, Carson begins to think. He tells Lucas (Chris McNally) that the loss of the ring is a sign.
"I don't think it should have been," he said, commenting on Lucas's own situation with Elizabeth.
Carson seems to be preparing to leave both Faith and Valley of Hope. Does that mean Green is leaving When it calls the heart for good? Nothing has been officially announced, but assuming the show is renewed for season 9, there seems to be a chance we won't see much of it in the future.
Elizabeth connects with Nathan
"Change of Times" is arranged in two scenes with Elizabeth and her suitors. At the beginning of the episode, Nathan visits her to leave Florence's wedding bouquet, playfully taking them out of his hat – a rare moment when we see his more light-hearted side. "I guess she thought you'd be the next one to get married," he says.
This scene is the friendliest and calmest we've seen Elizabeth and Nathan in a while. She is so comfortable that she even asks him to take off his red sergeant. "Excuse me?" Nathan replied in shock. But she doesn't make a mistake – he mentioned that he was cold, and she wanted to warm his jacket by the fire, as he had done with Jack.
Moments later, she helps him get into his jacket and even moves to fasten it. It's an intimate moment and Elizabeth is stunned. The situation clearly reminds her of her time with her late husband, but she may begin to realize that she feels deeper about Nathan than she has ever allowed herself to admit.
Lucas leaves the pitch
Elizabeth may still be unsure of her feelings for Nathan, but the devastated Lucas thinks he understands. He saw the couple holding hands at the end of last week's episode. He then drives to Elizabeth's house in the early moments of this episode, where he sees Nathan's horse outside. He later shows up at the school, and Elizabeth is distracted and refuses her lunch invitation. We find out that she left Lucas at Florence and Ned's wedding (not cool, Elizabeth). "You didn't even say goodbye," he says. Elizabeth starts trying to explain, but Minnie (Natasha Burnett) interrupts their conversation.
Lucas is ready to wait for Elizabeth, but his conversation with Carson raises awareness. She continues to repel him, while appearing to get closer to Nathan. In the last moments of the episode, he visits Elizabeth to put an end to things.
"Love … can't be wanted, can't be forced," he tells her. "I want you to find your true love. And in order to do that, I want to release you. "
Elizabeth is too emotional to speak before Lucas leaves. Her reaction is difficult to read (probably a deliberate move from a show, determined to make viewers guess to the end about who to choose). She may feel guilty about Lucas' injury, combined with relief that she now has the green light to pursue Nathan. But it is also possible only the moment she seems to have lost Lucas for good to realize that he really loves him.
The writers are definitely creating a Elizabeth-Nathan couple for the season finale next week, titled "The Kiss." But McNally warned fans that this season will be a "roller coaster ride" (via Entertainment Tonight). There may be another twist in episode 12 when Elizabeth finally makes her long-awaited decision.
The When it calls the heart The finale of season 8 airs on Sunday, May 9 at 9:00 p.m. ET on Channel Hall.