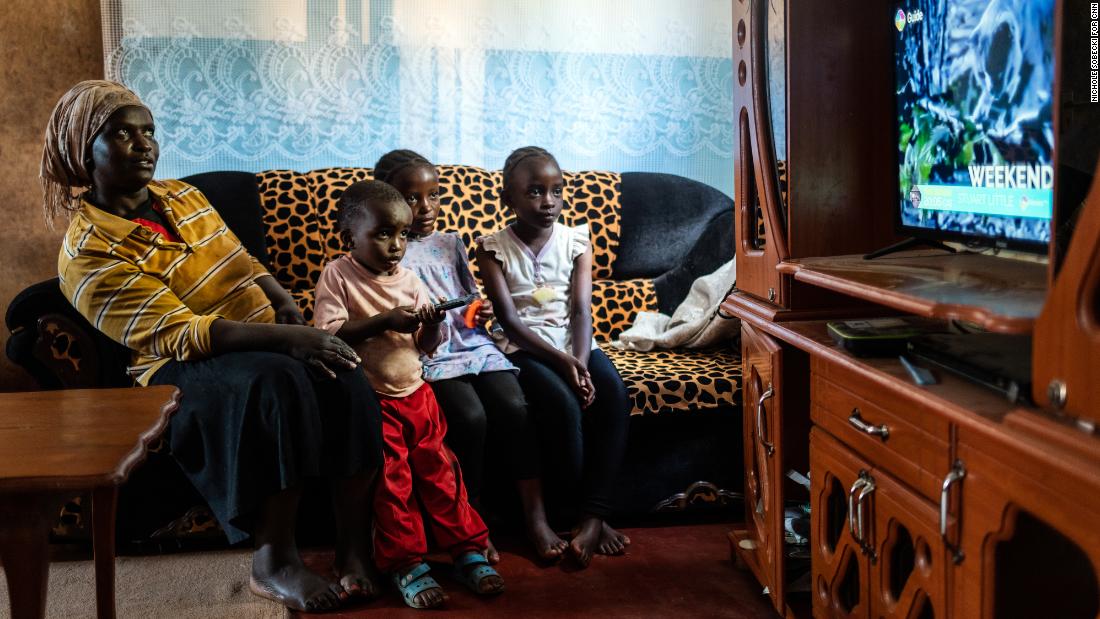 His small home in Limuru village has no running water and its walls are made of corrugated metal. Yet outside, where the chickens roam the yard, the father-of-two, who repairs the shoes for a living, has a large Chinese-built satellite dish that connects his old television set to hundreds of channels – many of which are beamed from Beijing .
"It's good to have a lot of TV channels," said Nganga, who was limited to a few local Kenyan stations before the Chinese dish. "Because you can know how the world is changing every day."
In 2015, Xi announced the 10,000 Villages Project, and plans to take digital television to the underprivileged parts of Africa, such as the village where Nganga lives. Previously, television access in many parts of the continent was a privilege of the elite, and those who were connected relied on the old-fashioned, snowy analog reception.
Xi's dream was to upgrade the vast swathes of Africa to modern, digital satellite TV networks, which could broadcast a constellation of channels over long distances ̵
1; so long, in fact, that a TV channel from Beijing could be beamed to African homes.
This was more than just a philanthropic gesture.
It was a stroke of soft-power genius that would raise China's profile among Africans, while giving Beijing a tighter grip on the continent's communications infrastructure and control over how it is portrayed there in the media.
StarTimes has been the Chinese government's primary contractor to carry out the 10,000 Villages Project, paving the way for the Beijing-based
And it would boost the fortunes and power of one important Chinese company that otherwise holds a low profile. firm – not any of its American or European media competitors – to dominate the African market of 1.2 billion people. A spokesperson for StarTimes said it was "important" for Beijing to work with "an experienced and cost-conscious enterprise for the assignment."
Today, China's television shows are being shown in the homes of 10 million subscribers in 30 African countries, pushing China's state-owned propaganda news network into households over Western news networks, and controls television networks to such an extent in Zambia and Kenya there were fears the company could black out TVs in those countries, if it wanted to.
While channels like the BBC reach more people and South African distributor MultiChoice has more subscribers, StarTimes' breadth of reach has some critics worrying: Does the company, with its close ties to Beijing, now have too much power over African television networks
In many ways, StarTimes's situation is parallel to the better-known communications giant Huawei, which is battling global criticism for its control over 5G internet networks and ties to Beijing. But unlike Huawei, StarTimes has become one of Beijing's most powerful soft power tools in Africa – without much of the world even knowing its name.
The African opportunity
In 2000, the Economist ran a cover story about Africa titled "The Hopeless Continent." The headline aptly captured the pity through which much of the Western world viewed the African continent at the time: $ 1 trillion in development aid did not prevent famine from taking one million lives in Ethiopia in the 1980s, stemmed from the scourge of AIDS, or stopped and a brutal genocide of slaughtering roughly the same number in Rwanda in the 1990s.
Aid dollars served to ease Western guilt over what then British Prime Minister Tony Blair called a "scar on the conscience of the world," but aside from drilling for oil and setting military bases, little energy went into doing real business in Africa .
Meanwhile, China took a completely different approach