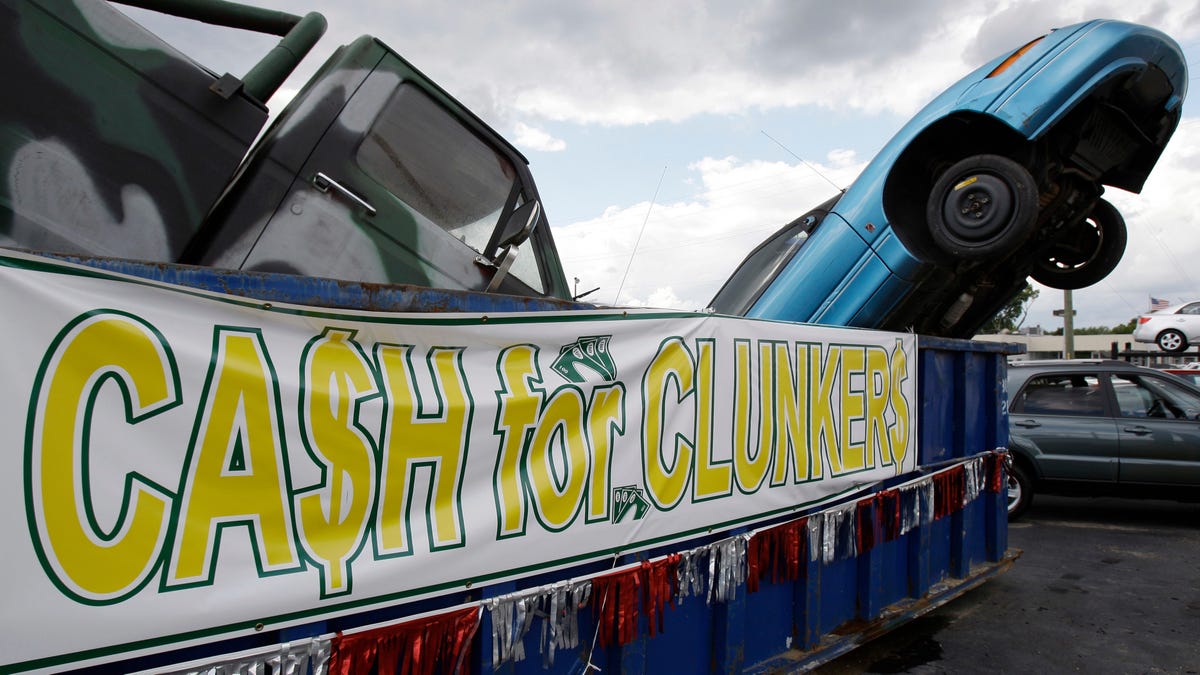 As we noted on Friday Senate Minority Leader Chuck Schumer wants to drive sales of electric vehicles using a scrap scheme in the form of Cash for Clunkers. This is a well-intentioned plan and the goal of increasing EV adoption is good. It just ignores a serious problem: Cash For Clunkers sucked.
The main problem of the program – and similar to others in other countries – is that environmental groups, car experts and enthusiasts generally agree that maintaining an old car works more environmentally than scrapping it and getting a new one. This is true even if the new one is significantly more efficient. The environmental costs of producing new cars are serious, even if they look clean and elegant.
This is also true of the rear end, where the crushing of a car tends to be a terrible use of resources . Money for Clunkers requires the cars being traded to be crushed, which means that utility bits cannot be recycled. Instead, they were covered in oil and antifreeze and thrown into a dump. Whether you look at it from the lens of an enthusiast or environmentalist, it is audible.
You also had a lot of side effects. The cheapest managed vehicles were the most neglected there, as the incentive structure of the program set a minimum value for each operating vehicle. This meant that it was much harder for people with lower incomes to find affordable vehicles because these cars were scrapped. And because the program required you to buy a new car, people who beat up the old cars but couldn't afford a new one were left behind.
Instead, it was more difficult for them to get reliable transportation after Cash For Clunkers, as they had accumulated a bunch of perfectly used cars and even a few cool rare ones. So even though $ 454 billion already sounds like a lot of money for an EV transition period, keep in mind that the real price will be higher once you take the used car factor for people who can't afford EVs or have a lifestyle that EVs don't "
Finally, I would argue that this is a program designed to look more eco-friendly than eco-friendly. In addition to the aforementioned well-known environmental costs of waste schemes, you have to admit that these programs focus entirely on new car sales, justifying this by saying that the transport sector accounts for 1/3 of our carbon footprint. USA.
Reducing this is important, but it seems to me to be another example of encouraging consumer-level incentives to regulate large pollutants. The 29 percent of greenhouse gas emissions from the "transport sector" do not cover only new cars, although this is always targeted. It covers cars, trucks, boats and air travel.
And it seems deliberate that almost no car will explode anywhere compared to the rest, since transportation and shipping are notoriously dirty. Globally, we know that air travel accounts for 2.5 percent of emissions, while the transport sector emits 15 percent of all carbon emissions, but the EPA does not appear to offer broken numbers.
This makes it easier to push consumer-focused policies because they can be guilty of action and lack powerful, connected advocates such as shipping lobbyists or the airline. Of course, the automotive industry also has lobbyists, but this is why the Sumer plan promotes new car sales and includes incentives for car companies to develop new cars.
To summarize rather than regulate, these programs tax consumers and use that money to pay manufacturers to develop the cars they need to develop, while encouraging people to destroy perfectly good cars.
Source link