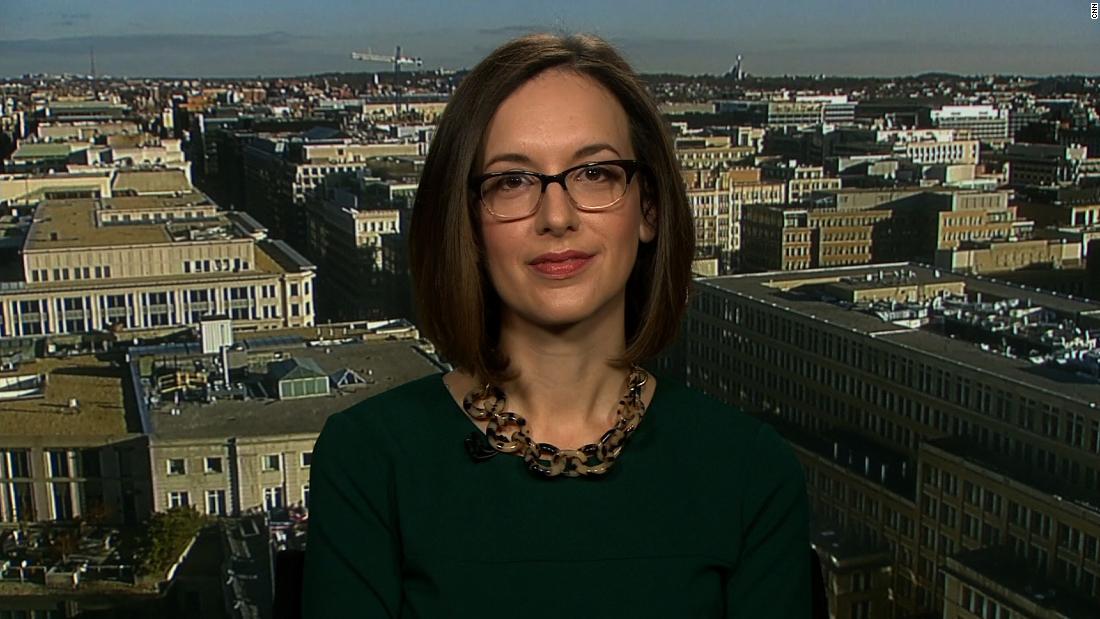 CNN says it is hiring Sarah Isgur Flores, who recently served in the Justice Department as Jeff Sessions' spokesman, to be a political editor in the Washington Bureau. Flores is a longtime Republican political operative who previously worked for Carly Fiorina, Ted Cruz and Mitt Romney.
The reaction has been strong. CNN employees are concerned, according to many people who reached out to me on Tuesday. They are asking what Isgur's role will be and questioning whether her sudden leap from the Trump administration to the CNN newsroom is an ethical breach
Isgur's hiring is also being questioned by journalists at other news organizations. While there is a long history of political aides moving into the media and vice versa, this is an abnormally fast spin of the so-called "revolving door." And it's even more unusual because Isgur is moving into a managerial role.
Several Democratic strategists harshly criticized CNN for the move. And Alexandria Ocasio-Cortez tweeted about it on Tuesday night, gaining thousands of likes and shares. "Sorry," she wrote, "did not get the latest memo after 1
,000 experienced + qualified journalists of all stripes were let go w / o warning a few weeks ago and still looking for work: we are still pretending that hires like these are evidence of a meritocracy? "
A source pushed back on the suggestion that Isgur is not qualified, calling it" absurd. " Scroll down for details …
What CNN management says
Politico broke the news of Isgur's appointment on Tuesday. The headline said "Ex-Sessions spokeswoman to join CNN as a political editor." CNN PR confirmed that she would report to the political director David Chalian but otherwise declined to comment
My understanding is that Isgur – who is not starting work for a few more weeks – will be joining a group of several political editors who coordinate coverage. This involves managing teams in the field, making decisions about how to frame the day's largest campaign stories, etcetera. There is certainly a lot of work to go around, given the crowded Democratic field of presidential candidates and the prospect of Republican primary challengers.
"Isgur has no experience in news," but a long history as a political operative. " Many reporters know her and like her. But she was always on the other side of the fence. The DOJ, for example, has engaged in aggressive leak hunts to ferret out reporters' sources. Soon she will be working with those reporters and possibly talking to them about sourcing
What CNN employees are saying
In confidential conversations, they are objecting to both her hiring and the way it was revealed through a Politico story, with no internal communication on Tuesday.
"We hired a former Trump administration official to help guide our coverage of his re-election," and a baffled editor said. "Reporters are up in arms about this."
"This just feels like a disaster," one of those reporters said. "I'm really worried about this, and I was worried about the ethical implications of taking on stories from someone I covered when she was an operative in 2016 and who pledged loyalty to one of the candidates in the race. "
"
"I'm sure she's a wonderful person, I'm sure she's a great person, but no one knows what she will be doing, "and a staffer in Washington said.
Here's the argument in favor of Isgur's hiring
I have also spoken with CNN executives who defended Isgur's appointment.
The fact is that political insiders have been joining newsrooms for decades. The executives pointed to past examples like George Stephanopoulos, who went from Clinton White House to ABC News anchor chair. (But Stephanopoulos moved much, much more slowly from politics to journalism. He was an ABC political analyst for several years before becoming a host.)
"The notion that she is not qualified for this role is absurd," and source told me Tuesday night. "Nicole Wallace, Dana Perino, Tim Russert, and these are anchors with huge platforms in their networks." She is one of more than a dozen people "
A few more details
– According to CNN PR, Isgur will occasionally appear on-air as a
– She will not be involved in the coverage of the DOJ, given that she was DOJ's spokeswoman
– Vox pointed out that she previously criticized CNN and other news outlets on Twitter. ] – While Isgur declined because of her association with Sessions, who fell out of favor with Trump and was eventually fired.
– Isgur declined to comment
FOR THE RECORD
– Reba McEntire will announce the nominees for the 54th annual ACM Awards on Wednesday's "CBS This Morning …" (
Twitter
)
– "John Finley has been named Fox News EVP of development, which includes overseeing Fox Nation, the network's OTT service launched last fall … "(TVNewser)
– The WSJ's Peter Nicholas joins The Atlantic to be a WH correspondent there … (
Twitter
)
– Read more of Tuesday's "Reliable Sources" newsletter … …
– Former Trump aide Marc Short, who joined CNN as contributor last summer, returned to Trump admin as VP's chief of staff. (CNN)
Judge Clarence Thomas calls for reconsideration of landmark libel case
Via CNN's Tammy Kupperman and Sophie Tatum: "Supreme Court Justice Clarence Thomas on Tuesday called for a reconsideration of a landmark First Amendment precedent, criticizing the 1964 decision that the Constitution creates a higher barrier for public figures to claim libel. " George Stephanopoulos has signed a new four-year deal with ABC News, "Page Six's Sara Nathan and Oli Coleman reported on Tuesday.
George re-ups with ABC
"Sources say that the broadcasting veteran – who's been with the network since 2002 and anchors both 'GMA' and Sunday show 'This Week' – was heavily curted by both CBS and CNN as the end of his last contract approached. "
Knight Foundation committed $ 300 million to rebuild local news
Knight has been backing journalism initiatives for many years.
"We are doubling our commitment to $ 300 million over five years on journalism, primarily local journalism," Jennifer Preston, Knight's VP for Journalism, told me. "We are making some of these funds to help address the growing concern about the spread of misinformation and the impact of technology on our news and information ecosystem and our democracy."
The bottom line, per Preston: "We are making some very large bets on people, projects and approaches that we believe will offer the best chance to help build a future for local news, one community at a time. "
There are many beneficiaries, including Report for America, ProPublica, American Journalism Project, "Frontline," NewsMatch, The News Literacy Project, the Journalism Network Solutions, Cortico, and the Reporters Committee for Freedom of the Press. Full announcement here
The McClatchy buyout deadline …
… Was on Tuesday. Here's one example of the local impact: "More than half a dozen marquee reporters at The Kansas City Star have accepted buyouts from the newspaper's parent company," KCUR's Dan Margolies wrote … "Between them, the employees accepting the buyouts have well over 200 years of combined experience at The Star. "