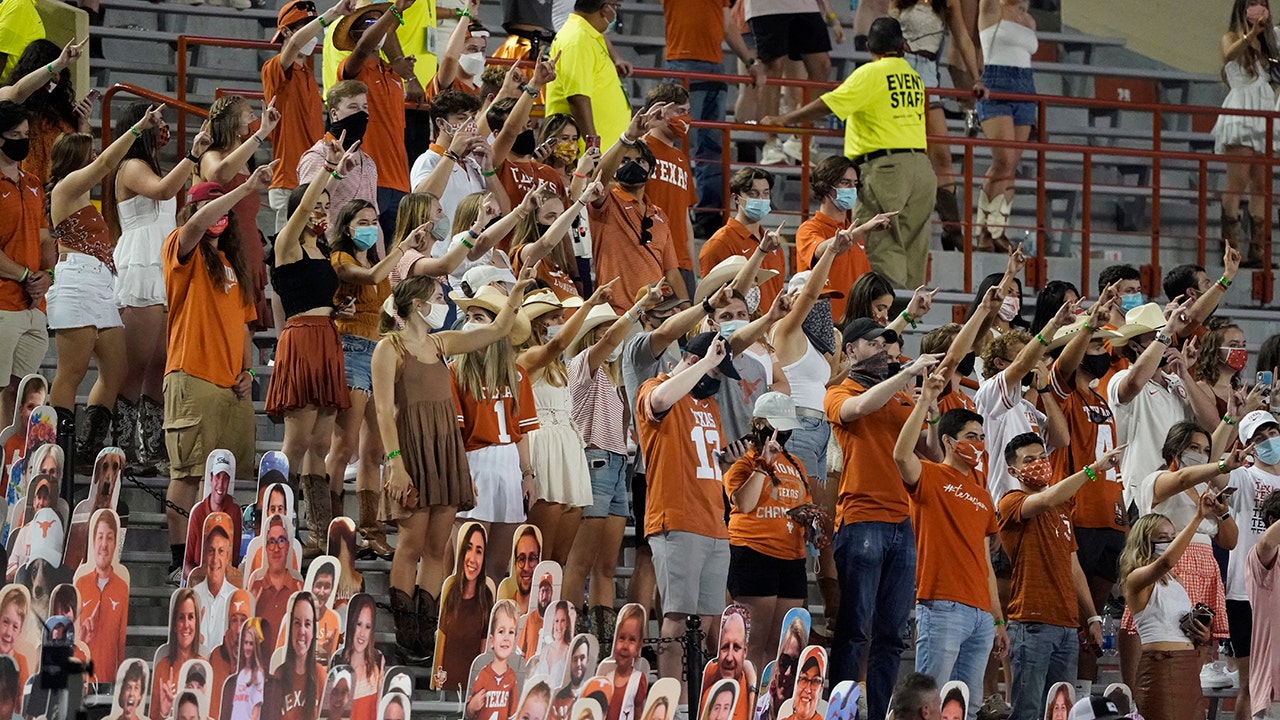 Losing football games is one thing at the University of Texas. The challenge to the sanctified school song is quite different.
The controversy over the Eyes of Texas has been going on for weeks in Texas, with some players refusing to sing it after games or even advocating for it, given its links to racist shows from the past. This week alone, the highly acclaimed Longhorn Band refused to release a song whose history in Texas dates back to the early 1900s.
The administration insists that the song, one of the school's most valuable traditions, will remain, although it is unlikely that players or student musicians will be able to be ordered to support it.
CLICK HERE FOR MORE SPORTS COVERAGE ON FOXNEWS.COM
"Defending the Eyes of Texas is a statement of something ̵
1; a school spirit, loyalty, solidarity," said David Anderson, a distinguished law professor at the University of Texas. "But intentionally not staying or leaving the field is an equally certain statement. This is protected speech. "
Written in 1903 and sung to the tune of "I Worked on the Railroad," the song is an old standard in the land of Longhorns.
The song has been a painful subject for minority students for decades. The title is taken from a preferred statement by a former school president who mimicked the remarks of Confederate General Robert E. Lee. The song was routinely performed by musicians in black on the minister's show.
Amid racial injustice protests that rocked the nation this year, Texas athletes were among the most prominent figures in the college who joined demonstrations after the death of George Floyd. First they went with coach Tom Herman from campus to the Capitol, then led a group of students and athletes who demanded to drop out of the Eyes of Texas school.
Letters to the school president, athletic director, and regent's board poured in with a desire to preserve the song. Some insisted on careful consideration. Others rejected the request of "agitators" and "whiners who just want to get in trouble."
Texas officials kept the song, but told players they would not be required to sing it. A special committee has been set up to study and present its full history.
But the problem erupted again when the football team did not stay on the field for the song after the first two home games this season. Fan discontent erupted two weeks ago when most players left the field again after the annual Texas-Oklahoma game in Dallas.
This prompted athletic director Chris Del Conte to say last week that he expects the Longhorns teams to "stand in unison" during the song. He met with the football team to discuss it.
Tyler Valeska of the Cornell Law School's First Correction Clinic said Texas would be restricted in any attempt to force players to sing or stay on the field for a song they don't support.
"It doesn't matter if the general public doesn't find it controversial. One value that the First Amendment defends is disagreement, "Valeska said. "We don't want the government to tell people what something means to them when and for what reasons."
The campus newspaper Daily Texan reported on Wednesday that a large number of Longhorn Band members are now refusing to play the song. The group's director, Scott Hannah, did not immediately respond to a request for comment.
The band is not scheduled to play during the home game this weekend against Baylor, the school said; even without the band, Texas President Jay Hartzel said Texas Eyes will still be played at games and events as the school looks for ways to "unite around our song, which has been so positive for so many Longhorns over the last 120 years. "
Regent Council President Kevin Eltife backed him on Thursday.
"To be clear, the UT System Board of Regents unequivocally and unanimously supports President Hartzell's announcement that The Eyes of Texas is and will remain the official school song," Eltife said.
Tasha Philpot, a state professor affiliated with the Center for African American and African American Studies at School, said reports from the administration were confusing and putting pressure on athletes who were told a few months ago that they should not participate.
"It gave them a lot of leeway they hadn't experienced before," Philpott said. "Now returning and telling them not to exercise that voice is almost a way to silence them."
Herman, football coach and volleyball coach Jerit Elliott insisted this week that there is no mandate for athletes.
"When you're a young person, when you want to stand up for something, it's really easy to dig your feet into the ground early enough and say that's my position," Elliott said. The biggest mistake I could make as a leader is to go in there and say, "We're going to do this."
Footballer Ta'Kwon Graham, who is black, said he did not think his teammates were worried about his status in the team depending on the support of the song. He plans to stay on the field for the song on Saturday.
"I'm going to support my teammates and thank the fans because that's what they deserve," Graham said. "And that's all I can talk about. I can't talk about everyone else."
Quarterback Sam Ellinger, who is white, said he told his teammates why the song was important to him. Ellinger and Graham, the only two players to meet with reporters this week, said the issue did not divide the team.
"I've grown up a long time," Ellinger said. – I grew up singing "Eyes of Texas" win, lose or draw, and I shared my experience with my family and shared this experience with my (late) father. Not once did I sing something negative while singing this song. "
Taking a stand against such a large and powerful school as Texas requires courage, said Jesse Chopper, a former dean of law at the University of California-Berkeley and an honorary professor. He compares him to former NFL defender Colin Copernicus, who knelt during the national anthem.
"It cost him a lot." He's still trying to rebuild his career, "said Chopper. "You have to find someone with a lot of guts."
Source link