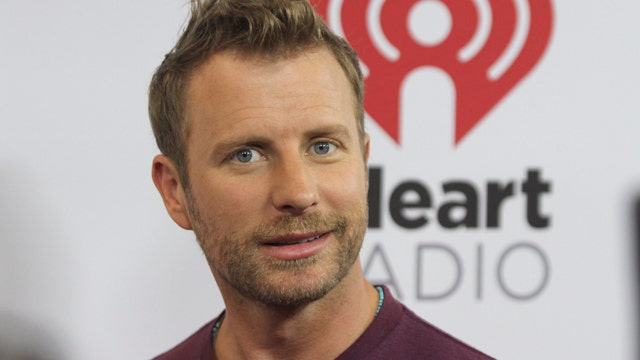 An embarrassed country music star Dierks Bentley tweeted a video on Labor Day showing the singer getting cited by a Colorado Parks and Wildlife officer for fishing without a license.
"Hey Luke, those fish we caught in Cottonwood Creek this week here in Buena Vista, we should probably get a fishing license next time because I just got pulled over, "Bentley said in a Twitter video that tagged fellow country music superstars Luke Bryan and Hardy.
CMT MUSIC AWARDS: TANYA TUCKER'S 'DELTA DAWN' MEDLEY 'PERFORMANCE OF THE NIGHT' FANS CALL
Bentley, who was in Colorado and headlined Sunday's Seven Peaks Festival, had a picture on Instagram with a fish and a message directed toward Bryan boasting he had caught more fish than him.
"@ lukebryan only caught one and this is my third in 30 mins," Bentley wrote, with the Instagram post garnering attention from Colarado Parks and Wildlife.
"You're next , "Ben tley warned Bryan jokingly before the officer writing the ticket on the Twitter video said, "Hi, Luke."
Bryan headlined Saturday's festival lineup.
The "Drunk On A Plane" singer seemed to enjoy being ticketed noting in his tweet that he appreciated being treated like a "regular person" and pledging to get a license next time.
CLICK HERE TO GET THE FOX NEWS APP
Appreciate being treated like a regular person. Appreciate what @COParksWildlife does. I'll be all licensed up next time! "Bentley's tweet read.
Colorado Parks and Wildife responded to Bentley's video by name-dropping one of his hit songs:" What Was I Thinkin '. "