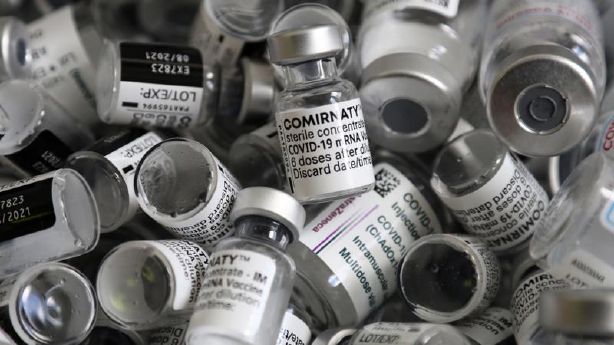 This Saturday, May 15, 2021, photo, empty vials of the Pfizer COVID-19 vaccine lie in a box during a vaccination campaign in Ebersberg near Munich, Germany. Health authorities are trying to determine whether inflammation of the heart, which can occur with many types of infections, can also be a rare side effect in teenagers and young adults after the second dose of COVID-19 vaccine. (AP Photo / Matthias Schrader)
CITY OF SALT LAKE – The number of COVID-19 cases in Utah increased by 266 on Friday, with no new deaths or 37,700 vaccinations reported, according to the Utah Department of Health.
About 26,000 of the vaccinations reported on Friday were lagging doses administered on Jan. 1
9 by a pharmacy provider, the health department said.
As of Friday, there are about 5,338 active cases of COVID-19 in Utah.
The constant average daily number of positive cases per day is 273, according to the health department. The positive test rate per day for this time period, calculated using the "people over people" method, is now 6.8%. The positive test rate per day for this time period, calculated using the "test over test" method, is now 4.4%.
Although there has been a small influx of COVID-19 cases in Utah since Remembrance Day weekend, the state is still doing well, Dr. Eddie Steneham of Intermountain Healthcare told Intermountain Facebook during a live event on Friday.
"What a difference the last few months have made," Steneham said. "We're in a really good place."
Remembrance Day marks a change in the way most people treat COVID-19 in Utah, Steneham said. More people gather more often and fewer people wear masks.
The small jump Utah is enduring now is not as bad as the jumps seen last winter after Halloween and Thanksgiving, he added.
Currently, 157 patients with COVID-19 are hospitalized in Utah, including 57 in intensive care, state data show. Currently, about 75% of all hospital beds in Utah's intensive care unit are occupied, including 78% in the state's 16 hospitals, according to the health department. About 68% of the hospital beds outside the intensive care unit are already occupied.
A total of 2,713,796 doses of vaccine were given in the state, compared with 2,676,026 on Thursday. A total of 1,539,181 jutes, or about 48% of the state's total population, received at least the first dose of the vaccine. A total of 1,293,995 jutes, about 40.4% of the total population, have been fully vaccinated.
Among the Utah population over the age of 12 who are currently eligible for the COVID-19 vaccine, about 59.4% have at least the first dose and 49.9% are fully vaccinated, according to state data. A total of 3,178,584 doses of vaccine have been sent to Utah since the beginning of the pandemic.
Currently, all major variants of COVID-19 are covered by vaccines, Stenehjem said. However, because other countries do not have wide access to the vaccine, as in the United States, the disease will continue to spread to other countries, he added. When the virus spreads through populations, other variants are likely to mutate.
"We will definitely see continuous global waves," he said.
The new figures show a 0.07% increase in positive cases from Thursday. Of the 2,731,915 people tested so far for COVID-19 in Utah, 15% tested positive for the disease. The number of general tests conducted in Utah since the beginning of the pandemic is now 4,996,139, which is 7,094 as of Thursday, according to the health department. Of these, 3,737 are tests on people who have not previously been tested for COVID-19.
The total data for Friday gave Utah a total of 409,007 confirmed cases, with 17,060 hospitalizations and a total of 2,319 deaths from the disease. About 401,350 cases of COVID-19 in Utah are now considered recovered, according to the health department.
TriCounty health area reporting COVID-19 jump
TriCounty's health department in eastern Utah has seen an increase in COVID-19 cases in the past week.
In the last five days, there have been 83 new cases in the health department of TriCounty, which covers the counties of Daggett, Duchesne and Uintah in the northeastern part of the state, according to a statement from the agency. This has doubled more than the previous week – from May 30 to June 5, only 41 new cases were registered in the district.
Only 27% of eligible jutes over the age of 12 received COVID-19 in the TriCounty area, the lowest percentage of all areas in the state, according to the health department. All 83 of the people who became infected with COVID-19 in the past week had not been vaccinated.
"Although this is a small number who have suffered a more severe illness with COVID-19 than those who have done well, we would like to remind the community that our whole responsibility is to protect our family, our neighbors, workers and our community, "said Greg Gardiner, chief clinical officer at Ashley Regional Medical Center in Vernal.
"The vaccine works. If you haven't received the vaccine, please reconsider. Let's get to herd immunity as safely as possible."
The health district will offer vaccination clinics on Saturday at Duchesne High School from 9 a.m. to 11 p.m., on the campus of Utah State University from 1 to 1 p.m., and at the Vernal TriCounty Health Department from 1 to 1 p.m.
More outbreaks are likely in the region if vaccination levels do not improve, the health department said.
"With the current low levels of vaccination, I expect to see ongoing outbreaks. I ask all community members who have been waiting to be vaccinated to stop delaying and getting vaccinated this week. We can end this pandemic now and enjoy the summer. no masks and no worries if we all do it together, "said TriCounty Health Officer Kirk Benge.
×
More stories that may interest you
Source link