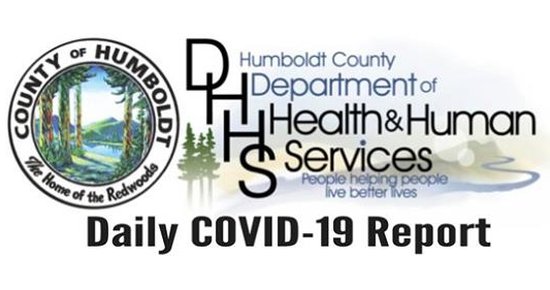 Humboldt Joint Information Center Press Release:
The number of cases of COVID-19 in Humboldt County is 91, and three positive cases were confirmed today.

From today, the Humboldt Joint Information Center will report every Friday on the age range of county residents who have tested positive for COVID-19.

The following information is based on the latest available data for all confirmed cases:

Contact with a known case: 48
Acquired trip: 24
Transmission by the Community:
In the course of the investigation:
Positive cases by region:

North Humboldt: 1

8
Greater Humboldt Bay: 69
South Humboldt: 4

Men: 41%
Women: 59%
Average age: 48
Number of cases by age groups:

<19: 7
20-29: 11
30-29: 18
40-49: 16
50 – 59: 9
60-69: 20
70-79: 3
80+: 7

A total of 5,086 residents of the county have been tested for COVID-19 since the beginning of the epidemic. The Humboldt County testing rate of 3,725 per 100,000 inhabitants is higher than the estimated rate of 3,558 per 100,000. The estimated national rate is 3,693 per 100,000 people.

The county's confirmed case rate is 65 per 100,000, and the state's rate is more than three times higher at approximately 222 cases per 100,000. The estimated rate of confirmed cases in the United States is 495 per 100,000 people.

For the latest information on COVID-19, visit cdc.gov or cdph.ca.gov. Local information is available at humboldtgov.org or during business hours by contacting covidinfo@co.humboldt.ca.us or calling 707-441-5000.

###
= historical data. All data from the Humboldt County Joint Information Center.
Source link