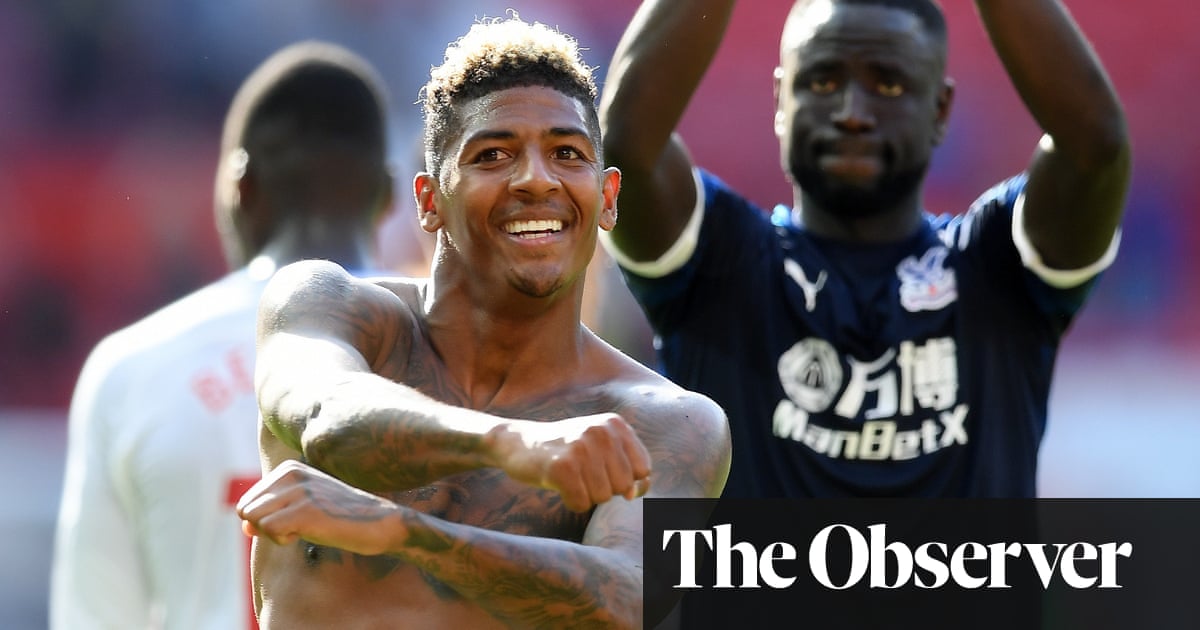 Crystal Palace has won the Old Trafford Premier League since 1989 and Manchester United have questions to answer. At the frantic end of the 88th minute, Daniel James the twist seemed to grab United, but as time went on, Paul Pogba arrived, scattered his possessions, and Palace moved up before Patrick van Aanholt to beat David de Gea at close range.
Marcus Rushford had earlier taken on penalties after missing Paul Pogba at Walves on Monday, but Number 1
0 could only knock the ball from Vicente Guite's right-hander, missing the chance to equalize the opening half from Jordan Iev.
It was Palace's first goal of the season and Van Aanholt earned his first points.
Ole Gunnar Solsker retained the same XI that impressed most of Molineux's 2-2 draw. Roy Hodgson stood against Scott Dunn, Max Mayer, Andros Townsend and Christian Benteke in a 1-0 loss to Sheffield United. It included Cheikhou Kouyaté, debutant Gary Cahill, Jeffrey Schlupp and Ayew.
Under a sparkling blue sky, James made his first break, his pace to the right leaving the visitors at last, though they were able to recover and clear their waists.
The next winding passage of Scott Maktominay along the same corridor was loaded by Aaron Wan-Bissaka and the end result was an angle. Luke Shaw took that, and Mactomini rose highest, though his headline was misdirected – which would be the story of United's first-half product.
In further outbursts from Anthony Martial and Rushford – the latter released by the Harry Maguire pass – the palace was exposed again at the pace of United. Joel Ward then met with Martial and Paul Tierney, the referee, awarding the free kick. Rushford stepped up, but he gave it wide to Vicente Guita's right and the question arose as to whether United could benefit from increasing dominance. James came closest to giving an affirmative answer, but his shot hit Van Aanholt and the mark remained level.
So far, this was a high-energy display of the kind Solskjær wanted and the red wave kept coming into the palace. [19659009] Palace players react after a penalty shootout by Marcus Rushford. "src =" https://i.guim.co.uk/img/media/b48fb9e3bae34a9a8dd70e0e49e11adfaa81695d/0_0_2280_1543/master/2280.jpg?width=300&quality=85&auto=format&fit=max&8=aaaaaaaaaaaaaaaaaaaaaaaaaaaaaaaaaaaaaaaaaaaaaaaaaaaaa responding after a penalty shootout by Marcus Rushford Photo: Andrew Yates / Reuters

More fast legs, passing and tempo won United another free kick to the right of D, this time closer. Rushford aimed again. But he missed again, and when Mactomini later sprayed a pass to James in a hurry here, there were signs that United were making a breakthrough.
So in 31 minutes, Solskier's men missed a soft goal. Guita defeated half of United, the smaller sloop easily defeating Victor Lindelloff and running out of Ayu to defeat De Gea.
Sliced ​​to a faded Salskier, and shocked by the United Kingdom almost a second later Lindelöf, again, was too slow and although Kouyaté was offside before the ball came close, the game went on and De Gea had to save by Wilfried Zaha.
Between Shaw, who needed treatment earlier, had to be replaced by Ashley Young. United came together when Gary Cahill took down Martial – he was the last man but only received a yellow card – but Pogba, taking on Rushford, failed to deliver a free kick and that ended up being a regrettable half for the hosts. [19659016] In the second half, United again camped on the grounds of the Palace, and again the question was whether a murderous touch could be found. A misshapen young volley answered no and had the same penalty shot when Martial was dropped by Martin Kelly in the area. However, VAR must have ruled that foul. And like Cahill, Kelly had to be kicked out.
From here, United raised the urgency, but lacked self-control. Rushford rushed into midfield and deflected the ball in front of anyone, Mactominai fouled Van Aanholt in the area to allow Palace to breathe. What United demanded was leadership: who can reassure their teammates and remind them of more than 25 minutes?
Solskjær acted an hour ago to bring down Jesse Lingard for Mason Greenwood, but it could hardly have been 17 years for McTominay's punishment to be punished. Yet Rushford missed out – unfortunately causing more racist abuse on social media. Later, VAR refused him another punishment – correctly – when he was bending over to Kelly.
The United relatives were beaten and could only blame themselves.
Source link