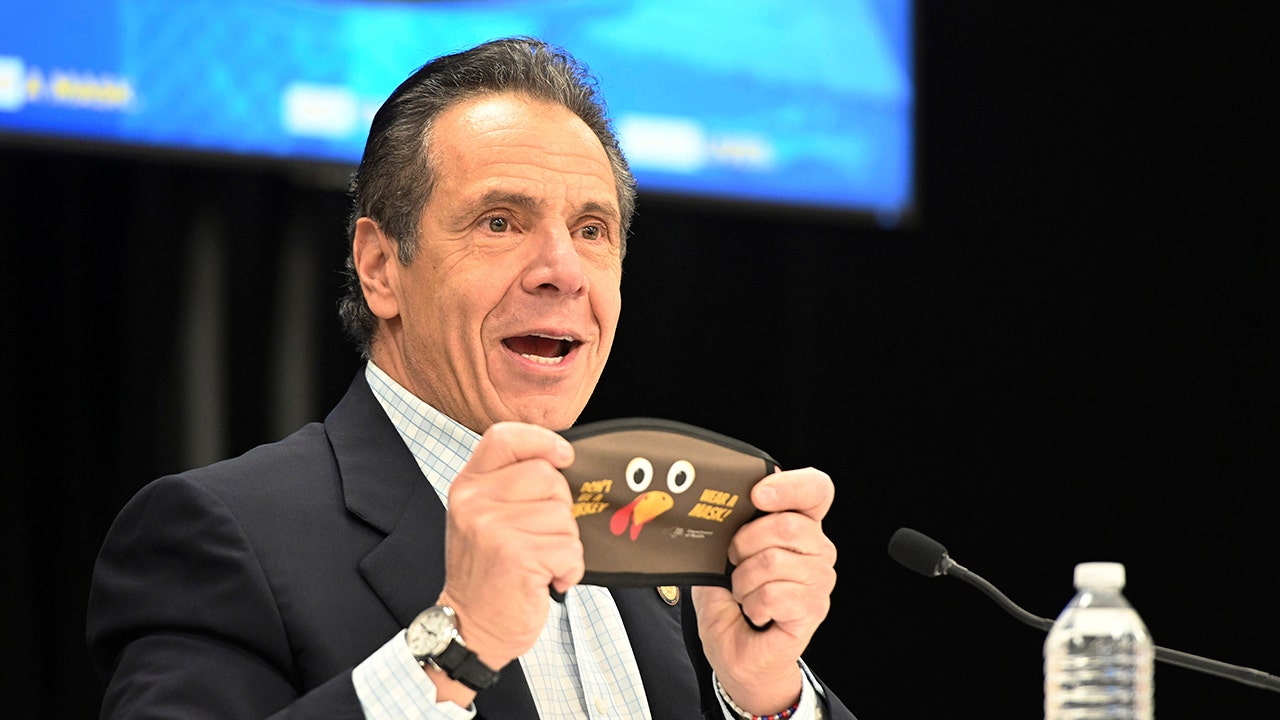 New York Gov. Andrew Cuomo announced on Monday a battle plan for the state to attack the coronavirus pandemic, and while bragging to reporters, his pressure to wear masks helped limit the number of cases in the state, neither he nor his assistants on the podium – including State Commissioner for Health Howard Zucker wore face masks.
"What worked in the spring, and the reason you're wearing a mask today, is because we told the truth and New Yorkers responded," the governor told a Manhattan news conference.
Cuomo, who delivered most of the speech at the session, was surrounded by government soldiers, speakers, his photographer, reporters and other aides ̵
1; all wearing masks. A total of about two dozen people attended the press conference, the report said.
Dr. SCOTT ATLAS LEAVES DISCOUNT AS SPECIAL ADVISOR FOR CORONAVIRUS ACCUMULATION
Cuomo's plan calls for immediate emergency measures to try to prevent another catastrophic coronavirus attack as the number of cases and hospitalizations increases.
The use of a maskless panel challenges the caution of the CDC's warning on its website: "There is evidence that under certain conditions, people with COVID-19 appear to have infected others who were more than 6 feet away.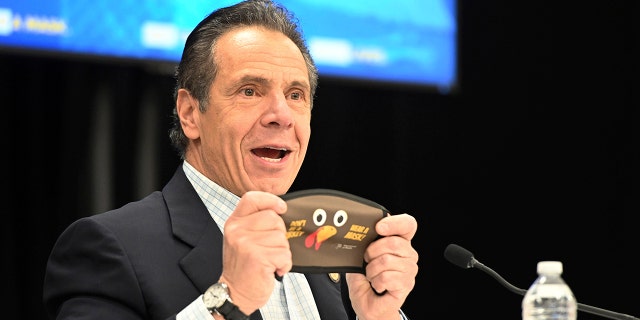 "These broadcasts took place indoors, which had insufficient ventilation," the website said.
As the second wave of coronavirus rises earlier this month, Dr. Emily Landon, executive medical director of the University of Chicago for Infection Prevention and Control, said studies show that indoor ventilation is usually not enough to control the spread. of the coronavirus without wearing a mask.
CUOMO CRITICIZED FOR GRINDING CORONAVIR GRINCH AFTER REACTION PROFIT
Eyewitnesses said the room was relatively small and the number of journalists was limited, as there was not enough room for more than a dozen reporters to leave safely.
"I think they should all be wearing masks," said Queens MP Ron Kim, a Democrat.
"I think the governor – especially with his platform and recent popularity – has a responsibility to set an example," he added.
Vivian Rabbit, whose mother died at a Long Island nursing home on April 1, said: "It's disgusting and infuriating. His inner circle does not wear masks, while he represses everyone else who wears masks.
At a briefing Monday, the governor noted that nearly two-thirds of the state's recent COVID-19 cases stem from small gatherings.
Click here to get the FOX NEWS app
The governor's communications chief, Peter Ajemyan, told the New York Post in an email Monday, "We follow and go beyond all health guidelines to ensure the safety of our briefings."
"They all wore masks when they came in and out of the briefing and could not be socially distanced," Ajemyan added.
Source link