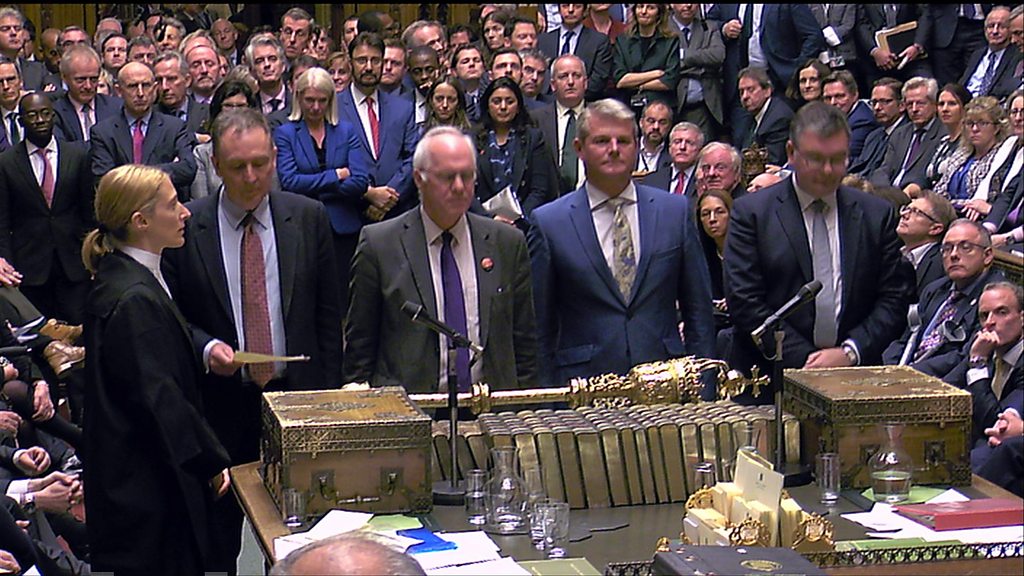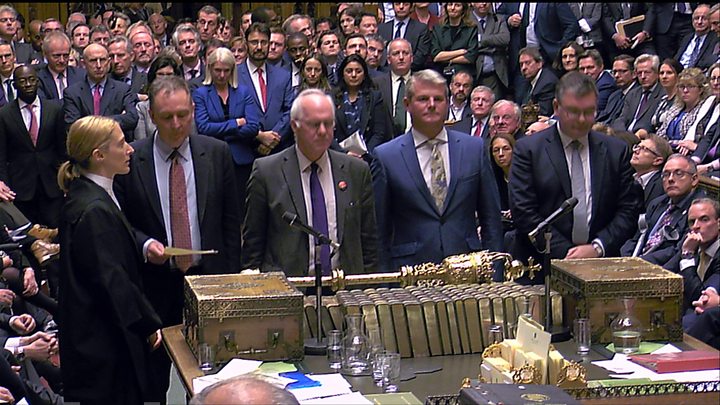 Deputies reject a proposal to consider Boris's Brexit bill Johnson at Commons in three days.
Commons supported the bill to withdraw earlier, but is now voting against the short schedule.
Earlier, the prime minister warned that he would seek elections if lawmakers rejected the plan and the EU granted an extension by October 31
for Brexit.
After the vote, he told Commons that he would "pause" the legislation until he spoke with EU leaders.
A European Commission spokesman said: "[The Commission] notes the outcome of this evening and expects the United Kingdom Government to inform us of the next steps."
Mr Johnson told MPs he was "disappointed" that have "voted in favor of the delay" and said the UK "is now facing additional uncertainty".
But he stated his policy remained that Brexit would continue at the end of the month, adding: "One way or another, we will leave the EU with this deal, which we have just agreed to."
on Labor Jeremy Corbin said Mr Johnson was "the author of his own misfortune" – but suggested that he discuss ions over a "reasonable" timetable for his deal to go through parliament.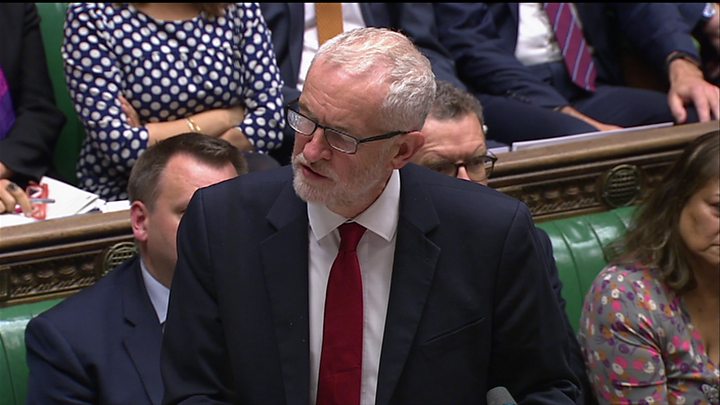 But SNP leader Ian Blackford said it was "another humiliating defeat" for and the deputies "spoke in a very clear voice to tell the prime minister that he was not."
And Liberal Democrat leader Joe Swinson called on Mr Johnson to "end the leadership and replace him with some state power" to secure EU enlargement.
The Brexit Bill's Journey So Far
Boris Johnson negotiated his new plan with EU leaders last week, but repeatedly promised to leave the bloc by the end of October, with or without a deal.
The bill that would turn his plan into law – a bill to withdraw an agreement – was released Monday night, and he urged lawmakers to support a three-day timetable to push it through municipalities before the Halloween deadline.
The prime minister told Parliament that if he "decided to postpone everything until January or possibly longer," he would ask for an election – but did not say what the government would do if the EU offered a shorter extension.
Deputies did approve the bill for their first obstacle through the Commons – called at second reading – by 329 in favor, 299.
But immediately after the vote, they rejected the so-called program proposal by 322 votes to 308 after a number of deputies criticizes the pace of legislation.
House Speaker John Berkov said the bill was already "in the limbs."
Source link