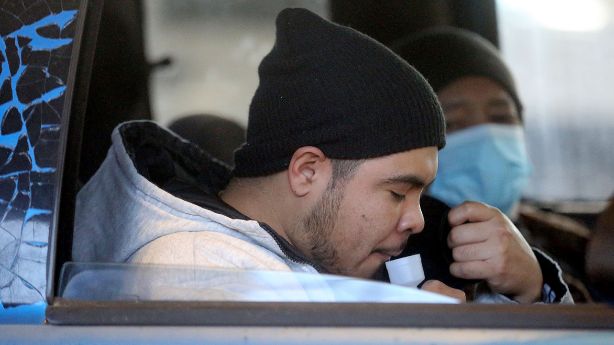 MURRAY – The current rise in COVID-19 cases and hospitalizations is a sign of a holiday wave, according to Dr. Eddie Steneham, an infectious disease doctor at Intermountain Healthcare
How bad it is again depends on what Utah is doing to stop the spread.
"We assume that January will be quite rough in terms of hospitalization capacity," Steneham said.
As the number of COVID-19 cases increases, he said, there is usually a seven- to ten-day delay before the increase in hospitalizations, which is now happening.
The Utah Department of Health estimates there are 53,597 active COVID-19 cases in the state as of Thursday. The seven-day moving average number of positive cases per day was 2952, while the moving positive percentage per day increased to 32.7%.
"Without a doubt, this is a wave of, I would say, holidays starting on December 24, passing through the New Year,"
; Steneham said.
The number of cases, the degree of positivity and now hospitalizations are increasing again after a decline in mid-December.
Here it is …. an outbreak after the holidays. https://t.co/8TgvlSyXcR

– Eddie Stenehjem (@E_Stenehjem) January 7, 2021
"We are now beginning to see this mark in hospitalizations of both government and Intermountain data," he said.
Stenehjem said this is the holiday excitement they expect. "If you look at the trend line, it will go back up," he said.
Patients at the hospital tell doctors how they think they became infected with the virus.
"Yes, I had a holiday gathering … A few days later someone got sick," Steneham said.
They hoped that hospitalizations would drop as early as December to make room for patients during this tide, but this did not happen. The hospital is again above the threshold of 85%, which is the functional capacity of the hospital.
"Unfortunately, we expect this influx to continue and we will begin to see more cases that will lead to more hospitalizations and, as we know, will eventually lead to more deaths," Steneham said.
How long the tide will last depends on how widespread the virus has been in the past week and how quickly everyone is returning to the practice of social distancing and limiting gatherings.
"If people go back to that, we expect those numbers to go down," Steneham said.
In so many positive cases, the doctor said more people needed to be tested to better understand what was happening to the virus.
×
Related stories
More stories that may interest you