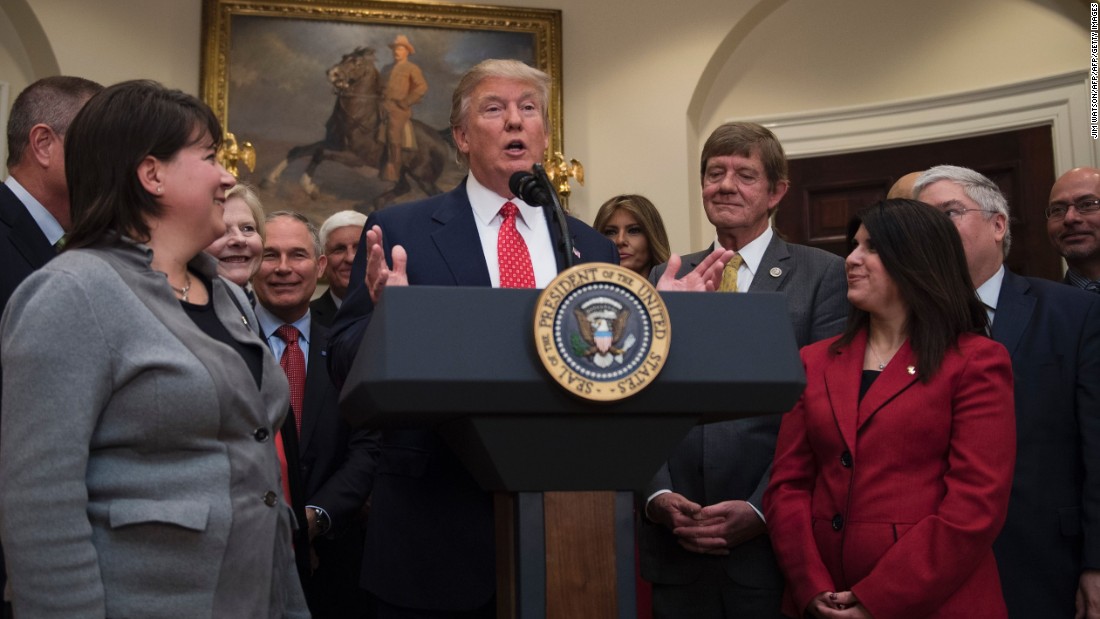 "They were strong, healthy men and women. And half of them were crying," Trump told the American Agricultural Bureau.
We checked the video of the signing ceremony. No one behind Trump was crying. Most of them were
smiling
.
Trump told the story again at a conference on shale industry on Wednesday. There were even more imaginary tears this time.
"Many were healthy, strong men and women. And almost everyone was crying," Trump said.
Trump makes some of his false claims with remarkable consistency, repeating the same fictional tales and figures almost verbatim
dozens of times
. In other cases, his fictions become more dramatic with additional broadcasts – because the president wants to embellish, because he can't remember the many non-facts he has invented, or because he just doesn't care about accuracy. [19659003] That's Trump's lie.
There were at least four other cases in October alone.
Obama and North Korea
In June 2018, Trump filed a case for diplomatic engagement with North Korea. He criticized former President Barack Obama for never talking to dictator Kim Jong Un – without reason, saying that Obama was "essentially" ready to go to war without trying to speak.
"I asked him, 'Have you talked to him? "He goes, 'No,'" Trump said on Fox News. "I said, 'Do you think it's okay to talk to him, maybe?'"
By June 2019, the complaint that Obama had not talking to Kim, it became an unfounded story that Obama unsuccessfully asked Kim for
"President Obama wanted to meet and President Kim would not meet him. The Obama administration is asking for a meeting, "Trump said during a news conference with South Korean President Moon Jin-in." They have been constantly asking for meetings. And President Kim would not meet him. And for some reason we have some chemistry or whatever. "
During an extremely dishonest cabinet monologue on Monday, Trump returned to the structure of the original story about Obama not talking to Kim – except that he had
"I said, 'have you ever called him?'" No. He actually tried 11 times, "Trump said." But the man on the other side – the gentleman on the other side , did not accept his call. Okay? Lack of respect. But he called my conversation. "
In summary: Obama did not talk to Kim, who went into Obama unsuccessfully asking Kim for a meeting that incarnated Obama unsuccessfully, trying to call Kim" 11 times. "
There is no evidence that Obama ever wanted to meet Kim or tried to call Kim even once.
"Obama never called Kim Jong-Un. Obama never tried to meet Kim Jong-Un. Trump is a serial it's not a liar, "said Ben Rhodes, who was Obama's deputy national security adviser
stated
on Twitter on Monday.
The Deal with Turkey