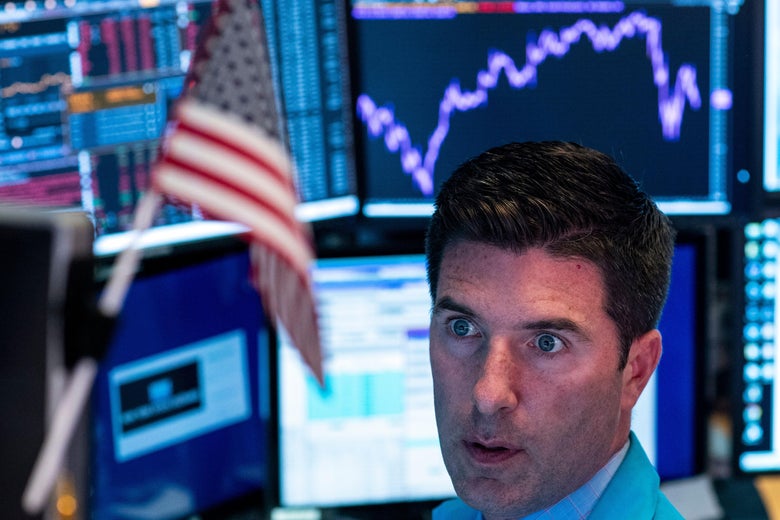 At present, the world economy seems very, very humble.
Investors were enjoying a brief, sweet moment of relief from their continued concern over Donald Trump's trade war on Tuesday when the White House announced it would delay some of its upcoming new Chinese goods tariffs by mid-December. Avoid messing with the holiday shopping season in America. But this morning a whole bunch of bad news reminded everyone that, yes, we are very obviously in the midst of global slowdown. As Bloomberg summarized:
China reported the slowest growth in industrial production since 2002. Germany's economy contracted when exports fell and euro area production declined for more than three years when overall expansion cooled.
Forecast: Not Great! There were other signs of danger. The UK economy has shrunk over the last quarter, thanks in part to fears of Brexit, and appears to be on the verge of a blunt recession. Then there are bond markets that are probably best visualized as a sweaty, red-haired man in an expensive suit, yelling, "This bastard is about to explode!"
Desperate for safe places to invest their money in times of turmoil, investors have accumulated sovereign debt around the world. As a result, bond prices are rising sharply, and yields (bond owners' returns can expect) are diminishing. Many bonds now offer a negative yield, which means that the growing share of global finances is so pessimistic about the economy that it is essentially paying for the privilege of someone holding their money.
The bond market is shining with special features for the United States as well. For several months now, the yield curve of the Treasury has been reversed, which means that the yield on long-term bonds has fallen below those of short-term bonds. This is usually seen as an indication that investors are pessimistic about growth and believe that interest rates will remain low in the future. This has happened even before every recession in the last 50 years – without generating any false alarms during this stretch.
In response to Wednesday's bad news buffet, the alarm got a little worse. The 10-year Treasury yields fell below those in the 2-year coffers, which actually means that the yield curve is now officially an additional super-duper uber-turned.
Of course, this time may be different – the inverted yield curve may not be followed by a decline. But there are other reasons to worry about the US economy beyond the unusual signals coming from Wall St, for example, US growth has slowed down over the last quarter as business investment has dried up, possibly due to the uncertainty created by the trade war. And even if Trump can delay some of his tariffs after imposing them, they will still amount to new taxes on US consumers, which could mean another slight deterioration in GDP.
With that in mind, it seems that maybe … someone … should … consider taking some action to keep the economy from falling into a hole?
There are many people who could theoretically intervene. The Federal Reserve, for example, could lower interest rates again. He may be hesitant to do so – when the Fed cut rates last month, Fed President Jerome Powell hinted it could be a one-off event. But at this point it is not clear what the disadvantage of further reduction will be. Powell acknowledged that inflation was too low. The chances that it will suddenly rise and the spiral out of control are effectively zero. Of course, reducing borrowing costs may encourage some bad loans or investment bubbles that could lead to problems down the line, but this concern would probably outweigh the near and present danger of a real recession. Some people may also worry that if the Fed cuts now, it won't be able to cut later if a recession actually occurs, but that concern doesn't make much sense either. It is better to try to prevent the economy from diverting first into a ditch than to try to push it back on the road after we have already collapsed.
What it's worth is what Donald Trump would like to see. In Twitter today, he forced the Fed to keep rates too high and gave up on "CRAZY INVERTED YIELD CURVE."
Of course, Congress might consider jumping into action. Of course, Infrastructure Week has become a continuing joke in America, but seriously, this would be a fabulous time for the US to stimulate its economy by borrowing a whole boatload of money and spending it to modernize our rotten transportation networks. Thirty-year government bonds are trading at about 2 percent at the moment and threatening to fall lower, which means the government can borrow almost anything for three decades at a time. Maybe we should take advantage of that? Repair some subways? Repairing Some Roads? Tackle one of Donald Trump's central promises, even if it does little harm to the Democrats' chances in 2020?
Finally, Trump himself can end the hitherto inefficient trade war he is leading, without much strategy or direction. We know that the trade war is causing problems for American farmers, despite the bailout of the administration. As I mentioned above, this also obviously hurts investment in local businesses. And as Neal Irwin writes in the New York Times, it also leads to global problems. Our tariffs appear to be a dent in factory production in China and discourage Chinese consumers from spending. Trump almost certainly sees this as a plus, but as a result, Germany exports fewer cars to the People's Republic, which weighs on its own growth, which is bad for all of Europe. And the weaker the global economy, the greater the likelihood that companies will reduce hiring everywhere.
At the moment, things seem a little bleak. The good news is that there are several ways to brighten the picture. Reduce interest rates. Borrow and spend money to build things. Stop trying to fool our trading partners senselessly. Someone just has to take some responsibility and do something.