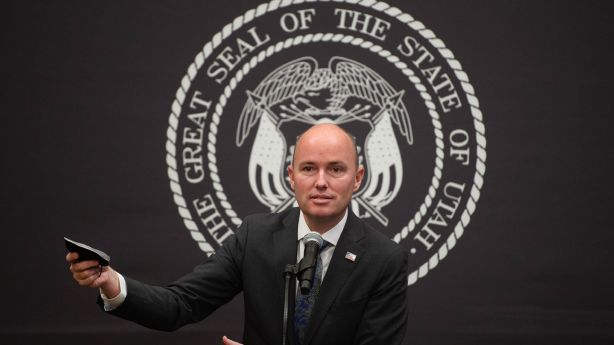 SALT LAKE CITY – Utah Gov. Spencer Cox announced Thursday that eligibility for the COVID-19 vaccine will be extended to Utah aged 50 and over, as well as residents of the state with more comorbidities, beginning Monday.
In addition to Utah aged 50 and over, residents who have type 1 or 2 diabetes, a body mass index over 30, or chronic kidney disease will also be eligible for the vaccine.
"It's a huge addition to eligibility," Cox said.
After spending months at Utah's highest level of restriction on COVID-19, Salt Lake and Davis counties will move to a moderate level of transmission on Thursday, the governor also announced. This means that restrictions will be eased in both counties, as infection rates have continued to fall over the past month.
For districts with a moderate level of transmission, social gatherings are recommended to be limited to 25 people or less. Masks are still required for indoor indoor settings and for outdoor settings when social distancing is not possible.
Restaurants in counties with a moderate level of transmission still require a distance of 6 feet between parties in the waiting areas. Mask restaurants require masks unless they are actively eating or drinking. In bars, customers must wear masks if they are within 6 feet of the other side, and must wear them unless they are eating or drinking.
The number of COVID-1
9 cases in Utah increased by 611 on Thursday, with another 12 deaths and nearly 26,000 more vaccinations reported, according to the Utah Department of Health. Seven of the deaths occurred before Feb. 11, but are still being investigated by the state medical expert's office, according to the health department.
The rolling seven-day number of positive cases per day is now 558, according to the health department. The positive frequency of the test per day for this period of time, reported by the "people over people" method, is now 10%. The positive percentage per day for a seven-day average, calculated using the "test over test" method, is now 4.8%.
There are currently 203 COVID-19 patients hospitalized in Utah, according to state data. A total of 785,523 vaccines were given in the state, up from 741,297 on Wednesday.
The total for Thursday gave Utah a total of 373,319 confirmed cases, with a total of 14,816 hospitalizations and 1,965 deaths from the disease.
The update to Utah Gov. Spencer Cox's COVID-19 pandemic began at 11 a.m. and airs live here.
Lieutenant Deidre Henderson and Utah State Department of Health epidemiologist Dr. Angela Dunn are also scheduled to speak at the event.
This story will be updated.
×
More stories that may interest you