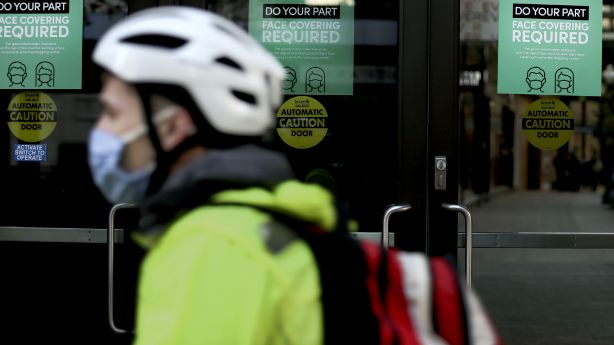 SALT LAKE CITY – Masks to stop the spread of COVID-19 will still be required nationwide next month under a new public health order that went into effect on Tuesday; however, the state health department has offered new information on when this requirement will be lifted in "low transmission" areas.
The order, issued by Utah Department of Health Executive Director Rich Saunders, also introduces increased testing, which will be required for one-time extracurricular activities in high school, and a "stay test" policy for the K-12 school to remain open after an explosion. . It also eases some restrictions on bars and public gatherings in "moderate"
; broadcast areas.
Saunders signed the state's new health order Monday night. It replaces the previous order, which took effect on January 21 and expired on Monday night. The new order for public health will remain in force until March 25.
While the masks will remain in effect next month, the health department says low-transmission districts will be able to remove the requirement eight weeks after the department received the first 1.63 million doses of COVID-19 vaccine.
It is currently unclear exactly when this schedule will begin. So far, just over 444,000 jute have been distributed, and more than 400,000 have received their first dose of the vaccine, according to the Utah Department of Health.
The order, meanwhile, requires a "play test" for a "one-time school-funded extracurricular program" in high schools. They are events like social dances and come into play before the typical prom season.
It also requires "stay test" measures for school districts after a school outbreak.
"If the school applies a 'Stay Test', any student who passes the test must switch to distance learning within 10 days of the date of their test," the health department said. "Students who choose not to be tested must also switch to distance learning for 10 days if less than 60% of the school population has participated in the event OR if the pass rate of the event is 2.5% or higher. "
The other major changes are in bars or public gatherings in "moderate" broadcast districts. The order states that each lane in "moderate" transmission areas must no longer limit capacity to 75%, but masks are still required and groups must remain at least 6 feet apart.
Live events – from weddings to theaters to sporting events – in these areas may include shoulder-to-shoulder seating if all patrons are masked and can certify that they are asymptomatic to COVID-19 and not subject to quarantine isolation ", added the health department.
Masks are still required, except when someone is eating or drinking. A distance of six feet is also required during eating and drinking. If someone gives positive results after the event, the hosts still need to contact those present who may have been in close contact with that person.
As of Tuesday, 13 counties in the state have been listed as "moderate" or "low." These include Box Elder, Carbon, Daggett, Duchesne, Garfield, Millard, Morgan, Piute, Rich, San Juan, Uintah, Wayne and Weber counties.
This story will be updated.
×
More stories that may interest you
Source link