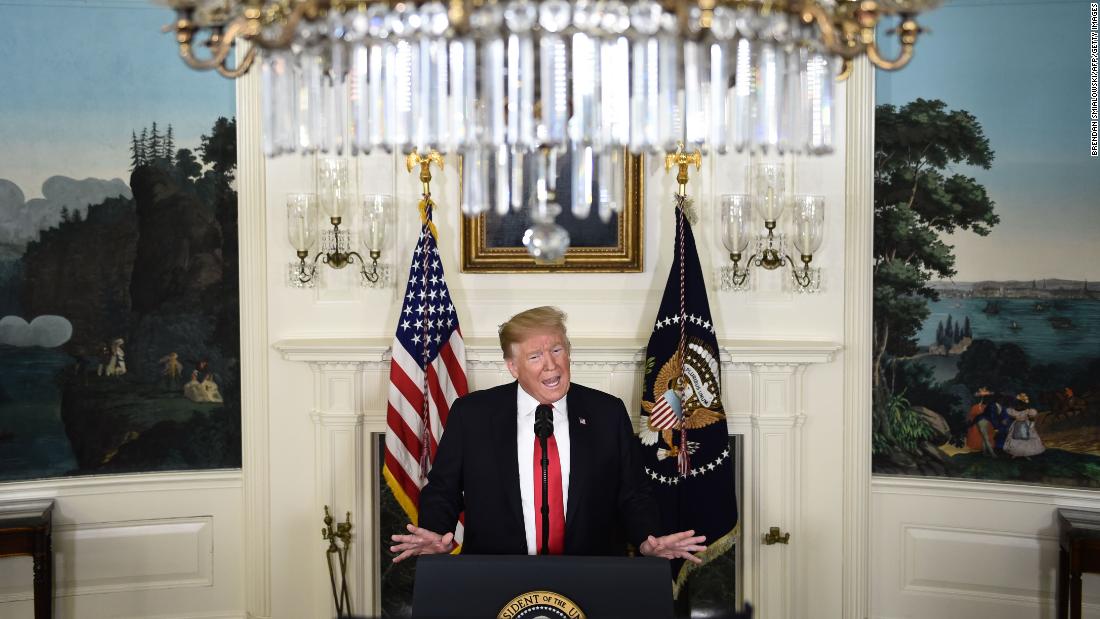 "This is a common-sense compromise both parties should embrace," Trump said.
The proposal is similar to one Trump handed over to Congress earlier this month. It includes funds for humanitarian assistance, technology, border agents, law enforcement personnel, and immigration judges. Trump laid out additional concessions Saturday that includes providing three years of deportation relief to about 700,000 undocumented immigrants who were brought to the US as children and 300,000 immigrants with temporary protected status
The address comes amid a record-long government shutdown. Trump's $ 5.7 billion budget request for his border wall is at the center of the fight. The latest proposal is an attempt to bring Democrats to the table, but it's unclear the new concessions will win them over. Shortly before the President's address, House Speaker Nancy Pelosi released a statement rejecting the proposal.
"It is unlikely that any of these provisions alone would pass the House, and taken together, they are a non-starter," she said
Trump began by drawing on familiar talking points that he had previously used to address what he describes as a humanitarian and security crisis at the southern border, recognizing the migrant faces face in transit to the US.
Below is a breakdown of Trump's speech and some of the proposal he has laid out:
"There is a humanitarian and security crisis on our southern border that requires urgent action."
While there has been a recent uptick in apprehensions along the southern border, the numbers are still shy of the more than one million apprehensions from the early 2000s
Available Customs and Border Protection data shows a total of 396,579 people were apprehended by the US Border Patrol for fiscal year 201
8 at the southwest border, which would mean an average of 1,087 each day. The numbers differ every month. The highest number of apprehensions was in September, with a daily average of nearly 1,400.
Apprehensions are still well below historic highs. In the early 2000s, for example, annual apprehensions routinely topped 1 million. After the hitting an historic low in 2017 of about 300,000, apprehensions increased in fiscal year 2018 to nearly 400,000.
There has been an uptick in unaccompanied minors and families approaching the US-Mexico border, many of whom are seeking asylum. (19659002) In 2016, nearly half of the people apprehended at the US-Mexico border came from these three countries , compared with approximately 10% in 2010, according to Homeland Security Department data.
"One in three women is sexually assaulted on the dangerous journey north."
Indeed, the trek to the US-Mexico border has been reported to be violent. According to data from Doctors Without Borders, 68.3% of migrants and refugees "entering Mexico reported being victims of violence during their transit to the United States," and almost one-third of women said they were sexually abused. But this very violence is also why women have chosen to travel in caravans.
He also cited the flow of drugs across the southern border.
"Heroin alone kills 300 Americans a week, 90% of which comes across our southern border."
While the Trump's statistics on heroin deaths are true, it is unclear what a border wall would do to reduce the amount of heroin coming across the border.
The CDC reported that in 2017, a total of 15,482 people died from drug overdoses involving heroin in the US. That averages out to about 297 individuals each week. In addition, the DEA's Heroin Signature Program, which analyzes heroin samples to determine where they were manufactured, determined that heroin from Mexico made up 86% of the samples analyzed in 2016. However, the majority of heroin that comes across the southern the border is smuggled into private-owned vehicles and tractor-trailers at legal ports of entry, where the drug is co-mingled with legal goods, according to DEA's 2018 annual drug threat assessment.
Trump continues to make the case that
"[A border wall] will save many lives and stop drugs from pouring into our country."
The majority of hard narcotics seized by Customs and Border Protection come through ports of entry either in packages, as cargo, or with people who attempt to enter the US legally. The only drug that is smuggled into higher numbers between legal entry points is marijuana, according to information from CBP and the DEA
For example, most of the heroin flow on the southern border to the US is through private owned vehicles at
The DHS presentation says there has been a 38% increase in methamphetamine at the southern end of the world, border from 2017 to 2018.
There was an increase in both methamphetamine and fentanyl seizures at both ports of entry and between legal entry points over the past year, but the percentage is unclear since the last month of fiscal year 2018 is not available
A closer look at the numbers shows that in fiscal year 2018, Customs and Border Protection seized 67,292 pounds of methamphetamine at legal ports of entry, compared to 10,382 pounds by Border
"Number One is a patrol agent between ports, based on available data."
"Number one is three years of legislative relief for 700,000 DACA recipients. "
This is similar to a proposal from last year. Republican Sen. Lindsey Graham and Democratic Sen. Dick Durbin, along with five other senators, introduced legislation in the last Congress that made it just that: The measure, then referred to as the BRIDGE ACT, extended protection for those who qualify and allowed them to work legally in the US for three years. The requirements are similar to those of the Obama-era Deferred Action for Childhood Arrivals (DACA) program, which protects against deportation of undocumented immigrants who came to the US as children and allows them to work
The BRIDGE Act would not provide them
The Trump administration tried to end the DACA in September 2017. Then-Attorney General Jeff Sessions announced the phase out of DACA, arguing that it was created "without proper statutory authority." The then-acting Homeland Security Secretary Elaine Duke then formally rescinded the program. Under the administration's original plan, the protections would have begun to expire in March 2018. But a series of legal challenges and subsequent court rulings have kept the program alive
Plaintiffs, including the University of California, a handful of states, and DACA
Three federal judges have ruled that the justification and the manner by which the DACA administration was terminated was flawed. But the Supreme Court has not said whether it will take the case.
"Secondly, our proposal provides for a three-year extension of Temporary Protected Status or TPS."
The TPS program allows immigrants who have been displaced by natural disasters, armed conflicts or other events to live and work in the US. More than 300,000 people have permission to work in the US under TPS, according to the Pew Research Center.
Trump has proposed extending the protections for three years to TPS holders, while he said the Congress worked on a comprehensive immigration bill. The Trump administration has tried to strip some TPS holders of their status, arguing that the program was intended to be temporary, as implied by the name. It is up to the government to review the conditions in a given country and decide whether to renew the designations. Previous administrations have allowed them to continue in many cases. As a result, many TPS holders have been in the US for years.
Last year, a federal judge blocked the administration's attempt to end the protections for 300,000 people from Sudan, Nicaragua, Haiti, and El Salvador
In February of last year, Democrats supported a bipartisan bill that would not only provide a path to citizenship for DACA recipients, but also provided $ 25 billion in border security, which would contribute to border and border-related security. Trump, however, lambasted the bill calling it "a total catastrophe" at the time. The deal fell short of the 60 votes it needed, 54-45, and was opposed by the GOP conference and a handful of Democrats
That same day, another bill was defeated that would have provided a path to citizenship for DACA
The President's new proposal would not provide a path to citizenship for those DACA recipients and would provide $ 5.7 billion for physical barriers.
While the lawmakers will be back on the Hill Tuesday, Speaker of the House, Nancy Pelosi and Durbin have already voiced opposition to Trump's proposal. press release before the President's speech, Pelosi said she plans to reject Trump's leaked proposal.
"Initial reports make clear that his proposal is a compilation of several previously rejected initiatives," the statement read. "Each of which is unacceptable and in total, does not represent a good faith effort to restore certainty to people's lives."
The speaker went on to mention six bills she planned on Democrats passing in the house to reopen the government.
Durbin agreed.
"First, President Trump and Senate Majority Leader McConnell must open the government today," a press release from Durbin's office said. "Second, I can not support the proposed offer as reported and do not believe it can pass the Senate."
Senate Majority Leader Mitch McConnell and other Republican lawmakers supported Trump's proposal.
"I intend to move this legislation this week," and a press release from McConnell's office said on Saturday. "With bipartisan cooperation, the Senate can send a bill to the House quickly so they can take action as well."
For now, it looks like government shutdown remains in a stalemate
has been updated to reflect the correct location of Trump's speech.
Source link