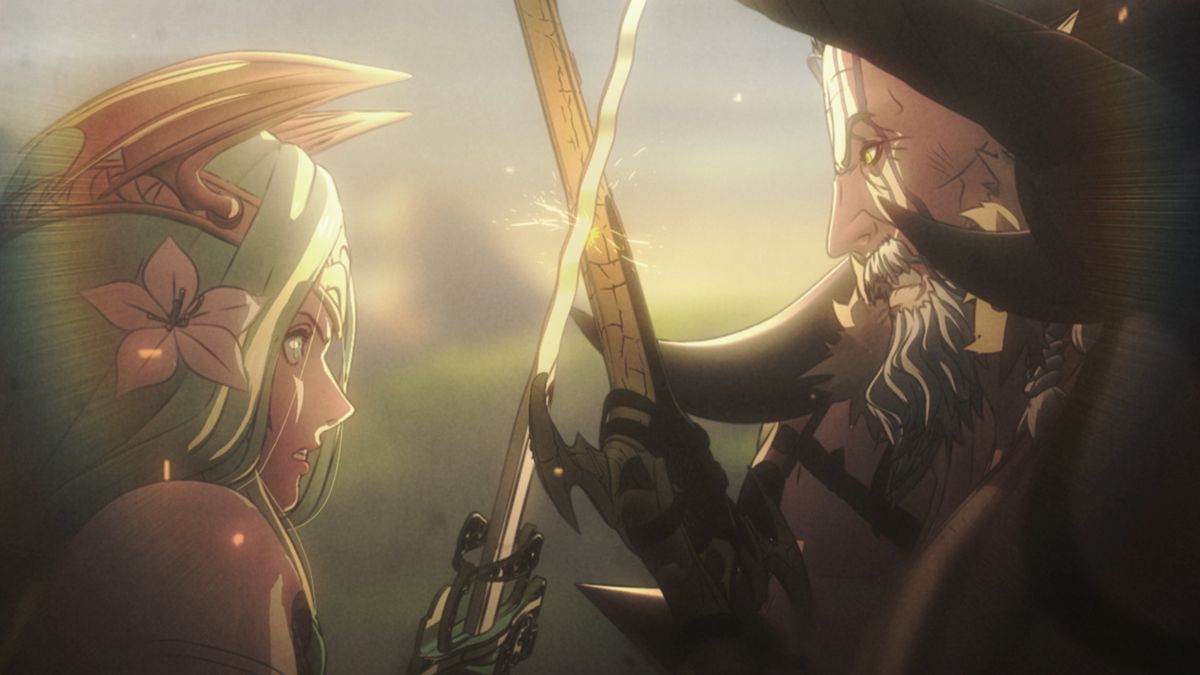 Last night, I completed exactly one hour Fire Emblem: Three houses for five hours of play. During this lengthy period of seconds, I tried to trick a girl with green hair into believing that I could legitimately be a ghost, was briefly introduced to an actor of impossibly beautiful characters, and beat the shit out of several thugs – my finger held over the power button. the switch, if any of them get into a fight (yes, I'm one of them and no, it will never change). It took all 60 minutes. The other four hours with eyes glued to one frame, paralyzed.
Fire Emblem: Three houses force you to make a big decision in the beginning. Title houses need your tutelage, but you can only pour time, energy and attention into one of them. So, you have to make a critical choice at an early fork in the road that will no doubt affect the overall experience with very little information to help you inform your decision. My anxiety is pressing as I weigh the risk / reward of going to the internet for answers: risk ruining the entire course of the game because Reddit and Twitter can't keep spoilers in their pants; the reward by going from that damn god screen and getting to play the rest of the game I was otherwise excited about. I'm already stuck on Fire Emblem: Three Houses, and I already know that it will all end with tears.
Indecision blurs my vision
There's one single phrase phrase in Faith No More's "Falling to Pieces" seminar party, I've always seen ̵
1; for better or for worse – as a true reflection of my character: "Indecision obscures my vision." This is a great line and you will just have to imagine the specific vocal inflection that Master Mike Patton puts on it to get the full effect. I know, I'm going off topic. What I'm trying to tell you is that I've always been grossly hesitant. Over the years, video games have exacerbated this beyond belief.
I became so competent to run through the Alliance's starting zones at record pace during an episode of World of Warcraft that I almost roused my younger years that I almost became convinced that there was no game to be found at level 20. eternal hostage to the Lion & # 39; s Pride Inn of Goldshire; a colorful child from the Elvin Forest; and a true friend of Kobold. I have, after all, run a human sorcerer for 10 years. Not because I wanted to, but because it was the first character I ever created in the game and tried to cast something else after the release of the Lich King anger would be to invite chaotic evil in my life that I couldn't control, Video Games they have a real problem with asking too many of you too early and can't handle it.
You're looking at the person who – for the 12 months contained in 2003 – should routinely start a new Star Wars: Knights of the Old Republic record from the class selection screen in a few hours , make the decision, get into Undercity of Tarris, be overwhelmed with regret, and eventually be forced to start the game from scratch. It took me five years to complete this bloody game, and I'm still not convinced that I ever made the right choice between a soldier, a scout, and a scumbag.
The same goes for The Elder Scrolls 4: Oblivion, you have to choose race, birth sign get involved and deal with everything while Patrick Stewart – disfigured by the early advance of the HD era – deals with you for the nobility five minutes into the game was too much for me to handle. Then there's Fallout 3 and I'm on the front lines advocating for S.P.E.C.I.A.L. The system of education and job determination is completely banned – this is too much pressure to put on the shoulders of a young child living in the vault. Oh, and don't even get me started on Telltale games. Clementine will remember that, oh, now? Just put a gun in my goddamn head.
Destroyed by all video games, and all that, because I have a tendency to let indecision cloud my vision. And here is Fire Emblem: Three Houses, a game that begs me to pledge one of the three flags within minutes, after discovering that they even exist. This does not explicitly state this, but I just know that it will affect everything – from the available unit types to potential relationships, to the way that entire paths of history are shaped and underdeveloped during the adventure. Why a 60-hour RPG asks you to determine the direction of the experience after only 60 minutes I will never know.
Caught in a Cycle
So here I am, with Fire Emblem: Three houses locked on one screen and a big decision to make. To go and hang with cold steels is fun, but ultimately not serious; do I rotate with nerves, kindly and somehow boring; or sneak into the shadows of the Goths, mysterious with a hint of attractive foreboding. I cannot make that decision. I couldn't do it when I was 14, desperately splitting my time mismatched between the respirators of three groups of IRL friends – let me tell you, my long hair, sarcastic attitude coupled with dark clothes covered with pockets of bold color is not a good look – and now I can't do it, at 29, because I'm forced to choose between integrating into one of three virtual groups of friends I haven't yet met correctly.
For now I will do what I always do: I choose the group with the best looking hair (goth, obviously), will immediately change my mind and cross my fingers, which I do not reach the reset button again this time tomorrow (spoiler alert : I will be). Friends, Fire Emblem: Three houses looks bloody incredible, but in committing the cardinal sin of so many RPGs – they force you to make big commitments too early in a relationship – I just know I'll be back to familiar land long ago, I wonder did i make a huge mistake before stumbling back to the start block to do it all over again.
Still, imprisoned in a cycle of continually restarting the Fire Emblem: Three heroes couldn't be worse than some incomprehensible indecision made me commit to the past. You know, at the time, I became convinced that showing a homemade party hosted by a bunch of gothic kids, while sporting white, red-red Dr. Martens boots, Iron Maiden tennis and a colorful vest was something , close to a good idea. Man, thank you for not understanding, eh?
Source link