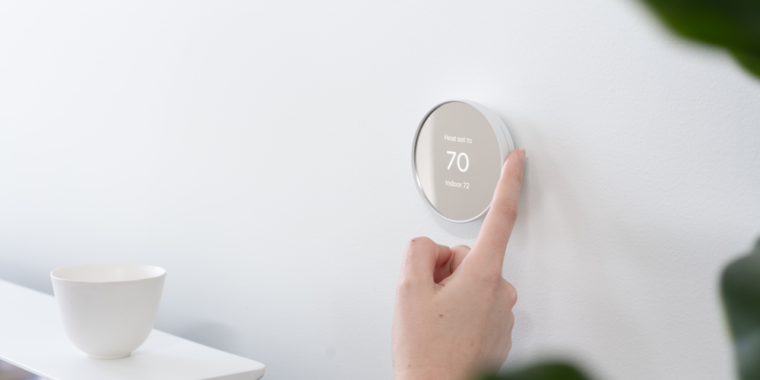 The new Nest thermostat is controlled by a touch-sensitive ring.

The thermostat is available in four different color options.
Approximately five years have passed since the introduction of the third generation Nest thermostat, and many things have happened since then – such as the acquisition of Nest by Google. Today marks the first major overhaul of the Nest thermostat since that acquisition, and as might be expected, Google Home integration is a big part of the update.
As with most other smart thermostats, the main step behind this device is that it can both save you money on utilities and make your home greener. This is possible because it allows you to do things like setting different temperatures for different situations, such as when you are at home, when you are outside or when you are sleeping.
For example, the Nest thermostat can save energy by automatically lowering the temperature in your home while you are away, and then return it to a comfortable level when you return.
This time, the feature is powered in part by both Google Home's fast-paced feature and the radar-like Google Project Soli (previously seen in Pixel 4), which can detect if a person is physically present.
Using Soli, the thermostat can determine if you are present and act accordingly. It can also recognize when you're around and turn on the display to show you information such as the current temperature, then save power by turning off the display when you're not detected – something that previous smart thermostats have done.
The thermostat will also offer setup recommendations that can make managing your home more efficient, and it monitors for problems with your HVAC system and alerts you if it detects a problem that a service technician may request.
The new Nest thermostat is available in four color options (snow, coal, sand and fog, Google calls them). It has a new design that has a lower profile than its predecessor and uses a new touch-sensitive interface instead of the rotation-based interface in the third-generation device.
Pre-orders start today and the thermostats will be "available in the coming weeks," according to a Google blog post. The device costs $ 129.99 in the US and $ 179.99 in Canada.
Google ad image
Source link