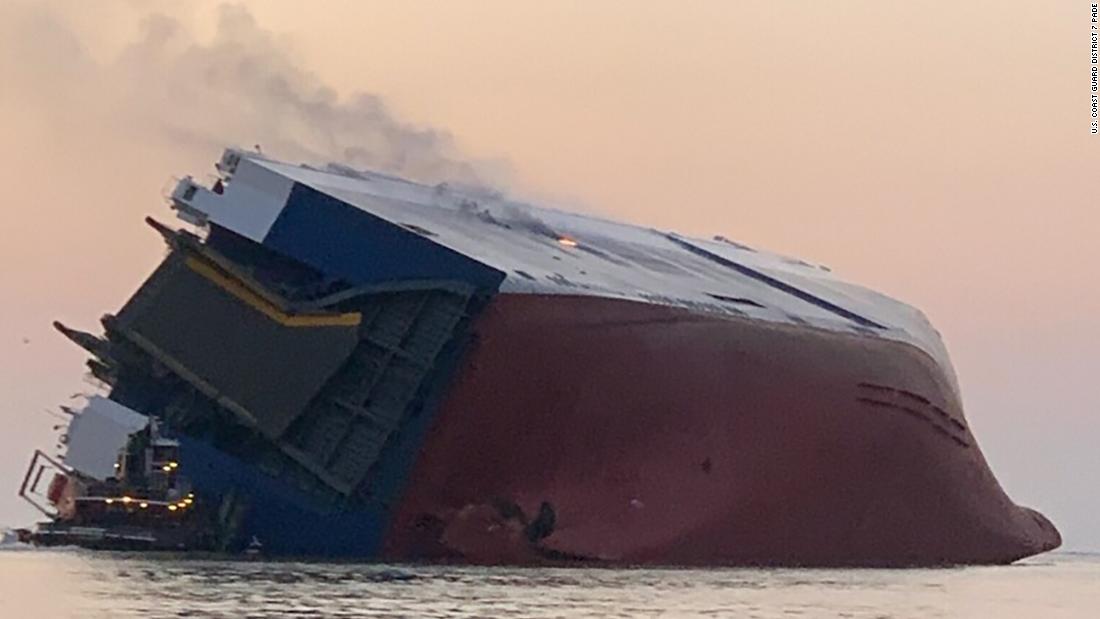 The vessel – the 656-foot Gold Beam – is reported to be propped up on its left or port side at 2am in the morning by St Simons Sound, Capt. John Reed, commander of the Charleston Coast Guard, told press conference.
Coast Guard crews and other agencies responded and rescued 20 of the 24 crew members before a fire on board forced them to stop, he said.
"As smoke and flames began to emerge, our crews, together with the Glin County Heavy Rescue Team, thought the situation was too risky for us to continue inside the ship to try to find the four people that are currently missing, "Reed said.
Since then, the black smoke coming out of the ship has stopped, Reed said.
"But we cannot determine specifically without going inside if the fire is completely extinguished," he added.
Officials are working to stabilize the inclined court, he said. Once this is done, the rescue effort will continue.
Meanwhile, Cmdr's "pollution abatement efforts" are beginning.
As of Sunday afternoon, he said there was no "active release" of the pollution, he said, but a joint command was set up to respond.
The cause of the incident is part of an ongoing investigation, officials said.
A number of agencies, including the Georgia Department of Natural Resources and the Glynn Fire Department, assist in the incident, according to a Coast Guard release.
Source link