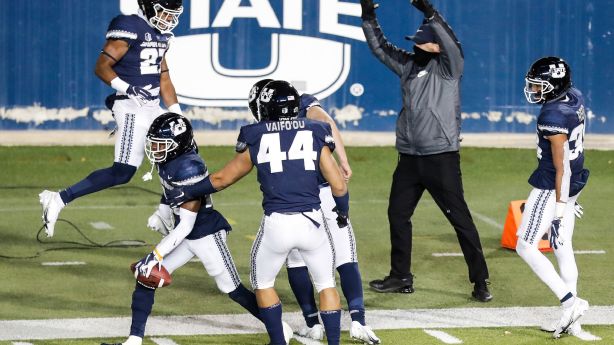 LOGAN – Andrew Pisley just wanted to win first. Eventually, he knocked out.
Pizzley pulled himself out of the folding pocket and placed it with a high tail toward the marker below. He jumped the crossing gear right on the line to win the first down and suddenly was left all alone – sprinting 62 yards in the end zone.
This fourth quarter marked an astonishing sign of Utah's victory over New Mexico at Maverick Stadium on Thursday night with 41-27.
"That's exactly what we practiced this week – no, I'm just getting involved," interim coach Frank Mail said of the main game. "That's the beauty of having a quarterback with a double threat. He always finds a way. He̵
7;s competitive. He got out of what he should have heard, but he didn't give up."
And like freshman quarterback Kina Maile, who had a failed touchdown return and a blocked shot in the win, said, "He cleared these guys. It was crazy."
Pease said the play should be a quick out for the first down, but things are moving fast enough. He falsified when the New Mexico defensive line (0-5) approached around him and then rolled to the left.
"I ran out of my pocket and I guess that's really all. From there, everything was open," Peazley said.
It was the long-awaited first win of the season for Utah (1-4) and Agis came with some hope for the future. Peasley's performance was not the only game he did on Thursday. In fact, it seems that Aggies have found their quarterback.
Pease, a sophomore from La Grande, Oregon, made his first collegiate start. And if Thursday's performance is an indication, there are many more to come.
Peasley was 14-of-21 for 239 yards and three touchdowns; he added 118 yards fast and another score on the ground.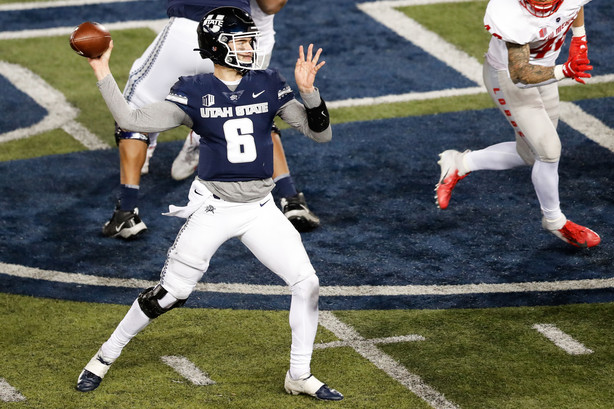 "I felt really confident entering the game. I felt like my teammates believed in me and I just went out and introduced myself," said Pease, who had come out with COVID-19 in the weeks before the game.
Peasley said that after several long drives that stopped in the first half, including a drive that ended with Peasley rolling him through the end zone, the offense came out "with little fire" and wanted to take pictures. That's exactly what they did.
If you managed to overcome the nap after the holiday against the background of what seemed like endless reviews for the first half, Peaseley and Utah rewarded you with their best performance of the year – a lot.
At the opening of the half in Utah, Pealey found Justin McGriff a step between two 36-yard touchdown defenders. In the next possession, the sophomore defender hit Savon Scarver, crossing the field, for a score of 26 yards. And the next day, Pealey threw it to Carson Terrell, who was buried for a 35-yard catch.
The Aggies entered the Thanksgiving night championship, scoring just 45 points throughout the season after falling to a 0-4 record with just 6 points at halftime. So to say that the sudden offensive explosion is surprising would be an understatement.
"We took pictures and they were successful," Pease said. "I felt good."
The explosion in the third quarter was also supported by the defense. Kina Mail took a mistake and returned it for a touchdown. The Adjii scored 28 in the third quarter.
"It's hard to win football games, man," Coach Mail said. "But at any time you can do it as a team with three phases – attack, defense and special teams – it's a great feeling."
This is the feeling that Aggie has been waiting for all season. And one that will taste good.
"Man, it's just a huge burden on our shoulders – just to take the first one and get us on the right track," said Kina Meile. "We itched to just take the zero out of our record and we finally got it. It feels great and I know we're going to celebrate this all weekend and all Thanksgiving. I just love that feeling."
×
Related links
More stories that may interest you
Source link