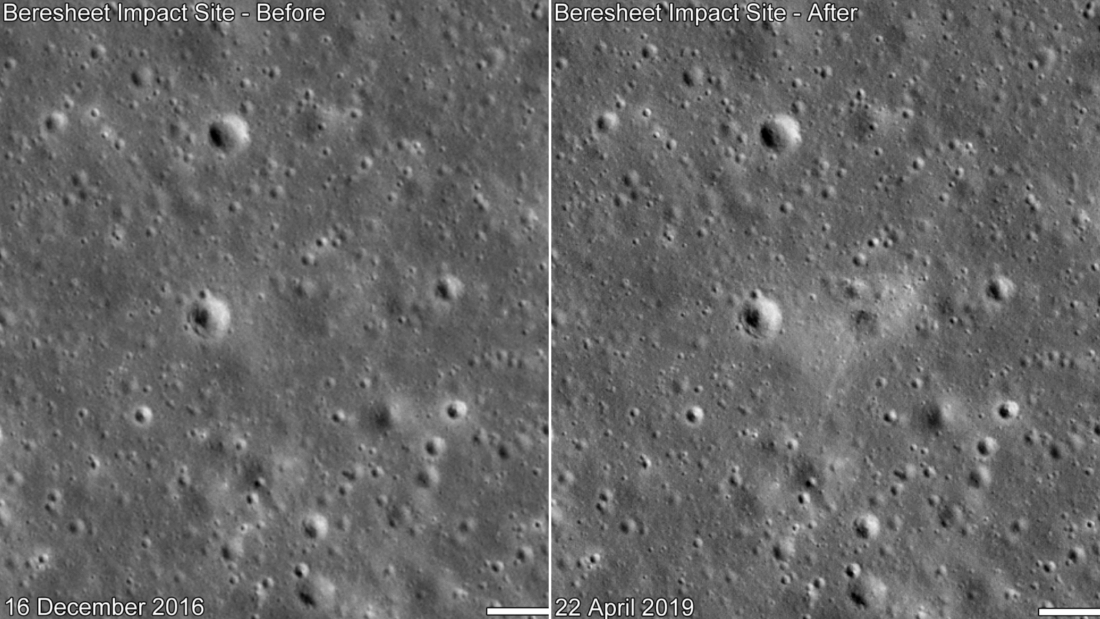 NASA's Lunar Reconstruction, a circus for about a decade, crossed the landing site on April 22 and took pictures.
The photos taken from 56 miles above the surface show a blurred width of 32.8 feet. Around the dark spot there is a halo of lighter and reflective material, which suggests that the soil around the landing site is smoothed as it is blown.
It is not known whether a blow creates a crater on the moon surface. If there is one, it is not visible in the photos, but it may be due to the distance. It is also possible that the impact is formed only with an escape, not a crater, as the spacecraft was light and had a low speed and a low angle of approach, compared to a dense meteorode of similar size.
The first technical problem of the spacecraft occurred at 14 kilometers (about 8.7 miles) above the moon, representatives of SpaceIL. Beresheet lost communication with the control room in Israel during the landing
Engineers managed to resume communications with the spacecraft, but officials said it was too late;
Beresheet is the first privately funded moon mission. His name is a reference to the first words of the Hebrew Bible, which translates as "Beginning."
The spacecraft was launched in February and went on a seven-week trip to reach the moon. He traveled the Earth many times before he "let go" on the Moon while traveling about 4 million kilometers.
If the Israeli team was successful, it would have been the first private enterprise to make a controlled landing on the moon, with the smallest spacecraft and the smallest budget.