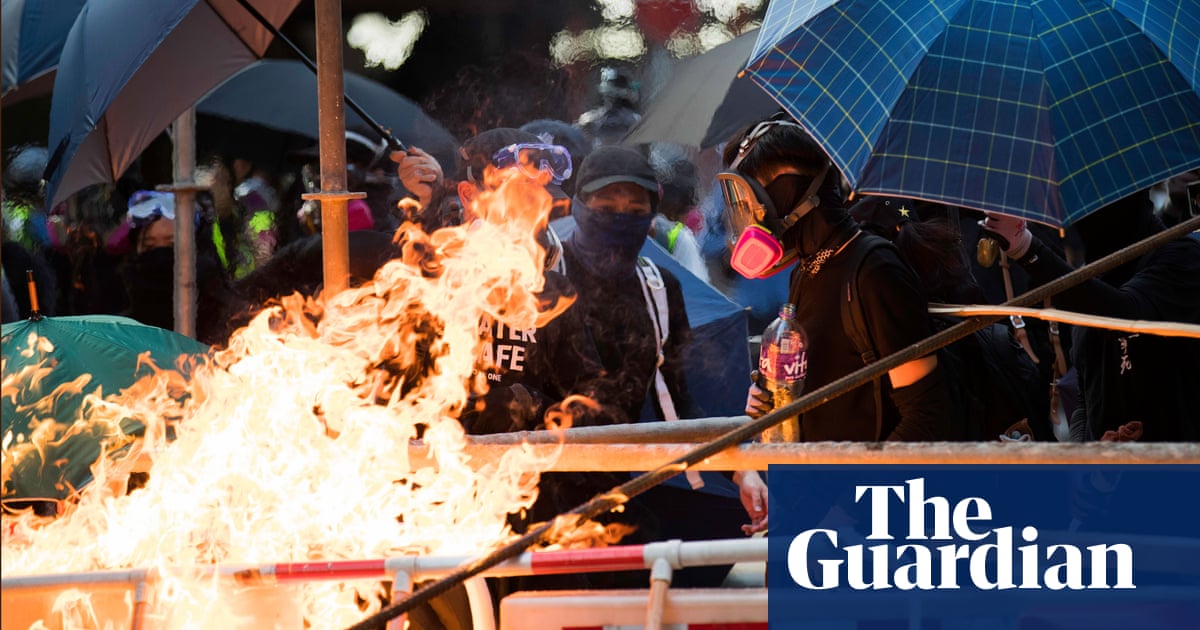 Hong Kong police fired water cannons and tear gas at crowds holding off an illegal march, with hardcore protesters throwing gas bombs and destroying businesses to contain a week of anger after recent attacks on Democratic Democrats.
Authorities had banned the Sunday rally in Zim Sha Tsui, a densely packed shopping district filled with luxury boutiques and hotels, citing public safety and previous violence by hardcore protesters.
But tens of thousands joined the unauthorized demonstration, keeping pressure on urban pro-Beijing leaders after nearly five months of protests and political unrest.
But it soon fell into chaos as smaller groups of protesters threw gasoline bombs at police, subway entrances and Chinese branches of the Continental Bank and ruined numerous shops.
Police responded with bursts of tear gas and rubber bullets and stick charges. [19659002] Through the afternoon, a water cannon truck chases protesters along Nathan Road, one of the busiest highways in the city, leaving it in blue dye.
The dye in water used to identify protesters also contains painful pepper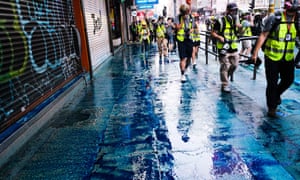 The entrance to the largest mosque in the city was bathed in blue when a water cannon blew up a handful of people outside the building. Police said the mosque was hit, and city leader Carrie Lam later apologized.
As protesters escaped, the fronts remained behind to slow the onset of the riots, igniting makeshift barricades. The clashes continued deep into the night.
The Xiaomi and Best Mart stores – both Chinese mainland businesses – were set on fire.
Tensions have escalated after the leader of the weekend rally, Jimmy Sham, was hospitalized after being attacked by unidentified assailants who carried hammers earlier in the week.
Late Saturday, a man handing out pro-democracy leaflets was stabbed in the neck and abdomen, reported an attacker shouting pro-Beijing slogans. [19659002] Many on the Sunday march said they wanted to show that they were not connected with the attacks and moves by the authorities to ban public events.
"The more they suppress, the more we resist," says the 69-year-old demonstrator, who gave her last name as Jung. "Can the police arrest all of us, tens of thousands?"
Philip Choi, a self-described protest frontline man, said they should continue to receive numbers, although many hardcore activists like him were "arrested or injured" in in recent weeks.
"What I want is a truly democratic government whose leader is elected by the people of Hong Kong instead of being elected by the communist regime," he said.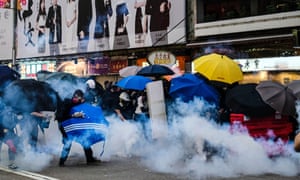 Violence against the Vigilantes has taken hold on both sides of the ideological divide.
In recent weeks, supporters of democracy have badly beaten people who disagree with them, although these duels tend to spontaneously erupt the mafia's anger during protests. [19659002] In contrast, pro-democracy figures were attacked in a much more targeted manner, with at least eight prominent government critics, including politicians, beaten by unknown assailants since mid-August.
Protesters labeled the attacks as "white terror" "and accused the city's shady organized crime groups of allying with Beijing supporters.
Beijing condemned the protests as backing from abroad and condemning the attacks against those who express support for China.
But he remains largely silent on the attacks on Democratic figures.
Hong Kong has now been saturated with protests for 20 weeks and without a political solution.
It responded quickly with tear gas, rubber bullets and more recently with live rounds.
The rallies were triggered by an already abandoned plan to allow extraditions to the authoritarian continental continent, but are intertwined with broader calls for democracy and police accountability.
The protesters demand an independent investigation into the police, an amnesty for the arrested and completely free elections, all of which were rejected by Beijing and the unelected leader of Hong Kong, Kari Lam.
Earlier this month, Lam cited a colonial-era emergency ban on face masks.
The decision ushered in a new wave of protests and vandalism that closed much of the urban transport network.
Source link