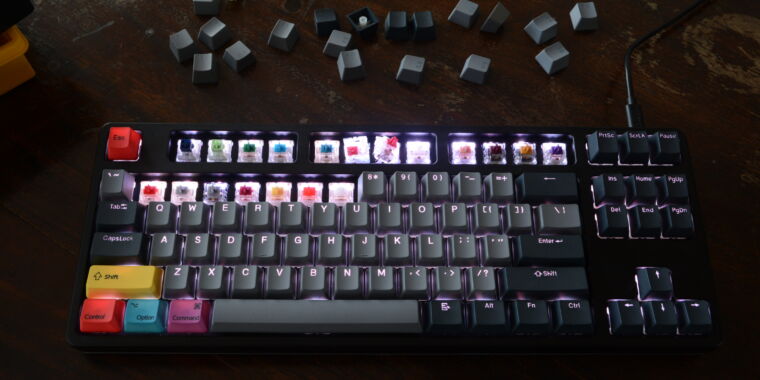 That's the beauty: the Drop CTRL keyboard

Ilzic van Beinum

As seen on the left …

Ilzic van Beinum

Closer. Closer.

Ilzic van Beinum

Although it is pre-customizable (relative to overall custom work), you can of course change the aesthetics of Drop CTRL …

Ilzic van Beinum

Each key has its own set of RGB LEDs that can create 16 million color combinations.

Ilzic van Beinum

Connect headphones to the second USB-C port (using Apple's Apple headphone adapter)

Ilzic van Beinum
The keyboard is one of two parts of a computer setup where flesh and blood meet plastic and metal. (The other is the mouse or trackpad.) Using a keyboard effectively means moving your fingers with the precision that a computer can understand, often doing so faster than the speed of conscious thought. So while many people are good with a cheap keyboard or a default keyboard – as long as it registers reliable keystrokes – others don't mind spending a little more on something better.
And then the real thing connoisseurs spend hundreds of dollars to order parts from around the world to create your own dream keyboard – a mechanical keyboard, of course, where each key has its own mechanical switch.
I didn't want to go too far overboard when I recently finally got the custom keyboard. So I decided instead to take the pre-built but very customizable Drop CTRL. Drop CTRL is without ten keys with 100 Hz individual RGB LEDs supporting Cherry MX switches in the style of "hot swap" (only for board mounting), working with QMK firmware. It comes with dual PBT photos with illuminated key caps and a selection of keys. Fu. But, no, none of this is pointless marketing talk.
I paid $ 225 for a high-profile black model with Cherry MX Brown switches installed (plus shipping from $ 15 from the US to Europe; surprisingly cheap). And after 33 torturous days of waiting, I finally began my journey through the custom rabbit hole in the keyboard.
USB-C 1.1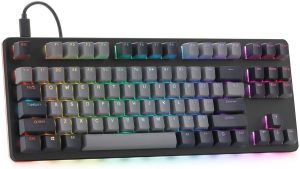 Run CTRL
The first indication that the Drop CTRL has not survived the IBM Model M from the PC AT era through enormous build quality is the fact that the CTRL connects to a computer via USB-C. And what could be better than a small, suitable for orientation and promising USB-C port? Two USB-C ports. There is one at the back left and one at the back right of the keyboard. You can use both to connect to a computer; the keyboard then acts as a USB port with one port, so you can connect an optional accessory through the other port.
However, although the connector is the newest and best, the protocol is USB 1.1 at full speed. This means only 12 Mbps, and the keyboard consumes only 500 mA of power. The second port charges my iPhone to about 2 W and charging continues when the computer and keyboard are asleep.
The included cable is USB 3.0 type A to USB type C. I tried some USB-C cables at both ends, but it often didn't work. Remarkably, Thunderbolt-compatible cables connected to a Thunderbolt-compatible port do not work. Some charging / USB 2.0 cables connected to the computer's Thunderbolt port worked, and connecting to the monitor's USB-C port also worked with several cables.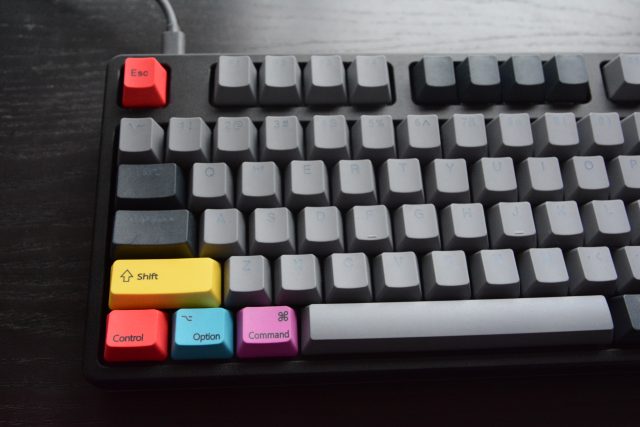 RGB LEDs
After connecting the cable, the LEDs under each key and around the sides of the keyboard lit up in a wavy pattern. This colored lighting certainly adds flair, but it is also functional: with the LED lighting off, it is very difficult to understand the key legends.
Each key has its own set of RGB LEDs that can create 16 million color combinations. On cheaper keyboards with this function, the LEDs may flash to some extent, but the CTRL LEDs refresh at a speed of 100 Hz, which means that there is no noticeable flicker. You can switch between a handful of animations and several solid colors, and you can change other LED settings with keyboard shortcuts. I've found that I don't mind RGB animations happening in my peripheral vision, especially at a slightly reduced speed.
Source link