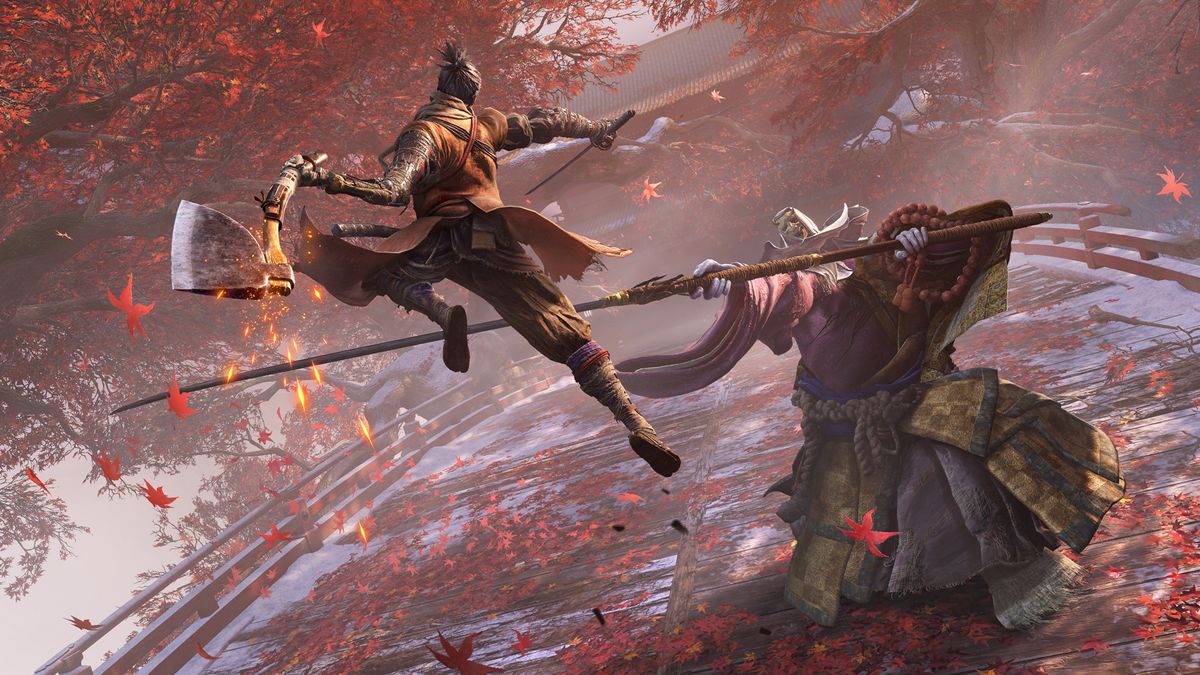 It took a dozen hours before I decided I would never see Sekiro's end. The giant fire is beaten, Shinobi's forest hunter is killed. Several dentures were in my possession. I pushed off a giant snake and left a drunkard to rot. I would have pressed enough to believe that perhaps I had learned the lesson I had to learn, this lesson is that I must be careful and aggressive to the same degree. Sekiro is a game of combining instincts that seem to be in contradiction. Or maybe it's not about it, and that's why I'm bad about it.
But this is definitely a game for learning how to play again, and it is widely agreed that From Software deliberately punishes soul veterans for their muscular memories. I played in Division 2 and sometimes kicked me, but I never had to learn about it. I had to point and shoot, but I did not have to do it very well, and other games taught me how to target and shoot ̵
1; targeting and shooting all my life. But I do not know how to play Sekiro. I know how to rule the world and look for things I know how to prey. But I never know how he'll beat the next boss. I just do not. There are fourteen buttons on my controller and Sekiro wants to use all of them in constantly changing orders.
The game of Dark Souls is tough and the people who deny it are either arrogant or false. But they all have a safety net of their co-operative system that I used to run. In all three of these games, I've never learned to scam, I've never done anything fantastic, I've just adapted and flipped. I did not like Dark Souls fighting, at least not alone: ​​I liked the atmosphere and the feeling of discovery, I loved exploring the world. I can do it as long as I can add and push with reasonable efficiency. This will not work in Sekiro.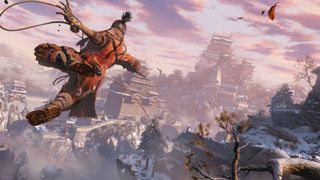 There are plenty of skills to learn in Sekiro and most include learning something new. New combat capabilities, new orthopedic tools … all require me to reconfigure the way I work with my controller buttons. If I listen and pay attention to the signs, I can think of ways to better enemies. But after an hour (often much longer), removing the mini-boss, there is always another overwhelming battle just around the corner. Therefore, more lessons, more factors to adapt. Sekiro's focus on subsequent meetings – the abundance of mini-bosses – means that I spend most of the time by unpacking the finer details of beating an enemy and far less time exploring the world.
It is far from me to explain the wider themes of Sekiro's tales – I have not finished it and you believe me, I will not. But there is undeniable clarity in the approach of To to fight here: every problem has its own complex solution, there is no take-off, no reliable rhythm or "chain" in which to find comfort. Some meetings punish you for running, others require, some punish you for jumping or avoidance, others insist. Even the sandstone stellar arenas tend to play as puzzles in the elimination process, they feel like Miami-style hotspots. The layout is a huge focus in Sekiro, but also the unpacking of situational puzzles. It's a bit like a puzzle game, and I hate the puzzle.
I beat a groom, beat the raging bull of fire, I threw myself around on the roof of Ashina Castle, and I saw how the game went in all directions and began rewarding the research. But I will not finish this game, I know it in my bones. And not because life is too short to punish so much. Honestly, my life feels very long. But Sekiro made me realize that today when I play a video game, I want to be rewarded with numbers and back-paces and unnecessary progress indicators.
I tend to frown on these indicators, even when I am undoubtedly susceptible to their effects. Sometimes I went to bed, thinking about how I reached the 30th level in Division 2, or how nice it was to clear an area of ​​her SHD caches. I've marked all the boxes so I can delete them. Sometimes in life, which is complicated and difficult in the best times, the achievable goals and stages are a bit short, so we find solace in the games. But in Sekiro my progress is measured mainly by how well I learned this infinitely complex struggle with swords. And I will not teach him, or at least I will not teach him until the end. And this is the end I will not see. I know it, because even after I defeated the horse man, even after I defeated the fire bull, my shaking hands let the controller go, and I just wanted to break the damn thing.
I am happy that I have not set. my hand to a look at Sekiro. I was tempted because I had finished every Soulsborne game. But PC Gamer would not have looked at Sekiro if this task fell. Perhaps the CEO of PC Gamer would have fired me, my family would deny me, maybe I would have to go out and because of a lack of work I would have to live in a cave and gradually become mad. I ran out of a bullet there. I will not finish Sekiro.
Source link