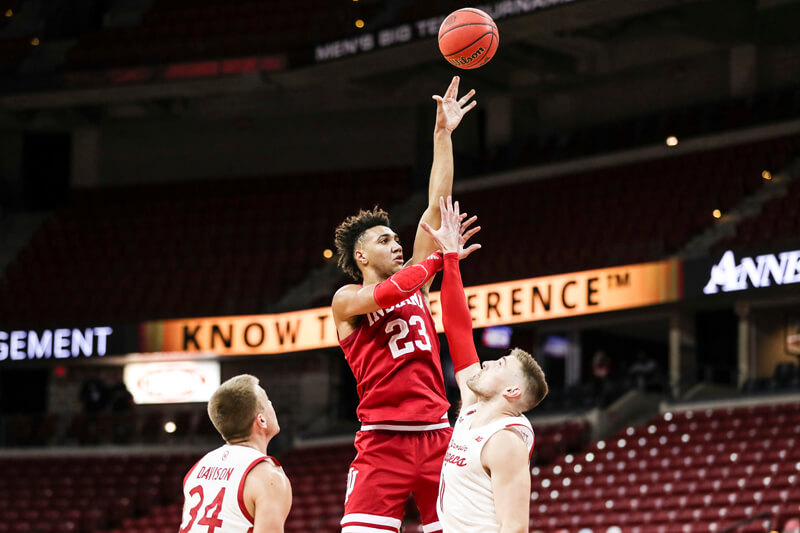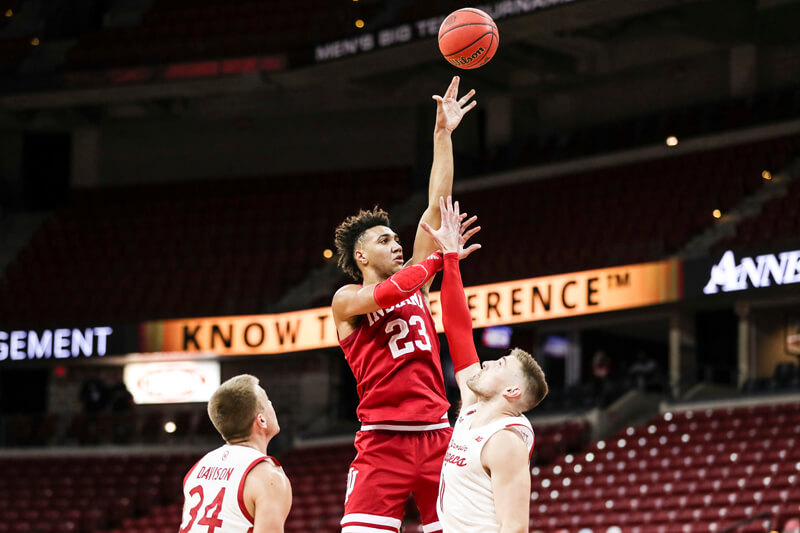 Quick thoughts of losing 80-73 double overtime in Wisconsin:
How did it happen: It seemed that for an eight-minute stretch Indiana could escape from the center of Cole in the first half on Thursday night. After the Hoosiers led 1
1-9 in a 3-point lead by Jerome Hunter with 11:23 to play at halftime, the Badgers broke 20-7 to win 29-18 with 3:04 per game. Indiana, desperate for an insult, received an unexpected push to close the half strongly. Freshman Anthony Leel knocked in a pair of three points to take out the Husseins within five at 29-24 at the break. Although she scored just 0.78 points for possession and a turnover rate of 23, Indiana is holding on tight because she is defending Wisconsin well. Badgers shot just 12 of 27 before halftime and scored just 0.94 points of possession.
This late run in the first half led to a strong offensive performance in the second half. The Husseins spotted Trace Jackson-Davis early and often, and the big sophomore went to work. Wisconsin seemed visibly disappointed at times, trying to defend it, and by 5:55, Indiana was leading 56-50. The Husseins found little resistance on both drives, or on reaching the rim, which led to 44 points in the paint in the evening. After a 7-0 run at Wisconsin gave the Badgers a 57-56 lead, Rob Phinisee responded with a left wing with 3 points to give the IU a 59-57 cushion of 1:27 per game. Wisconsin responded with a pair of free throws from D'Mitrik Trice to equalize at 59, before Jerome Hunter responded with a dip to return IU 61-59 with 37.8 seconds per game. Tris responded with a heavy blow to the tape, creating a chance for IU to gain final possession. Jackson-Davis got a pretty good look on the rim and couldn't finish sending the game for overtime.
The long time started with a 3-point for Leal, to which Wisconsin responded with 3-points for Brad Davison. No team would score again until Hunter scored 1:50. Wisconsin turned it into a subsequent possession, but Hunter brought a questionable 3-point from a timeout. Tris responded with a triple with just 1:02 to play to give Wisconsin a 67-66 cushion. Durham missed a jumper with a declining clock on the next possession, but Indiana forced a draw, and Durham then hit and fouled for a 3-point game with 26.4 seconds to play for a 69-67 lead. Tris responded with a jump of 11.1 seconds per game. Indiana called a pair of timeouts, but did not receive a blow, as Davison equalized Durham. Davison then missed a runner in the buzzer to create a second sequel.
Indiana's inability to complete the game in regulation and overtime proved costly. Tyler Wall hit a 3-point pair to give Wisconsin a 77-70 lead, which put the game out of range.
Exceptional performer: Jackson-Davis was great in 49 minutes, finishing with 23 points and 12 rebounds. Leille also had a nine-point break in 35 minutes.
Statistics that stand out: Indiana was overtaken by 10 points on the free throw line and by 13-7 points difference.
Final IU individual statistics:

Final statistics without pace: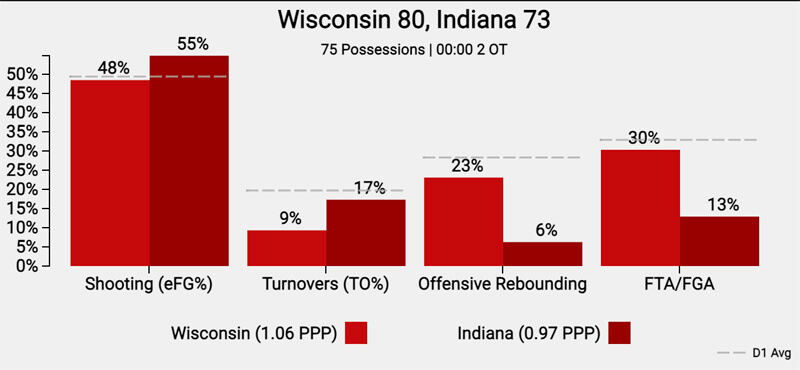 Filed in: The Wisconsin Badger
Source link