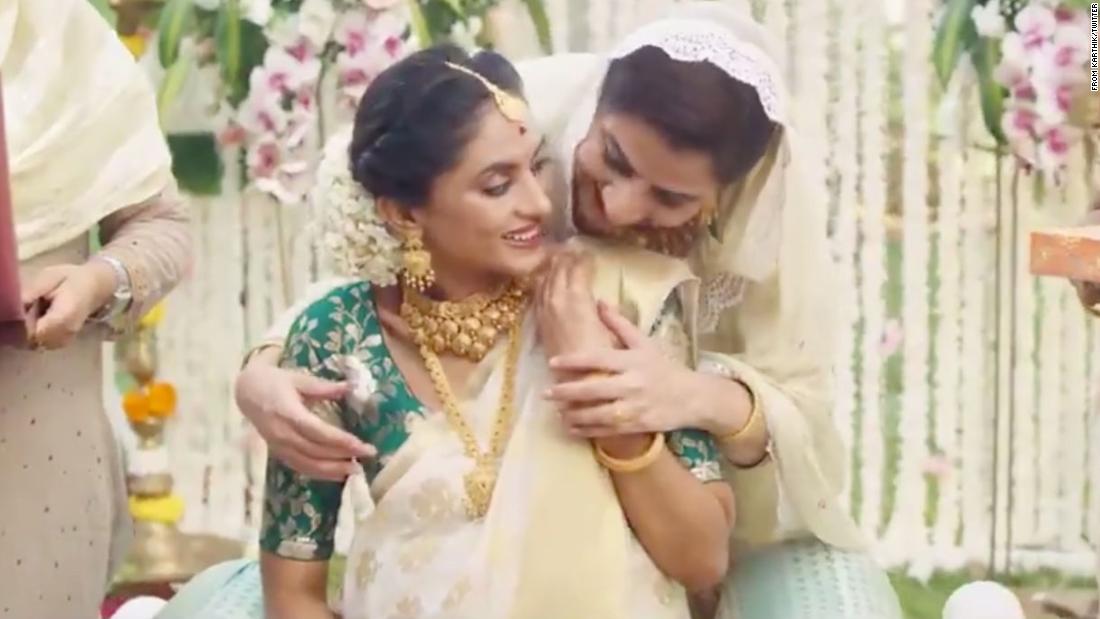 The 45-second advertisement for the "Ekatvam (Unity) – Beauty of Unity" collection featured a Muslim family throwing a traditional South Indian Hindu baby shower for their pregnant Hindu daughter-in-law.
The daughter-in-law says, "But these rituals are not celebrated in your home," and the mother-in-law replies, "But the ritual of making daughters happy is in every home."
The hashtag "BoycottTanishq" began to develop in India after the jewelry brand Tata Group published the ad over the weekend.
Tanishq removed the ad from all platforms on Monday, later telling CNN that the film provoked "mixed and severe reactions, contrary to its very purpose."
;
Some people on social media called on Tanishq to apologize for running the ad.
Several called the ad "Love Jihad" – a reference to an Islamophobic theory that claims that Muslim families are trying to convert Hindu women to Islam under the pretext of love and marriage.
"This advertisement is wrong on many levels, Hindu Bach [daughter-in-law] has lived with the family for a significant period of time, but the adoption only happens when she bears their heir, "actress Kangana Ranaut wrote on Tuesday." So what is she just a set of ovaries? This ad not only promotes love jihad, but also #tanishq sexism. "
Scientist Vagisha Sonny tweeted that she had been a customer since 2005 and bought her wedding jewelry at Tanishq, but will now boycott the company.
But others voiced support for the ad and questioned whether there would be a reaction if religions were reversed.
Shashi Tarur, an Indian lawmaker and former UN deputy secretary general, tweeted: "So Hindutwa [Hindu nationalist] fanatics have called for a boycott of @TanishqJewelry to emphasize Hindu-Muslim unity through this beautiful advertisement. If Hindu-Muslim "ekatvam" [unity] it irritates them so much, why don't they boycott the longest surviving symbol of Hindu-Muslim unity in the world – India? "
Divya Dutta, the Indian actress who provided the title of the ad, wrote on Twitter: "Yes, this is my voice. It's sad that it was broadcast. I loved it."
A Tanishq spokesman told CNN: "The idea of ​​the Ekatvam campaign is to celebrate the gathering of people from different walks of life, local communities and families during these challenging times and to celebrate the beauty of unity.
"This film stimulates mixed and severe reactions, contrary to its very purpose.
"We are deeply saddened by the involuntary stirring of emotions and are withdrawing this film, given the hurt moods and well-being of our employees, partners and store staff."