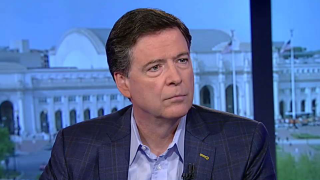 The Inspector General's report to former FBI Director James Comy showed that President Trump did not obstruct justice, as some critics claim, and instead "released" him, according to former Deputy Assistant Attorney General John Yo.
Yo, who serves on the George W. Bush administration, said Friday on Inggram's Corner that, by dismissing Komi, the president removed an FBI person who was acting in his interest.
"I am sad to say that after reading IG Trump's report did not obstruct justice, Trump released justice," he said.
OBAMA-ERA OFFICIAL CLAIMS, BRENNAN FINISH YOU TO DO THE IMAGE OF IG
Trump won the 201
6 election. "
In addition, Yo rejected a comment from CNN legal analyst Eli Honig, who warned that the IG report did not" avenge "the president on any claims of obstruction of justice against was s national security adviser Michael Flynn.
Honig, a former director of the criminal justice department in New Jersey, says that nothing in the report is "any excuse for Donald Trump." "
" This does not change anything that Komi writes in these memoranda. It was Donald Trump who demanded loyalty to him, and Donald Trump was trying to get him to terminate the Flynn investigation, "Honig said. "These are still, I believe, obstructive actions."
CLICK HERE to get the FOX NEWS application
In Inggram's Corner, Yoi said that Komi was acting outside the rules of justice and FBI rules regarding the notes that have cataloged some of his interactions with Trump.
"He decided that the Department of Justice's basic ground rules would not apply to him in his crusade to stop President Trump, and that basic rule is," We, as Department of Justice prosecutors or FBI agents, we are willing and free to share the results of confidential investigations with the New York Times or with the press to attack people we don't like, "says Yow.
"This is a person who should never have been an FBI director. "
Source link