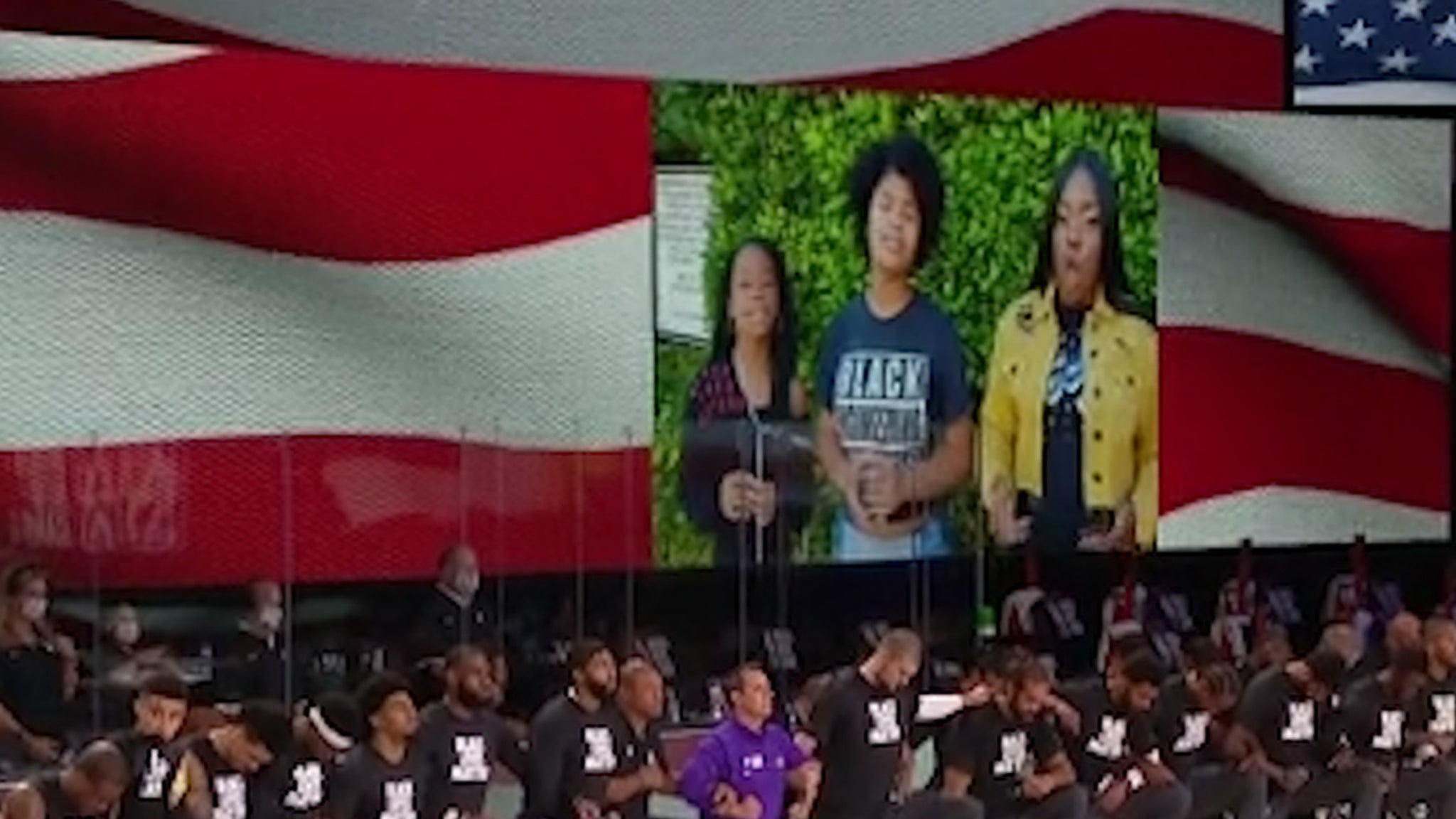 18:20 PT – LeBron James and all of his Lakers teammates participated in a knee-jerk demonstration during the anthem before turning against the LA Clippers.
Clippers also took a knee … along with all the coaches, staff and referees working in the game.
16:44 PT – NBA comish Adam Silver appeals to the decision of both teams to kneel before the match, saying that they will not face punishment for the gesture.
"I respect the unified act of peaceful protest of our social justice teams, and in these unique circumstances it will not impose our long-standing rule requiring us to stand while playing our national anthem."
A powerful moment from the NBA restart – where every single player in both the New Orleans Pelicans and the Utah Jazz took a knee in solidarity during the national anthem.
That was quite a statement on Thursday night in the first official game of the NBA restart – which appeared in the middle of the balloons at Walt Disney World in Orlando.
It seems that every coach and referee in the building also took a knee along with the stars Rudy Robert,, Lonzo Ball,, Zion Williamson and Donovan Mitchell,,
All players wore "Black Lives Matter" shirts – and stood behind BLM art in the center of the court.
The anthem was performed by a musician John Batiste – instrumental transmission, including heavy elements of guitar and piano.
The players were on hand during the anthem – some players raised their fists.
After the anthem, Shaquille O'Neill praised all participants – saying that kneeling is "beautifully done in unity – nice to see."
He added: "We have to keep fighting, keep moving … now we have to vote."
Charles Barkley also weighed … saying, "If people don't kneel, they're not a bad person. I want to make that clear."
Barkley added that if one decides not to kneel, "one should not force oneself."
Of course, the movement of the knees was started by Colin Kapernik who says the point of the demonstration is to put a spotlight on police brutality and social injustice.
The NBA has allowed players to replace their names on the backs of their shirts with social justice messages.
Zion's T-shirt says "Peace." Lonzo Ball says "Draw." Brandon Ingramsays "Freedom." Mike Conleysays "I'm a man."
Some of the team's messages to be worn on the back of their tank tops ⤵️ pic.twitter.com/ZCbdz7PGrE

– New Orleans Pelicans (@PelicansNBA) July 30, 2020 @PelicansNBA
Originally Posted – 15:55 PT