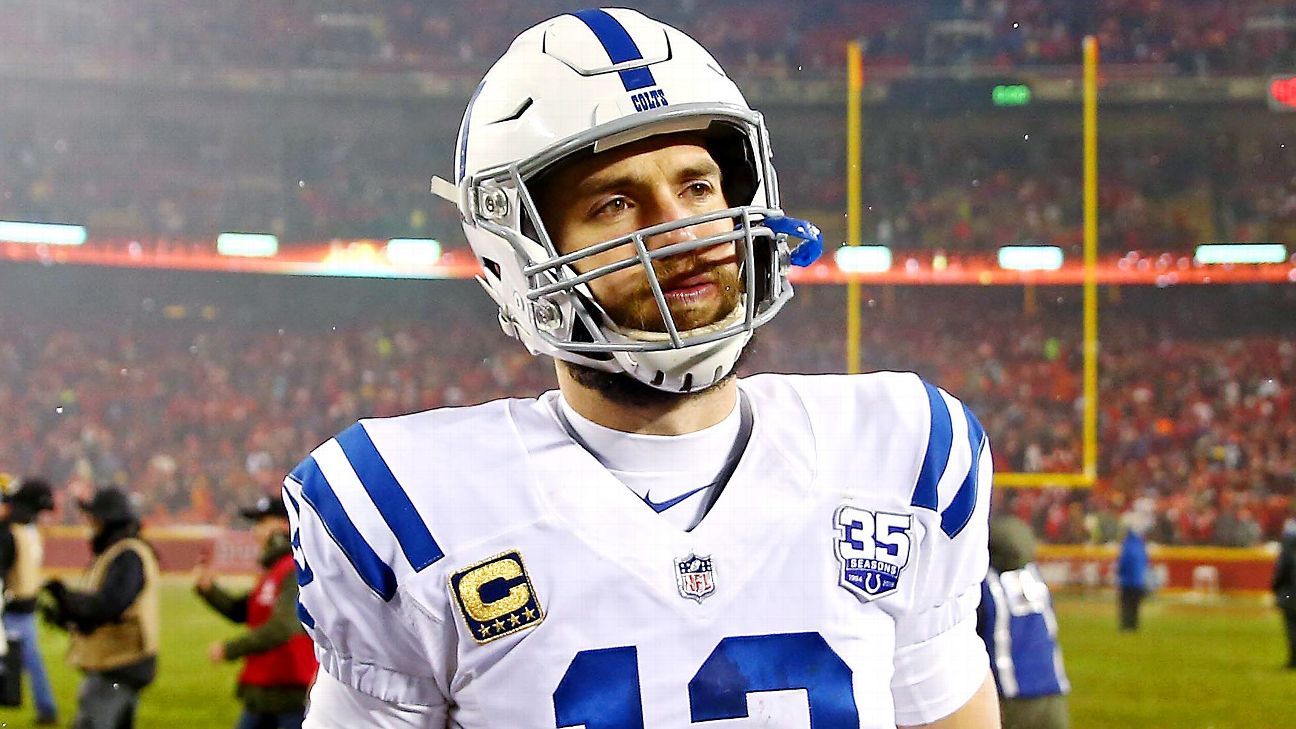 INDIANAPOLIS – In a shocking development on Saturday night, Indianapolis Colts quarterback Andrew Luke announced his retirement from the NFL, saying his constant injuries had taken away his love for the game.
Luck, who turns 30 on September 30, had previously met with Colts owner Jim Irsay to tell him about the decision.
The Colts played their third preseason game Saturday night in Indianapolis against the Chicago Bears. Luck was already excluded from the game due to an ankle injury, but he was seen on the sideline laughing and talking to teammates.
After the game, Luke announced his retirement decision during an impromptu, 25-minute press conference. He said the official announcement was not planned until Sunday afternoon, but he changed course after the news broke during the preseason game.
"I was stuck in the process," said Lucky, pausing several times to gather his emotions. "I couldn't live the life I want to live. It's the joy of this game … the only way for me is to get rid of football.
" It's not an easy decision, it's the hardest decision in my life. But this is the right decision for me. "
Luke's early retirement ends what began as a promising career for the No. 1
overall pick in the 2012 draft, selected to replace Peyton Manning. Luck brought the Colts to the playoffs in each of his first three seasons in the NFL, including back-to-back AFC South titles and the 2014 AFC Championship Game.
But his career turned bad when he suffered a shoulder injury in Week 3 of the 2015 season. He eventually missed 26 games – including the entire 2017 season – due to injuries to his shoulder, kidneys and ribs. 2017 while Luke doubts if he will be able to continue his career.
But Luke returned in a big way last season.
He threw for 4,593 yards and 39 touchdowns to win NFL Comeback Player of the Year and led the Colts back to the playoffs for the first time since the 2014 season, showing that he remains one of the best defenders
But the injury hit Luke again earlier this year when he suffered a calf strain that kept him out of the offseason activities of the team and the minicamp. Luck only participated in three days of training camp – none as a full participant – before it is announced that he is switching it off because he has difficulty moving in his pocket.
"I am in pain; it still hurts," he said. "It's been four years of this cycle of pain, rehab. It's a myriad of problems – calf tension, ankle sprain, ankle sprain. Part of my journey forward will be to figure out how to feel better."
Luck told reporters on Saturday night that he first started thinking about retirement two weeks ago, and general manager Chris Ballard said the parties began discussing a potential solution early last week.
"It was Monday," Ballard said. "We all sat down and talked and continued throughout the week. Emotional conversations from our parts. Not any negative emotional conversations. Just some real honest talk. But it didn't make sense. I watched Andrew go over his shoulder, his routine, and how he recovered and worked through things. He went through the same process as he went into the building. He came in on Monday and started working for it. "
Source link