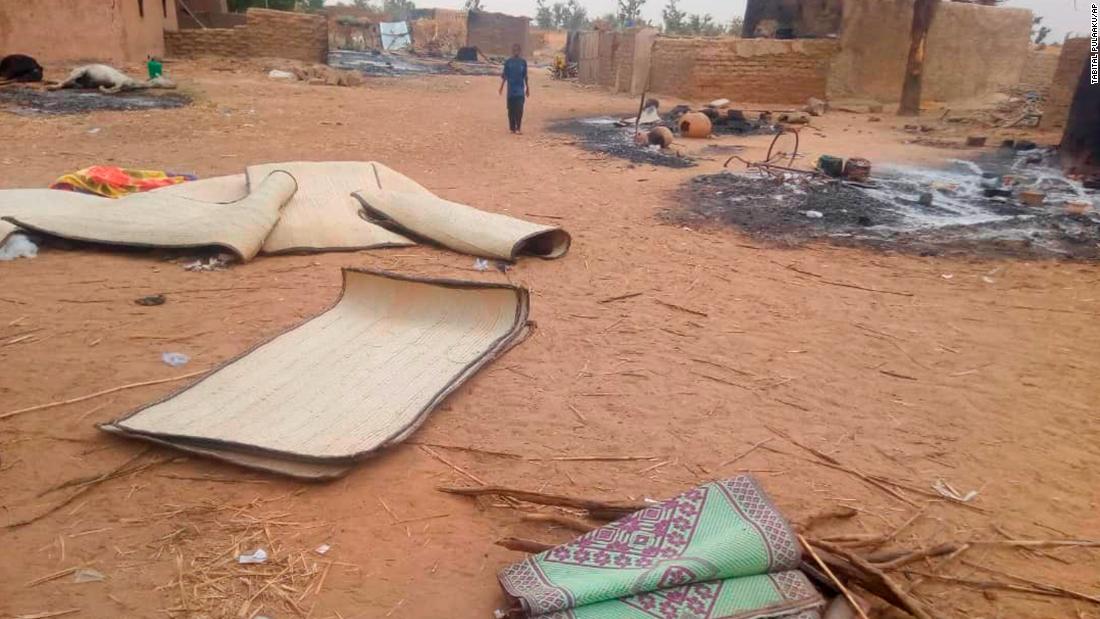 In a shaky cell phone video seen by CNN, a witness stepped gingerly over ruined homes and around still-burning vehicles in Ogossagou, central Mali.
Many of the victims, according to the United Nations, were women and children
The UN said armed men, reportedly dressed as hunters, came before the dawn and attacked the villagers with guns and machetes
The French ambassador to the United Nations called it an "unspeakable act."
The scale of the attack is horrifying, but the escalation of violence in central Mali shouldn ' t is a surprise
Ethnic tensions and jihad insurgency
A jihadist insurgency spread to the north and center of Mali in 201
2, and foreign troops and the government have been unable to fully regain control over large regions of the landlocked West African country.
Human Rights Watch (HRW) says that groups affiliated with al Qaeda and ISIS have moved deeper into central Mali, exploiting existing ethnic divisions and sowing chaos
Due to the lack of government security, so-called self-defense units of Dogon or Bambara ethnic groups – such as the Dogon Dan Na Ambassagou, whose name means "Hunters Who Trust in God" – have sprung up
Saturday's massacre is the latest and most serious in a series of attacks possibly linked to self-defense groups
In December, HRW released a report that collated more than 200 civilian deaths in 2018 in Mali's Mopti region and warned that communal violence was rapidly increasing there.
Much of the violence is between the so-called self-defense units – from communities that traditionally depend on agriculture – and the Fulani herding population. The Fulani has a key pool of recruitment for the jihadi groups, according to the UN and HRW
Last year HRW accused Dan Ambassador of targeting members of the Fulani group in attacks that "led to dozens of civilian deaths and injuries."
Dan On Ambassador was disbanded on Sunday by Malian President Ibrahim Boubacar and the Council of Ministers, according to a government communique, which did not note whether this group was to blame for the attack in Ogossagou.
Corinne Dufka, HRW's West Africa Associate Director, told CNN that the violence in Mali was underscored by "ongoing tension over land and water between herders and cultivators, but also by the growing presence of armed Islamist groups who … have committed very serious atrocities and targeted members of the Dogon Group. "
Dufka said that Dan At Ambassador "has been attacked by armed Islamists and then they engage in lethal repressions, including the one that occurred yesterday."
Last week, several Malian soldiers were killed in a coordinated attack in
Dioura village. Earlier this month the UN says a booby-trapped body killed 10 mourners at a dogon funeral.
A UN peacekeeping mission in Mali, known as MINUSMA, is the most dangerous operation in the country, globally; 191 troops from the mission have been killed since it was formed in 2013. Their bases are routinely attacked, their soldiers are often hit by IEDs
But insecurity is no way isolated to Mali.