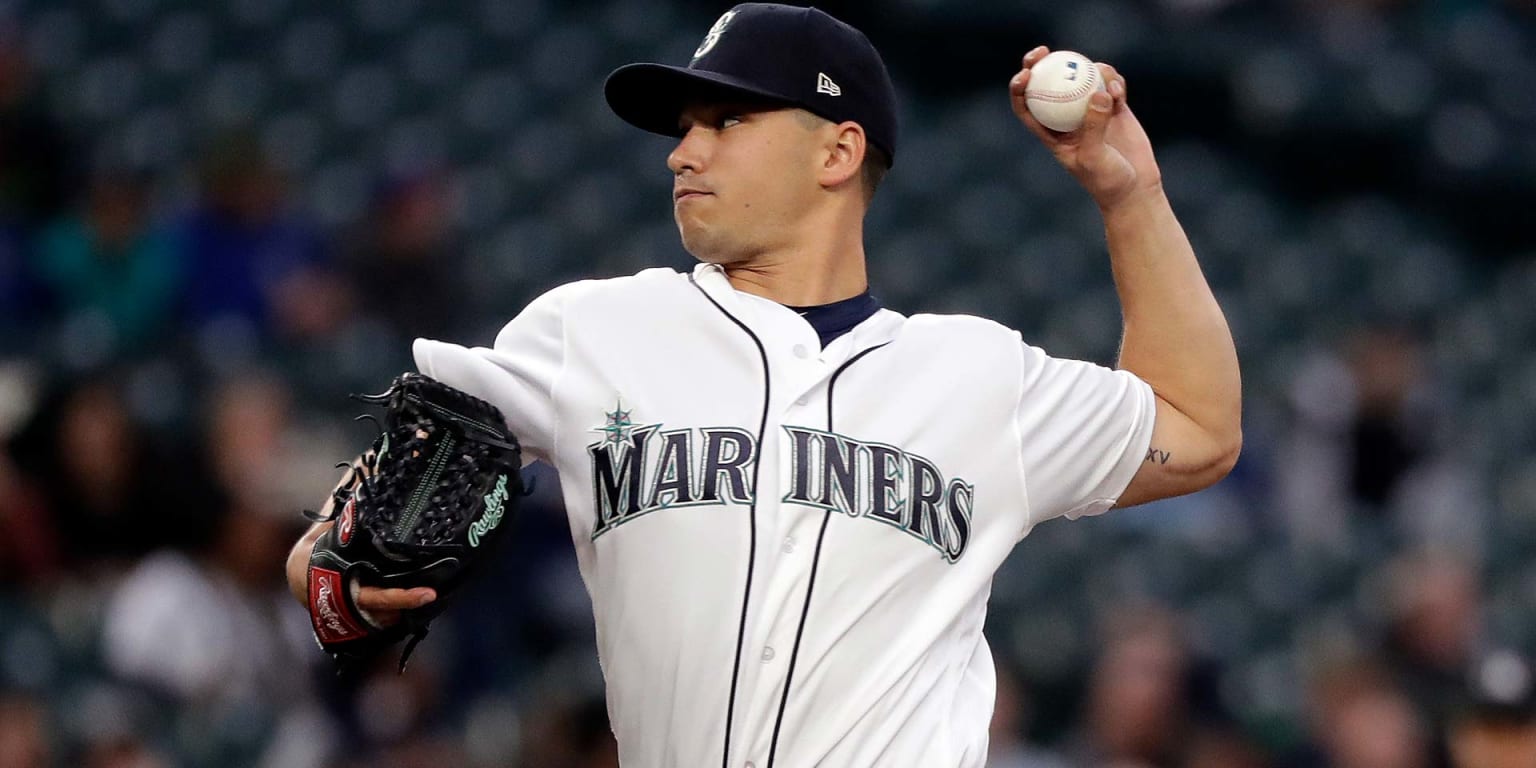 SEATTLE – The Mariners have proven that they can win the shootouts this season, slugging their way to a surprising early lead in the American League West. But pitching duels?
                        The Mariners have proven that they can win the shootout this season, slugging their way to a surprising early lead in the American League West. But pitching duels
Turns out that worked well as well on Tuesday as Marco Gonzales held the Angels to one run over 8 1/3 innings, while Daniel Vogelbach ripped a go-ahead homer in the bottom of the eighth with Seattle pulled out and a 2-1
win at T-Mobile Park
With a remade roster that no longer features familiar faces of Robinson Cano, Nelson Cruz, James Paxton, Jean Segura and Edwin Diaz, the Mariners are off to the best start in franchise history at 7-1 after sweeping the two-game set with the Angels
"Heck of a ballgame. Heck of a homestand, "said Mariners manager Scott Servais, whose club went 5-1 against the Red Sox and Angels after opening the season a week earlier in Tokyo. "Coming off the Japan trip, not really knowing in Seattle – let alone around the country – what this team is about. It's going to be a fun summer. There are some ups and downs, but we have a group that really enjoys playing together and that's what stands out right now. "
After averaging eight runs a game in their first seven contests, Seattle took a different path in this one, with Gonzales handcuffing the Halos on four hits and one walk before being replaced by Anthony Swarzak with runners on the corners in the ninth
"He was just dominant all night," Servais said. "All his pitches. He had them in swing mode because he was throwing so many strikes. He can do that. It's the craft lefty. He's a tough nut. He has a little bulldog in him, and we have seen that come out tonight. "
Gonzales has three of Seattle's seven wins as the club's Opening Day starter in Japan is 3-0 with a 3.20 ERA, becoming the sixth pitcher in Mariners history to win his first three starts of a season. The 27-year-old was helped by significant run support for his first two outings, but had his best stuff of the season in this 100-pitch command performance
"All my pitches were better," Gonzales said. "It was one of those magical days. You feel it in the bullpen, but try not to be too optimistic about it. You just want to stay the same. But I definitely felt the difference today in the bullpen. It was easier to do what I wanted with the ball and I was fortunate to carry that in the game. "
Gonzales talked Servais into letting him go out for the ninth, but walked Mike Trout with one out and then gave up and singles to Andrelton Simmons to set up the interesting debut of their newest reliever.
Swarzak, just off the injured list for his first appearance of the season, struck out Albert Pujols and got a tough groundout from Jonathan Lucroy to second baseman Dee Gordon to become the fourth different Mariner to win and save in the last four games since Hunter Strickland went down with a strained lat muscle last Friday
"I was ready," Swarzak said. I've been trying to prove myself here since Spring Training. That's what happens when you're new to a club, I want my teammates to think I believe and that whole thing. and win because we needed it. "
Gon Zales zapadl Angels starter Trevor Cahill to 1-1 draw before Vogelbach launched his solo blast – and 406-foot drive to center – off the reliever Luis Garcia with one out in the eighth
Vogelbach was only in the lineup after Edwin Encarnacion – the veteran slugger is dealing with a sore left wrist. The 26-year-old Vogelbach has excelled at Triple-A in the past three years, but struggled to find consistency in the Majors and was making his second start of the season. The homer was his first of the year and fifth of his MLB career.
"Tonight is about Marco," said Vogelbach, who went 2-for-3 with a double as well as his homer on a night the Mariners totaled just five hits. "The guy was unbelievable from the first inning."
But Gonzales was headed for a tough no-decision until Vogelbach turned around a 97mph fastball from Garcia
"He smoked that ball," said Servais. "You do not see balls go out of the park on that trajectory here. He killed it. We needed it. Timing is everything. It was a great night for Vogey. "
Greg Johns has covered the Mariners since 1997, and for MLB.com since 2011.
Source link