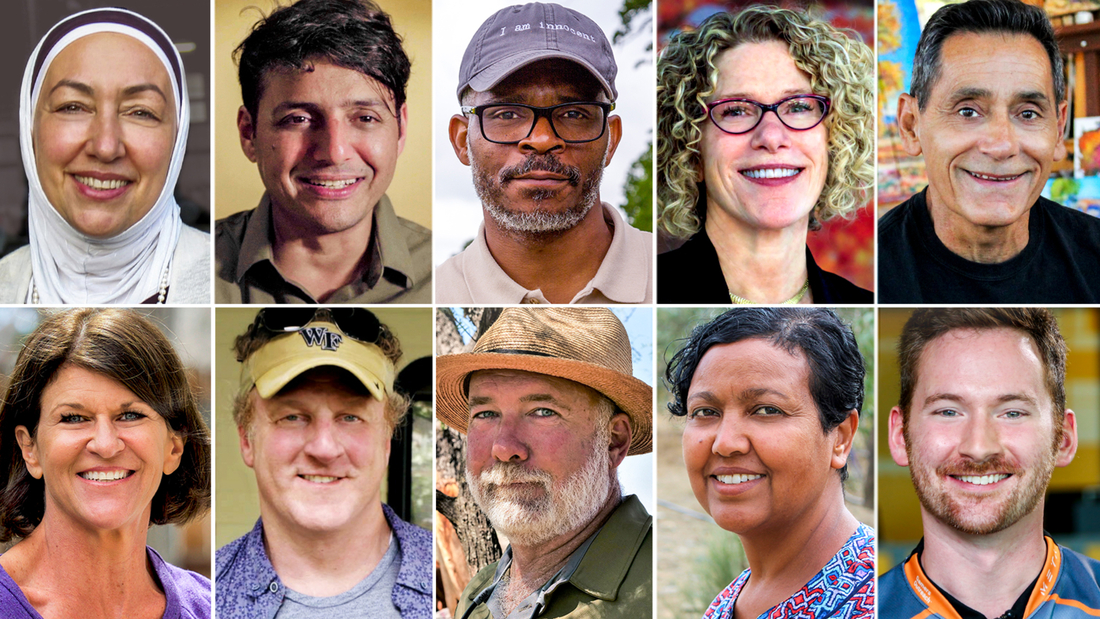 Most of their efforts started small – a few began with donations in their basements. Others have a personal connection with the people they help.
To find out who's been named, you'll have to watch "CNN Heroes: All-Star Tribute," hosted by Anderson Cooper and Kelly Ripa, live on Sunday, December 8, starting at 8:00 PM. ET.
CNN Heroes have been watching the impressive work of people around the world since 2007. Here's a look at this year's CNN Top 10 Heroes:
Stachi Alonso: A Pet Shelter
Her Cause: [19659006] In 2007, Stachi Alonso opened the Noah's Animal House, a pet shelter located exactly on the grounds of a Las Vegas domestic violence shelter. Less than 1

0% of domestic violence shelters offer pet services. In Noah, women can visit and care for their pets as often as they like. The shelter also has "lounges" designed as lounges where women can spend time with their pets.
What inspired her: Alonso served on the board of a women's shelter in 2004, when she discovered that women fleeing domestic violence often had nowhere to go, as shelters did not accept pets . "My two dogs … were my rock and my reinforcement," Alonso said. "I couldn't imagine finding myself in that type of situation, finding the courage to leave and having to leave them." Alonso was also shocked to learn that in many cases women would return to their abusive situation to stay with their beloved pet.
Read more about Stachi Alonso and her work
Naja Bazzi: Helping the impoverished women and children in Detroit
Her cause: Naja Bazzi founded Zaman International, a nonprofit that provides basic needs, education and job training for more than 250,000 women and children of all backgrounds in the Detroit area. The group's 40,000-square-foot warehouse in the suburban Detroit area of ​​Inxster offers walkways with food, rows of clothing and huge, free-of-charge massifs of furniture. Group case managers help clients access housing and other services.
What inspired her: Buzzie worked as a nurse in 1996 when she visited an Iraqi refugee family to help care for her dying baby. She knew the situation would be difficult, but she was not prepared for what she was facing.
"There, in the house, I got my first glimpse of poverty … They had absolutely nothing," she said. "I was so devastated by this … I decided it would not happen on my watch."
That day, Baji and her family gathered all the furniture and household items they could – including a manger – and delivered everything to the family.
Read more about Naja Bazzi and her work.
Woody Faircloth: Fixing donated RVs for fire victims. refurbished recreation vehicles – or RVs – of California's 2018 California displaced survivors. Faircloth contacts RV owners who are interested in donating or selling used RVs at a low cost. He rebuilds the cars himself and negotiates the cost of having to hire professional mechanics for heavy repairs. Once the RV is ready to go, Faircloth arranges a way to transport it to the recipient. So far, its nonprofit has provided 70 RVs to campfire survivors.
What Inspires Him: As the campfire destroys homes in Paradise, California, Faircloth watched the news from his home in Denver, Colorado. , "I just couldn't imagine being in this position," said Faircloth, a four-year-old father. "I had a hard time letting it go … I knew I wanted to do something to help." He started creating GoFundMe to raise money to buy and rebuild used RVs to evacuate campfire – and his nonprofit is growing from that.
Read more about Woody Firecloth and his work.
Freweini Mebrahtu: Removing cultural stigma around women's periods they miss school or drop out because of their periods. So in 2005 Freweini Mebrahtu also designed a patent menstrual pad for reusable use. Today, she and her team produce 750,000 pads a year at their daughter's Mariam Seba sanitary ware factory. Mebrahtu works in partnership with the Non-Profit Dignity Period, which holds educational seminars for more than 300,000 students, teaching girls and boys that menstruation is natural, not shameful. Mebracht has spoken at these events from time to time and is pleased to see thousands of students receiving this message.